James Gunn Hasn't Cast His Rebooted DCU Yet, So We Did It For Him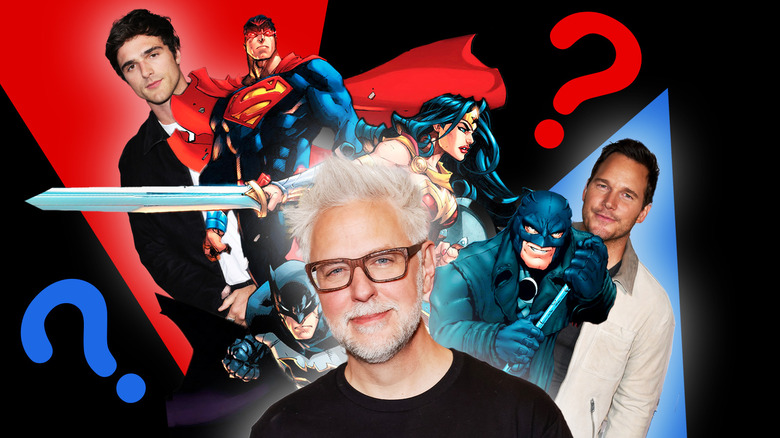 Getty Images
James Gunn and Peter Safran have delivered on the DC Universe front, but exactly what they've delivered is up for debate. Sure, we know the broad details of their first full slate of movie and TV projects — "Gods and Monsters," they call it — but the announcements have focused on the various projects' themes and general vibe, instead of naming a single new actor. As such, the DCU reboot chapters' star roster currently consists of "Waller" star Viola Davis, along with whichever "Peacemaker" and "The Suicide Squad" actors might appear in her upcoming series. 
This is an industry that all too often sets a premiere date, introduces the stars of the project, and proceeds to rush toward the finish line, last-minute crunches and VFX artists' tears be damned. As such, Gunn's decision to go story first is an admirable one, but can still be frustrating for fans who are accustomed to huge casting news. 
Gunn probably won't be revealing any actors for quite a while (we think) and may very well not have the slightest idea of who ends up playing which character at this stage. Luckily, all he has to do is read this article because the Looper staff has done the heavy lifting by casting all his non-"Waller" DCU projects for him. Here's what our writers have to say.
Pauli Poisuo - The Authority should include Chris Pratt and other heavy-hitters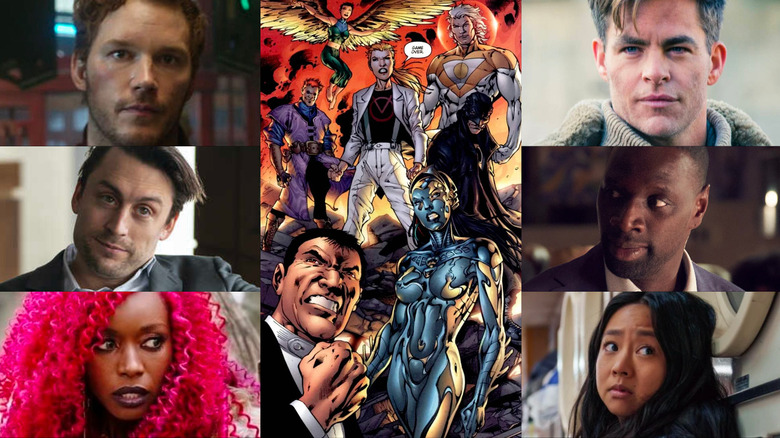 Marvel Studios/HBO/DC Comics/Warner Bros. Discovery/Netflix/A24
The most interesting names in "The Authority" are likely the Batman and Superman expies who are happily married. They seem destined to become the biggest fictional LGBTQ+ couple this side of Nick Offerman and Murray Bartlett, so we need some serious names here. Since Chris Pratt will pop up in James Gunn's DCU at some point whether anyone likes it or not, let's make him our Midnighter and see if he can overturn that "Worst Chris" reputation a bit. As for the sparkly, solar-powered Apollo, well ... as the MCU spent much of its initial stages proving, the only thing that can match a Chris in a superhero-off is another Chris. So, let's conveniently forget Chris Pine's "Wonder Woman" role and repackage him as a full-on superhero, because come on, look at the guy. He can probably provide his own halo if they need to save on Apollo's effects budget.
With the rest of the team, let's opt for a heap of talent and star power all across the board. Jenny Sparks isn't afraid to make hard decisions and crack hard heads, and Mia Goth of "X" and "Pearl" fame has the requisite edge. The "God of Cities," Jack Hawksmoor, has city-derived powers that would be a great fit for Omar Sy, who's proved his chops as a smart, urban operator on Netflix's "Lupin." Anna Diop's been great in "Titans," and since she just happens to be out of DC superhero jobs soon, wouldn't she make the perfect Engineer? Yes. Yes, she would. As for the hazy, smirking Doctor and the winged Swift, let's throw in two very specific types of energy with "Succession" standout Kieran Culkin and "Everything Everywhere All at Once" star Stephanie Hsu.
In all fairness, this is likely a way too stacked cast for a team this obscure. Still, when you consider that "The Authority" is A James Gunn Passion Project™, you never know who might be willing to sign up.
Aahil Dayani - Monica Barbaro is the clear choice for Supergirl in Woman of Tomorrow
James Gunn's penultimate announcement was an adaptation of Tom King's "Supergirl: Woman of Tomorrow," which ended its eight-issue run in 2022. Described by the creative as a "big science-fiction epic film" that will focus on a jaded Supergirl in a post-Krypton world, this is definitely not the version of Kal-El's cousin we're used to. In fact, Gunn made it a point to say that this Supergirl is "hard-core."
While there are a ton of "hard-core" actors out there who could easily fly away as DC's Supergirl, there's one rising star who is perfect for the gig: Monica Barbaro. You remember her as the totally badass F-18 pilot Phoenix in last year's "Top Gun: Maverick." Her no-nonsense, super suave, and ambitious performance as the lone female pilot in the film's final mission was nothing short of memorable. Barbaro, who has been on the big and small screen for over a decade, has proven that she can delicately handle a physically demanding and complex role.
"Oh, but Barbaro isn't blonde like Supergirl!" Who cares. This is make-believe.
She also has experience as a voice actor across several mediums, lending her talents to the PlayStation 5 timed-exclusive "Forspoken" and the upcoming "Army of the Dead" animated series. Gunn made it a point to confirm that actors who sign onto the brand-new DC Universe will be expected to reprise their roles across several mediums. With Supergirl, why not spring for a rising superstar who already has that experience?
It's only a matter of time before Hollywood figures out what to do with the "Maverick" team. It's an arms race to capitalize on their infectious energy and charisma. A message to DC: snatch Barbaro up before Kevin Feige ropes her in for an MCU miniseries or something. You won't get a more likable and "hard-core" Supergirl than her.
Tom Meisfjord - Hear me out: Paul Giamatti as Damian Wayne in The Brave and the Bold
DC Comics/Shutterstock
It's going to be a tough batline to toe. If he's steering into the story-rich Bat Family skid, James Gunn needs to find a Dark Knight who can balance the jaw-clenching grit of Gotham's shadowy protector with the frat boy lacrossey-ness of Bruce Wayne and the paternal warmth of an adoptive father. More than that, whoever takes up the mantle needs enough charisma to make audiences forget how his character picks out a new orphan from the pound every ten years or so and forces them to jump off buildings. The line of demarcation between "kid sidekick" and "child soldier" has always been arguable. Audiences need someone to dangle a keyring made out of charm and say "look over here!" with enough enthusiasm that they ignore the bulk order of child-size gauze in the corner.
The cynical answer to "Who should play Batman?" is "George Clooney." The even more cynical answer is "Whichever actor hasn't played him yet, there can't be that many left." The real, bottom-of-my-heart solution is Diedrich Bader. Yes, really. No, you shut up.
Check out Bader's work voicing the character for three seasons of the "Batman: The Brave and the Bold" animated series, or the "Harley Quinn" cartoon on HBO Max, and then hold it up against the "Wayne Family Adventures" webcomic created by CRC Payne and Rhett Bloom. He'd be perfect. Robert Pattinson can keep brooding in his Elseworlds corner. Give us a Batman who stops at the Wawa on the way back to the Batcave because Robin is out of Go-gurt.
Speaking of Robin, uh, I don't know. That could go any number of ways. Our last three big-screen Boys Wonder were dead, dumb, and Chris O'Donnell, respectively. Damian Wayne is a complicated character that you want to do right by, and I don't, you know, follow a ton of kid actors. Just gonna pull a name out of nowhere.
Paul Giamatti. Short shorts, little cape, the whole shebang. Final answer.
Tom Meisfjord - Boyd Holbrook can bring Swamp Thing to life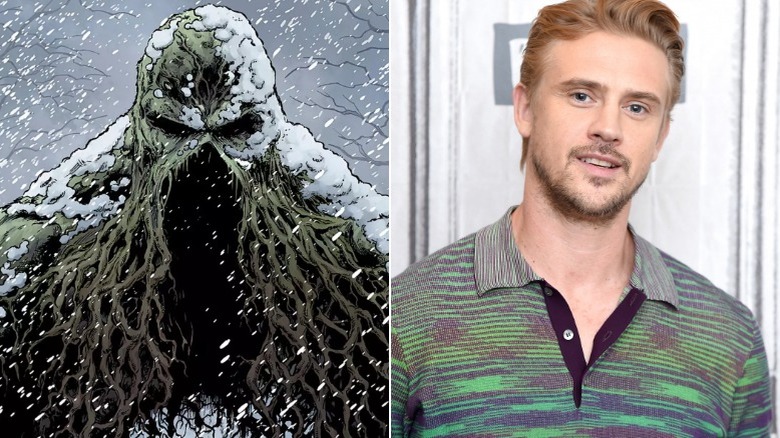 DC Comics/Gary Gershoff/Getty Images
It feels weird going to bat for an actor you've never met, especially when their Wiki has a suspiciously quiet "Personal Life" section. Nature abhors a vacuum. Celebrity gossip abhors it even more.
Still, Boyd Holbrook is a wildly compelling performer who's been largely relegated to the sidelines. He made Big League Chew out of his scenes playing Donald Pierce in 2017's "Logan," pouring a syrupy Southern accent over every bite of dialogue. He's worked with Terrence Malick, David Fincher, and James Mangold. That last one's important.
Mangold seems like he's taken a shine to Holbrook, casting him in the aforementioned Wolverine closer, as well as the upcoming "Indiana Jones and the Replacement of Hip Bones." As of right this minute, the filmmaker is reportedly in talks to helm the "Swamp Thing" adaptation, bringing a complicated character — less hero, more literal force of nature — to the big screen for the first time since the '80s. It'd be nice to see Holbrook utilizing his range and physicality to bring both Alex Holland and Swamp Thing to life. Please don't turn out to be a creep and make me feel like a jerk, Boyd Holbo
If he's not available, Paul Giamatti. Little shorts, little cape, the whole shebang. Final answer.
Melissa Lemieux - Jessica Henwick would make an amazing Wonder Woman in Paradise Lost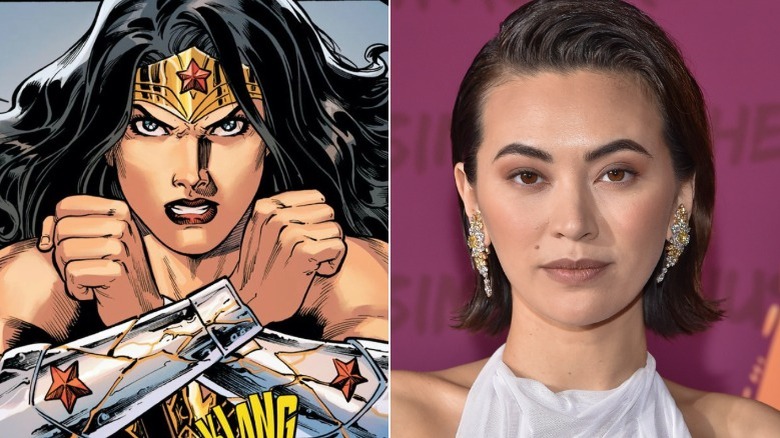 DC Comics/DFree/Shutterstock
"Paradise Lost" will, presumably, focus strongly on Amazons other than Diana Prince. After all, this is a prequel series to her adventures and may serve as an origin story. It's set to be a tale about Amazonian politics and interfactional wars — depending on when they decide to set the action, Diana could enter the story as an infant or as a fully grown woman.
But let's presume we're going to get an adult Diana, molded out of clay and brought to life by her Amazonian family. If that's the origin story James Gunn goes with, I'd love to see Jessica Henwick take up Diana's lasso of truth. Henwick can do drama, she can do comedy, and she can do action — all key components to making Diana the heroine she is. Henwick is a total package of an actor, and she'd likely be able to ace Diana's combination of justice-bound determination and innocent social naiveté.
Nick Staniforth - No one could play Booster Gold as well as Glen Powell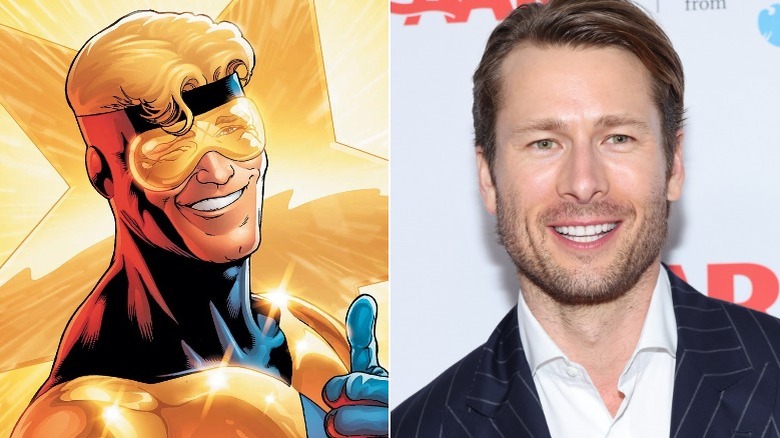 DC Comics/Amy Sussman/Getty Images
In the case of Michael Jon Carter, aka Booster Gold, the casting of DC's most out-of-his-depth "hero" needs to be someone who can charm his way out of a scary situation and then hog all the credit after doing so. Someone with a swagger you'll warm to and a face you'll occasionally want to punch for being just too cocky when the world is at risk of ending. With that in mind, we need look no further than recent "Top Gun: Maverick" spotlight stealer and "Devotion" star Glen Powell.
Admittedly, there's a handful of heroes waiting in the wings for DC's latest who Powell would honestly be well suited for. That being said, the have-a-go hero who is way out of his league would be a perfect match for Powell's already well-established comedic chops. With fans pinning Powell's name to the likes of Hal Jordan and Cyclops from "X-Men" in their dream casting, it was DC's low-level hero who actually caught his eye. Speaking to Entertainment Tonight, Powell admitted that he'd never had a sit down with Marvel regarding future films, but he did have praise for DC's hero from the 25th century. "Booster Gold is really funny," Powell admitted following his research into the who's who of heroes. "Booster Gold's a funny one." 
A funny one indeed and also just the perfect fit. Let's be honest — why go for green when you can go for gold?
Kieran Fisher - Jacob Elordi was born to play Superman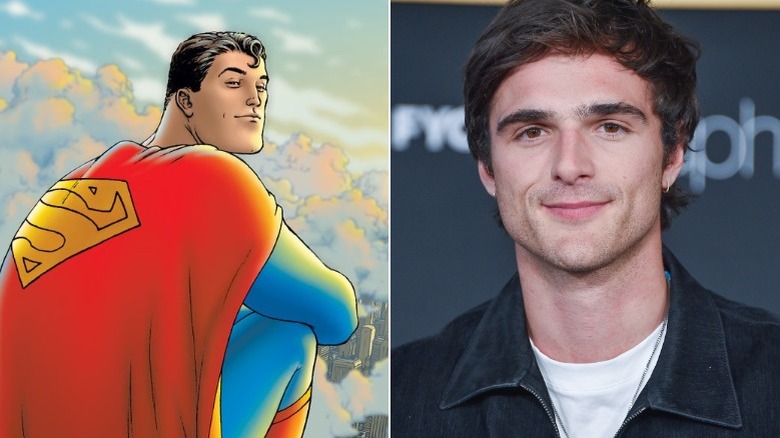 DC Comics/DFree/Shutterstock
What do we know about "Superman: Legacy" as of this writing? Well, thankfully, it won't be another origin story about Kansas' favorite Kryptonian. However, the movie will center around Supes during the early days of his superhero life, and he'll be the idealistic goody-two-shoes who embodies old-fashioned kindness in a world that's dark and cruel. So, basically, James Gunn and the DC gang need a young-ish actor who can portray the Superman who's all about truth, justice, and the American way. We can also assume that they'll cast someone with charm, cheekbones, and muscles. Enter Jacob Elordi, the hip-at-the-moment Australian actor who's perfect for the job.
Fans have already imagined what Jacob Elordi could look like as Superman, and it's impossible to conceive of anyone else in the role after seeing his digital likeness rock the iconic costume. Of course, it takes more than looking the part to play the "Man of Steel." The good news, though, is that Elordi is a talented actor whose profile is on the rise following the critically acclaimed "Euphoria." Admittedly, his role on that show isn't very wholesome or Superman-y, but Elordi showcases some impressive dramatic chops and taps into a wide range of emotions. Playing Supes will be a walk in the park compared to the bleakness of "Euphoria." Furthermore, as Men's Health notes, Elordi grew up playing rugby, proving that he has the physical prowess and toughness to embody the Superman character.
The new DCU promises to be a reset and it seems that Gunn and co. are focusing on youth. Elordi is on the verge of superstardom and he's perfect for "Superman: Legacy." If DC doesn't snap him up right away, it's only a matter of time until another franchise does.
Russell Murray -- Alden Ehrenreich and Damson Idris are the only choices for Hal Jordan and John Stewart in Lanterns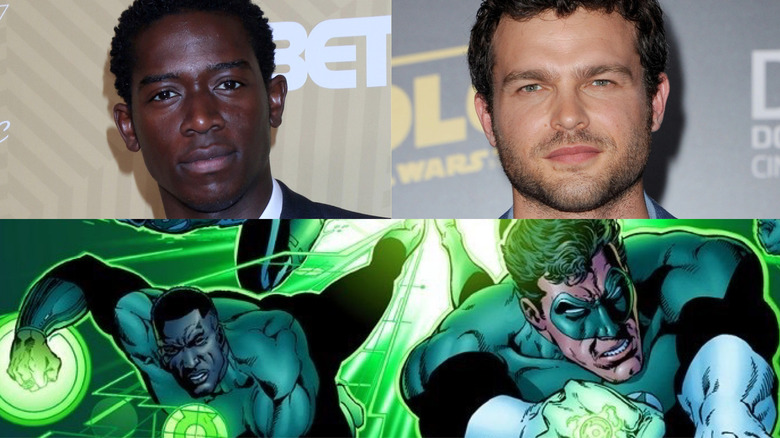 DC Comics/Shutterstock
Finding the right duo for James Gunn's self-described "True Detective"-esque Green Lanterns HBO series was incredibly difficult. Assuming "Lanterns" will skew younger (as most of the DCU seemingly will), it would benefit from actors who can balance youthful energy with true emotional weight.
It was toughest to fill Hal Jordan's cockpit. As the first and only Green Lantern of the Silver Age, he needs to have a sense of gravitas and star power, with a cocky sort of charisma to boot. For Gunn's vision specifically, they also need someone somewhere between the quippy, proto-"Deadpool" energy of Ryan Reynolds and the grim brooding of the "True Detective" leads. Taking these factors into consideration, Alden Ehrenreich is the smart choice for this job. Sure, he may be somewhat of an obvious pick, but he's also the strongest. Given the fact that he already brought all of these qualities to a surprisingly great performance in "Solo," it would be exciting to see him exercise his talents in a meatier story.
For John Stewart, I wanted to find someone slightly lesser-known. Though he's arguably the most popular "Green Lantern" character, he's a much newer recruit than Hal Jordan or even Guy Gardner — thus, having a major film star like John David Washington in the role would be a bit distracting. Looking to the great performances of modern television, one actor stood out very clearly: Damson Idris. Since 2017, Idris has led the FX crime drama "Snowfall," bringing pain, complexity, and heart well beyond his years. He has the talent to go toe-to-toe with any actor, could realistically bring the depth of an ex-Marine, and even looks young enough to give Ehrenreich a small sense of seniority.
Idris and Ehrenreich are bursting with innate talent that just needs the right outlet. "Lanterns" could be just that for both of them.
Russell Murray - The Creature Commandos should be led by J.K. Simmons as Rick Flag Sr.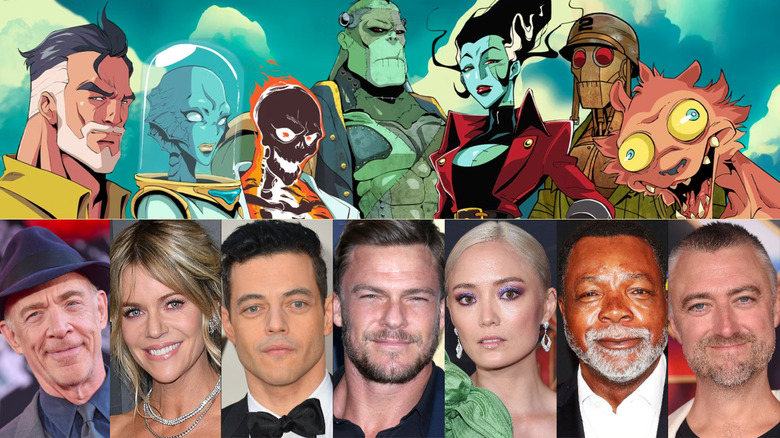 The tricky thing about "Creature Commandos" is that it requires a cast that can hold their own in a voice ensemble and in a future live-action project. Because of this, I was not only looking for actors who resembled these outlandish characters, but also for actors who have voice acting experience and the comedic chops to serve a James Gunn script.
For Rick Flag Sr., there's really only one choice. Unless Hollywood is hiding another muscle-bound silver fox who's as good in animation as he is in live-action, they have to go with J.K. Simmons. He can bring the heat, intensity, and humor that Gunn's Flag Sr. will likely need to carry. "It's Always Sunny in Philadelphia" mainstay Kaitlin Olson would be a great pick for scientist-turned-fish-woman Nina Mazursky, while "Mr. Robot" star Rami Malek could play the criminally insane Doctor Phosphorus. Of course, Sean Gunn will almost definitely reprise his role as Weasel.
It would be a lot of fun to see a new side of Pom Klementieff, a frequent James Gunn collaborator and "Guardians of the Galaxy" alum, as the Bride of Frankenstein. Frankenstein himself, on the other hand, is a bit more difficult to cast in both mediums. He's exceedingly tall, muscular, and basically a swashbuckling pirate. Assuming he's not CGI, they'd have to cast a behemoth like Alan Ritchson. And last — but certainly not least — Carl Weathers as G.I. Robot.
No further questions at this time.