The Witcher: Blood Origin's Showrunner Thinks Joey Batey Is An Absolute Legend
Season 1 of Netflix's adaptation of Polish fantasy hit "The Witcher" introduces viewers to a bard named Jaskier, portrayed by real-life musician Joey Batey. Not only is he a capable performer, but Batey actually plays the lute in "The Witcher," drawing on a skillset he cultivated prior even to his role on Netflix's flagship fantasy series.
Jaskier is something of a fan favorite among the "Witcher" viewer base. In fact, when Netflix announced the departure of Henry Cavill as protagonist Geralt of Rivia, some fans argued that Jaskier might take Gerlalt's place, not as its main character, but as fans' primary reason to keep up with new episodes. That said, Batey doesn't think a Jaskier spinoff is likely, despite his character's enduring popularity among "Witcher" fans.
"The Witcher: Blood Origin" premiered to Netflix on Christmas Day in 2022, chronicling an adventure that serves as historical backstory to "The Witcher," taking place more than 1,000 years prior to the mainline series. Nevertheless, fan favorite Jaskier factors into "Blood Origin" through a framing device that positions him as the recipient of the show's principal story. Discussing his role in the "Witcher" prequel, "Blood Origin" showrunner Declan de Barra shared in an interview that he thinks Joey Batey is a bona fide legend.
Declan de Barra praised Joey Batey's resilience on set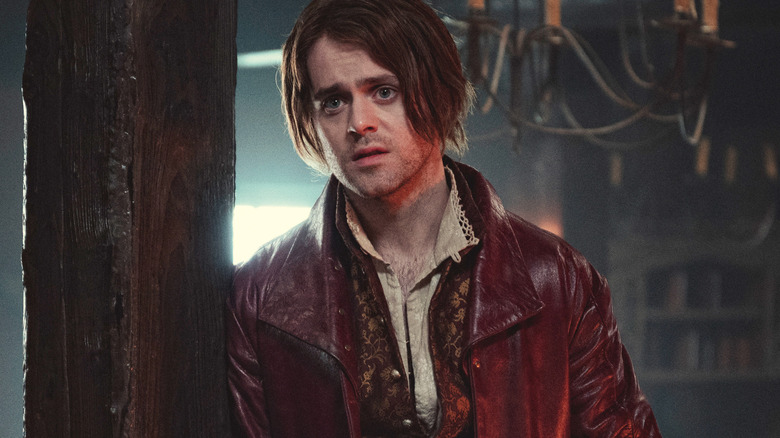 Susie Allnutt/Netflix
In an interview with Slash Film, "Witcher" TV series creator Lauren Schmidt Hissrich and "Blood Origin" showrunner Declan de Barra spoke at length about their decision to include Joey Batey's Jaskier in the "Witcher" spinoff series. On the subject of Batey, De Barra shared that he finds the actor and musician's work ethic admirable. "He was a legend," de Barra said of Batey. "He said yes to coming along and freezing in a field in the middle of the night, covered in mud and rain and blood while people banged into him left, right, and center. He was a legend."
Also in that interview, Hissrich revealed that the original "Blood Origin" script was absent Jaskier's framing device scenes. However, the decision to incorporate him into "Blood Origin" ultimately felt right. De Barra too shared this sentiment in an interview with The Upcoming. "It was a no-brainer," he said of including Jaskier in "Blood Origin. "You get there and think, 'Why didn't we do this on the very first day?' Joey is wonderful too; he was out there in the cold and the rain, covered in blood... everything's on fire. He never complained once. He was brilliant."
The creatives in charge of "The Witcher," then, seem to be among Batey's numerous fans, suggesting that Jaskier could remain a cornerstone of the "Witcher" universe for however long it continues down the line.