Outer Banks Season 3's Trailer Teases A 'Pogues Of The Caribbean' Treasure Hunt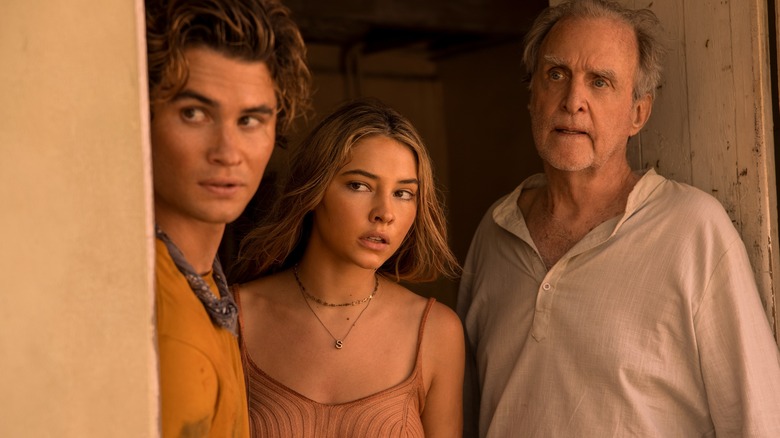 JACKSON LEE DAVIS/NETFLIX
Many people have spoken out about how Netflix will crack down on password sharing in the near future. But given how Season 3 of "Outer Banks" is on the horizon, it would be prudent to get your own account or plan a binge-watch party with someone who will still have a Netflix account.
During the first two seasons, the Pogues have gotten into quite a few skirmishes with their rival gang, the Kooks. Both groups are on the hunt for the Royal Merchant ship, which is said to have a hidden treasure on board. Having access to those kinds of riches would set the Pogues up for life, so it's no wonder they'll go to insane lengths to find it.
Season 2 ended with some massive cliffhangers, not the least of which is that Big John (Charles Halford) is still alive. Meanwhile, last we saw the Pogues, they were on some island in the Caribbean, and John B. (Chase Stokes) and Sarah (Madelyn Cline) were unofficially married. It seems like Season 3 will pick up right where the last season left off, with a Caribbean adventure on the way.
Violence and romance await viewers in Outer Banks Season 3
Nicknamed "Poguelandia," our band of misfits seems to enjoy themselves initially in the Caribbean. However, nothing peaceful can last forever, and the Pogues are soon thrown into even more turmoil when they're placed back on the treasure hunt with a golden idol leading their way. The treasure has only grown more mythical as they'll seemingly work to find the lost city of El Dorado. New enemies are sure to be a thorn in their side, but they're also still on the run from Ward (Charles Esten) and his father, Rafe (Drew Starkey), who have some tension of their own if the trailer is any indication.
Fortunately, it's not all doom and gloom for the Pogues. The trailer hints at a budding romance between Kiara (Madison Bailey) and JJ (Rudy Pankow), picking up where they left off in Season 2. And if that wasn't enough to tug at your heartstrings, there's the reunion between John B. and his father to look forward to. 
Will the true treasure in "Outer Banks" be the friends we made along the way? Hopefully, a real treasure is in store for them; just make sure you tune in for the next installment when "Outer Banks" Season 3 debuts on Netflix on February 23.