Julie Bowen Calls Modern Family's Phil The 'Unicorn Of TV Dads'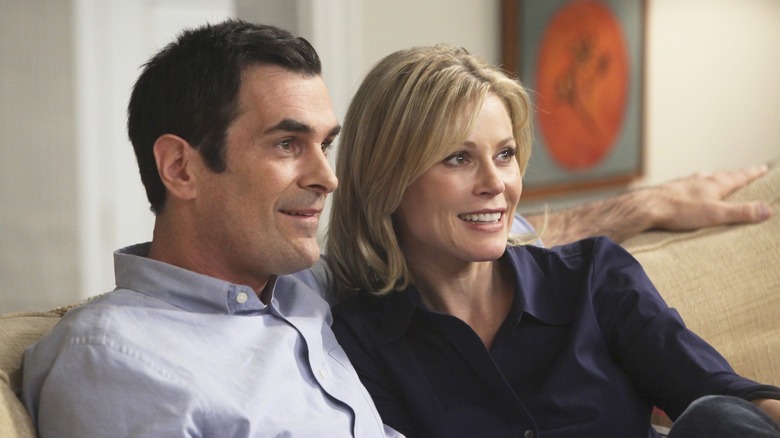 ABC
The patriarch of the family sitcom is one of television's most cherished and fundamental characters. From lovable goofballs to stoic leaders, the TV dad is a reliable comedic staple that comes in many unique styles, especially on "Modern Family." The wildly successful Emmy juggernaut showcases a talented array of hilarious stars, including Ed O'Neill (Jay), Sofía Vergara (Gloria), Jesse Tyler Ferguson (Mitch), Eric Stonestreet (Cam), and Julie Bowen (Claire), who has nothing but praise for her on-screen husband Ty Burrell (Phil). 
This all-star lineup made "Modern Family" one of television's most beloved family sitcoms that even breaks the traditional form with a refreshing mockumentary style. As we witness the growth of this intertwining family, we're consistently reminded of memories with our own families and the value of coming together as often as possible. The accepting and loving atmosphere felt throughout the series is palpable due to this extraordinary cast ensemble.
The esteemed comedy aired for 11 touching seasons before wrapping up in 2020 after a whopping 250 episodes. When looking back on "Modern Family," Bowen champions Burrell's comedic chops and the rare energy he brings to Phil Dunphy. She lauds his character's transformation over the series, which sets him apart from other notable TV dads as a glimmering rarity. 
Bowen will miss Burrell and Phil's distinctive energy
Part of what makes "Modern Family" so relatable is the childlike wonder present in every character, especially the older ones. While it takes a bit more to crack tough, stoic nuts like Mitch, Jay, and Claire, others are pure at heart. No character embodies this more than the magical realtor Phil and his endless supply of wild antics.
Bowen, who co-starred on "Modern Family" with Burrell for 11 seasons, reminisced on the series with Indulge Express. When asked what character she'll miss the most, she didn't hesitate to name the silly Dunphy dad. "Phil, of course! There's something that Ty Burrell has done with the character that has taken him from odd and funny to being the unicorn of TV dads." Burrell's performance as the unconditionally loving weirdo set "Modern Family" apart from other sitcoms, earning him his rare "unicorn" title. In fact, his superior comedic timing even earned him two Primetime Emmys for Best Supporting Actor in 2011 and 2014 (via IMDB).
Bowen properly cites the character development propelled by Burrell's talent, which gave him much more agency as the series went on. One of the greatest testaments of this is the eventual reluctant but loving acceptance by Claire's father, Phil, who knows his daughter is in more than capable hands, even if they have a wand in them. Phil's journey wouldn't have been possible without Burrell, which is wild, considering he wasn't the network's first choice.