Criminal Minds' A.J. Cook Still Gets Nervous Thinking About JJ's Relationship With Spencer Reid
The "will they, won't they" romantic trope has both killed and elevated many TV shows. "Friends" made the drama work with iconic scenes, including the "I, Ross, take thee, Rachel" drop-your-popcorn shock moment. However, looking at an example like "Moonlighting," when David (Bruce Willis) and Maddie (Cybil Shepherd) finally got together in the show, audiences tuned out. So the trope is a difficult line to tow for series writers.
In the Season 14 finale of "Criminal Minds," happily married Agent JJ Jareau (A.J. Cook) finally admitted that she had feelings for Dr. Spencer Reid (Matthew Gray Gubler) all along. Reid made no secret about having an office crush on Jareau, but he never acted on his feelings since she was married with kids. The two developed a close, seemingly platonic, relationship throughout the show's long run. So, the moment of Jareau's admission to Reid was pretty jarring to a lot of fans.
The scene seemed to be a ploy to ensure a Season 15 for the show, which of course, did come to be as that was the final season to air on CBS. Upon returning, things were awkward between Jareau and Reid. After the return of some of the show's most vile villains, including the serial killer The Chameleon (Michael Mosley) and hit woman Cat Adams (Aubrey Plaza), the romance took a backseat to the drama.
Reid had a new burgeoning relationship of his own with a mysterious woman named Maxine (Rachael Leigh Cook), and he suffered a brain injury which led to the show's final grand showdown for the rest of the BAU Agents. Since things were resolved by circumstance between Reid and Jareau, that plot line was largely dropped. However, actor A.J. Cook still gets nervous when she thinks about her character and Reid's potential relationship.
Gubler not returning for Evolution made the tension between Reid and Jareau go away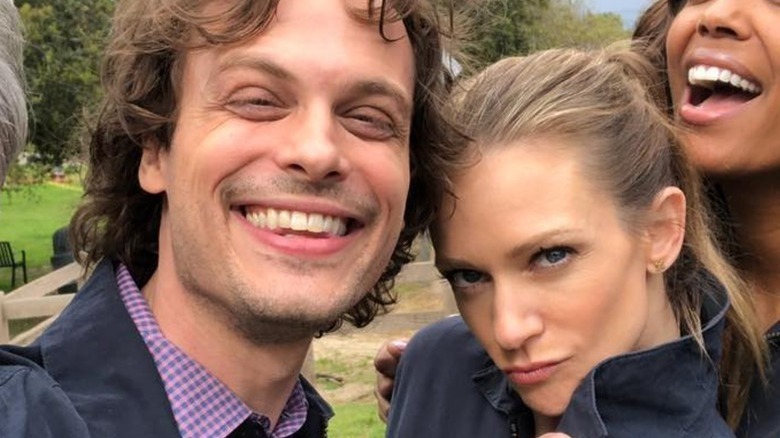 CBS
When "Criminal Minds: Evolution" brought the Behavior Analysis Unit Agents back to the small screen via Paramount+, changes were to be expected as the show made the jump to the streamer. Besides language, violence, and sexuality being afforded now that the show was no longer on network TV, two members of the crew did not return for the reboot.
Matthew Gray Gubler and Daniel Henney did not opt to return to their characters, as Henney was busy filming "Wheel of Time" and Gubler was seeking other opportunities. Nevertheless, the show did mention that both characters were away on assignment, letting audiences know they are still alive. Plus, their desks remained untouched, welcoming the characters back at any time.
Since Gubler did not return as Reid, "Evolution" mostly ignored the romance between him and JJ Jareau and focused on Jareau and her husband Will's (Josh Stewart) relationship. When actress A.J. Cook thought about the possibility of a romance for her character and Reid between Season 15 and "Evolution," she got quite a sinking feeling. While finally forcing the conversation to admit feelings for each other between the two characters in Season 14 gave Reid some closure, it did stir things up for the BAU agents, leaving fans a little shaken by the reveal.
Cook wonders what would have happened if Jareau and Reid got together in Season 1
In an interview with TV Guide, A.J. Cook said of the big moment, "Every person has their own opinion on it. I had to make it real, and I wanted to do it right, and I wanted to do it justice. Hopefully, I did. Still, to this day, it gives me knots in my stomach because that's such a big deal, and I protect JJ so much." Overall, she thought the moment was handled very well and came at the right time.
She continued, "Who knows what would have happened if that first date way back in Season 1 — if they turned into something way back then? I think it'd be a very different show. It still makes me nervous to this day." Luckily the moment didn't happen until near the end of the show's first run. But now, with the show back on the air, fans are wondering if Gubler will return to his beloved character, and if he does, will there still be feelings between him and Jareau?