Bob Odenkirk Got Some Reassuring Advice From Bryan Cranston Before Shooting Better Call Saul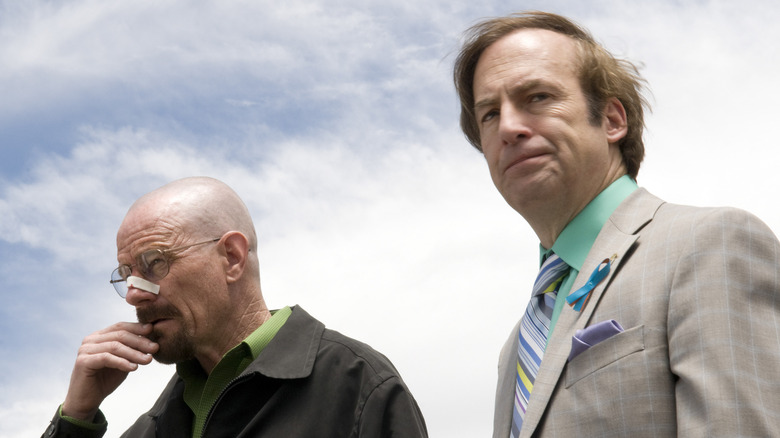 AMC
When it was first announced, many were naturally skeptical of "Better Call Saul." Following Bryan Cranston's meth-dealing and empire-building Walter White for five seasons of "Breaking Bad" — which was rightfully recognized as one of the best TV shows of all time — did we really need a spin-off prequel about Bob Odenkirk's braggadocio comic relief character? As it turned out, yes, we absolutely did. With Odenkirk reprising his role as criminal lawyer Saul Goodman, "Breaking Bad" creator Vince Gilligan and co-executive producer Peter Gould — co-creators on the spin-off — proved that lightning could strike twice.
"Better Call Saul" has since joined its shared-world predecessor on greatest-of-all-time lists. Odenkirk plays Jimmy with a sweetness and sincerity that makes it challenging to root against him, even as he continues down a self-destructive path toward a life of crime that will put him on a course to cross paths with Heisenberg (Cranston). By the time the series concluded with an epic sixth season that brought it full circle, Odenkirk had proven he could play in the same league as Cranston, with both Jimmy McGill and Walter White counted among the most iconic TV characters by critics and fans. In fact, "Better Call Saul" did a few things better than "Breaking Bad."
In mid-2014, as Odenkirk prepared to head back to the criminal underworld of New Mexico, he turned to his once co-star for advice. Cranston told him just how much work there would be in store, Odenkirk revealed in a 2016 interview.
It's Saul work — morning, night, and weekends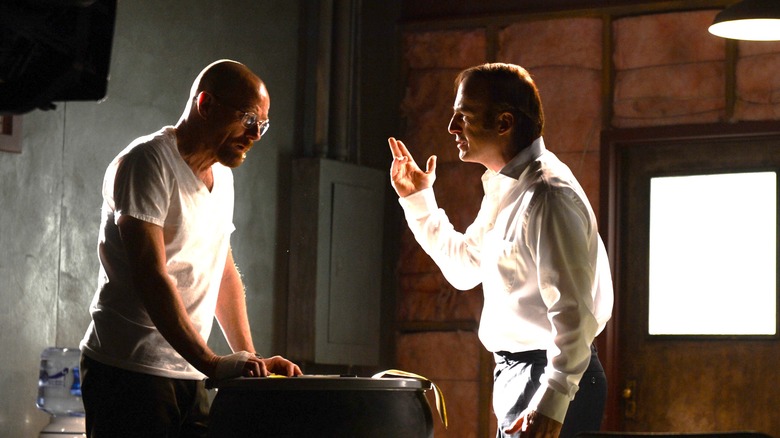 AMC
On Season 5 of the interview-based series Off Camera, Bob Odenkirk revealed that Bryan Cranston gave him a lot of practical advice — when "Better Call Saul" started — in terms of how to be a leading man on a "Breaking Bad" project. Odenkirk said that he knew how to handle the pressure, having previously starred alongside David Cross on the sketch comedy series "Mr. Show with Bob and David." What Odenkirk wanted to know was what Cranston's day actually looked like, while working on "Breaking Bad."
Given the tremendous actor he is, Cranston had some words of wisdom about the work ethic necessary for such a serious role. "He goes, 'Oh, okay, here's what you do. You get to set, you've learned your lines, [and] you work,'" Odenkirk said, paraphrasing Cranston's advice. "'At lunch, you study your lines. You get to set, you work. You ask them to make you dinner, like a sandwich or something from the cart, and then you bring that home so you don't have to make dinner because you need to work when you get home. And then you work at night, then you go to bed, then you do that again the next day.'"
Cranston told Odenkirk to work weekends as well. However, despite the seriousness of the "Breaking Bad" star's advice, the "Better Call Saul" actor found it reassuring. "I walked away from that going, 'Okay, right. You just work constantly and then you'll be okay,'" he said.