Stranger Things Fans Can't Help But Like Yuri Despite The Fact That He's The Worst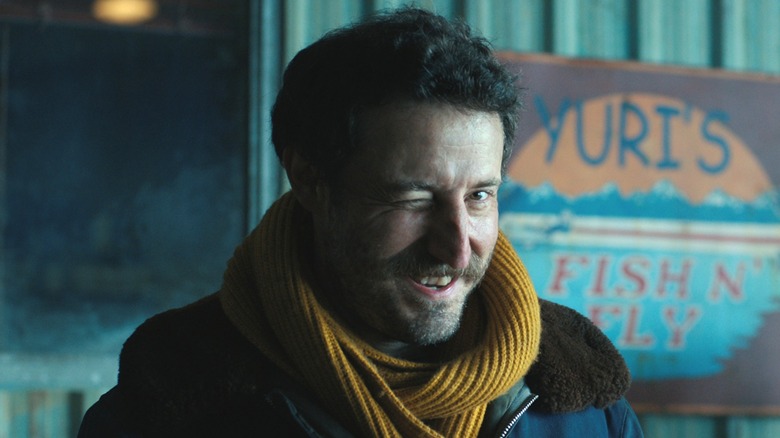 Netflix
All is quiet, for now, in Hawkins, Indiana, as fans await the fifth and final season of "Stranger Things." The Netflix juggernaut prepares to film its last installment starting in May, which will hopefully and satisfactorily tie everything up and answer all of the fans' questions.
Season 4 of "Stranger Things" made a huge impression when it debuted in May and July 2022, upholding the series' status of quickly landing on Netflix's Top 10, with a combined 335.01 million hours watched in seven days (per IndieWire). It made newcomer Joseph Quinn, who played misunderstood Eddie Munson, an instant star and brought Kate Bush's "Running Up That Hill" back to the top 5 of Billboard's Hot 100. As its main protagonists were scattered to the winds, with Eleven (Millie Bobby Brown), Jonathan (Charlie Heaton), and Will (Noah Schnapp) in California while Nancy (Natalia Dyer), Steve the Babysitter (Joe Keery), Mike (Finn Wolfhard), Dustin (Gaten Matarazzo), Lucas (Caleb McLaughlin), and Max (Sadie Sink) still in Hawkins, Indiana, the actual Big Bad of the series made himself known (spoiler): the terrifying, all-powerful Vecna (Jamie Campbell Bower).
Meanwhile, Joyce (Winona Ryder) and Murray (Brett Gelman) attempt to rescue Hopper (David Harbour) from his Russian prison with the help of a trickster Russian pilot named Yuri. And while it's noted that Yuri is, in fact, the worst, constantly double-crossing our intrepid heroes and going back on his "word," fans can't help but love him.
Fans love Nikola Djuricko, the actor playing Yuri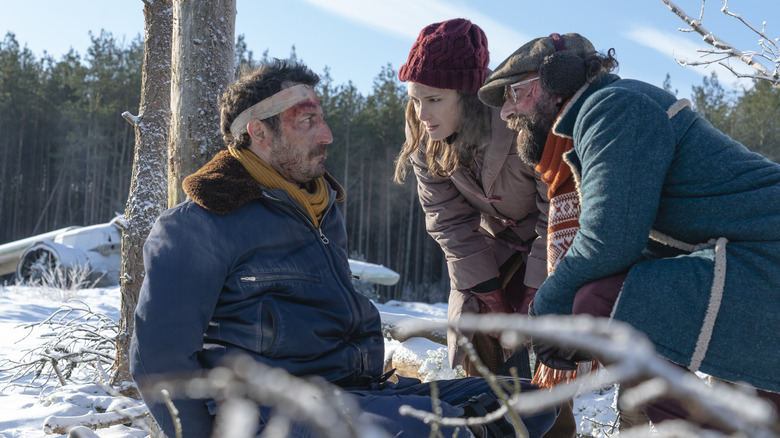 Tina Rowden/Netflix
In "Stranger Things" Season 4, Murray and Joyce put their trust in the Russian mercenary Yuri, played by Serbian actor Nikola Djuricko. Though he eventually becomes an untrustworthy adversary, fans are amused by his honesty and humor, as the 80+ comments on u/WildButterfly85's Reddit post prove.
"He's the worst but the actor does SUCH a great job because this obnoxious character does make me laugh," u/BeneathAnOrangeSky commented. u/byharryconnolly agreed, saying, "[T]he way the actor delivered his lines was an honest delight." "He definitely brought the comedy angle to the Russia storyline, that's for sure!" u/Full-Surround added. u/UrsusRex01 complimented the Duffer Brothers for their part, saying, "The Duffers know how to create memorable supporting characters."
Others, like u/ZaryaPolunocnaya, talked about Djuricko more, explaining how he became popular playing similar roles in Serbian films, though they saw his range in a stage production of Candide. "It's a shame he kinda gets typecasted all the time," they added. u/LilyMarie90 talked about how kind and generous he was at Stranger Con, even posting a "free hugs" sign on his table — something unheard of for celebrities at convention autograph desks. "I wish Nikola could see that this post got 1800+ upvotes [at this point]," they said.
As for Djuricko himself, he told Agelast podcast how excited he was about the role (via Duart). "I am truly happy, it is a beautiful and compelling role," he said. "It is striking, it suits me and my sensibilities." Somehow we doubt that means Djuricko is also a bad dude.