Pedro Pascal Is Already Running Into Clickers At SNL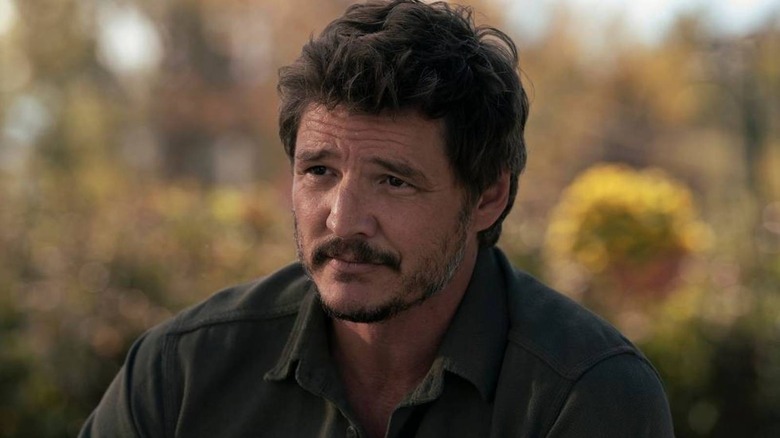 Liane Hentscher/HBO
Pedro Pascal is the moment. He's everyone's favorite post-apocalyptic daddy in "The Last of Us," killing it every Sunday night on HBO. And once that season wraps up, people will be able to tune into another one of his performances where he's an adoptive father to a special child once "The Mandalorian" Season 3 starts. And yes, he's well aware of the comparisons. 
Pascal has had a long career with roles in some of the biggest franchises in entertainment, including "Game of Thrones" and "Wonder Woman 1984." He's certainly paid his dues, so it's only appropriate that he's finally getting the chance to host the sketch comedy institution that is "Saturday Night Live." Pascal's a funny guy, as exemplified in films like "The Unbearable Weight of Massive Talent," so it's safe to say he'll probably do pretty well on hosting duties.
And Pascal's been in so many franchises; it's exciting to think what they might make fun of. A Baby Yoda cameo is all but assured, but will the show make use of everyone's current obsession in "The Last of Us?" It's already done so in the form of a short promo for the episode where Pascal runs into a clicker, but things don't go as expected. 
Pedro Pascal fails to make a good first impression
The promo starts with Pedro Pascal taking in the "SNL" stage when he hears something. He goes to investigate, only to stumble upon a clicker from "The Last of Us." He's about to bash its head in with a hammer when Sarah Sherman and Molly Kearney stop him, insisting the clicker is just the show's new cast member, Matt. They both give him a proper scolding before walking off with Matt. 
It's sweet, short, and gets the point across that the show will most likely poke fun at some of Pascal's recent projects. After all, it's highly unlikely the team behind "SNL" would've made a full-blown clicker get-up without the intention of using it in an actual sketch. 
Pascal's "SNL" stint comes at an opportune time. "The Last of Us" has steadily been growing in ratings since it premiered (via The Hollywood Reporter), and with an episode that's bound to be filled with "Last of Us" shoutouts, there's a good chance Episode 4 could continue that trajectory. You can see all of the shenanigans Pascal gets into when his "SNL" episode debuts on February 4 with musical guest Coldplay. A new episode of "The Last of Us" comes out on HBO and HBO Max the following day.