NBC Says Goodbye To The Blacklist After Season 10
Scott Gries/NBC
Few TV characters have held an audience's attention quite like Raymond Reddington (James Spader). Over nine seasons, the larger-than-life criminal mastermind made "The Blacklist" a hit for NBC. The series sees Reddington — better known as Red — enter into a tedious partnership with an FBI task force. His tips and information, while valuable in catching the world's most dangerous figures, often prove to be double-edged swords.
The series became an instant success upon its premiere in 2013, drawing over 12 million viewers (via Vulture). More than just an audience favorite, critics overwhelmingly praised star James Spader as well as the series' creative storylines (via Rotten Tomatoes). Since then, "The Blacklist" has been a fairly consistent performer for NBC; it also generated major results for the network's bottom line, bringing in revenue thanks to international sales as well as a major Netflix deal (via Deadline). Now, NBC is making a bittersweet announcement about the future of its prized series.
The end is in sight for The Blacklist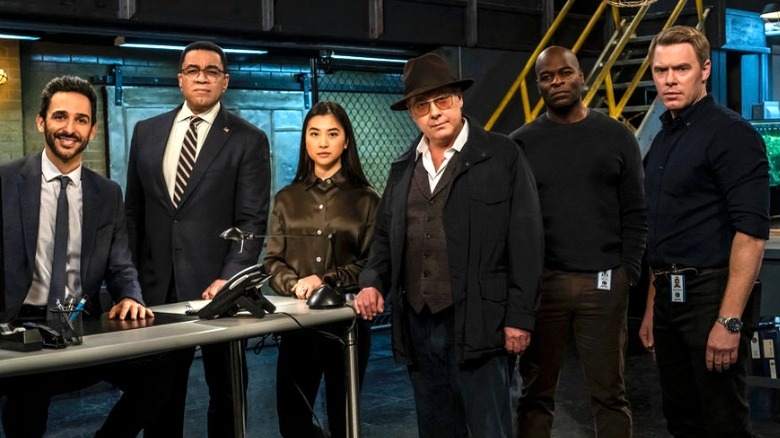 Zach Dilgard/NBC
Viewers will say goodbye to Red as "The Blacklist" is finally set to end. The tenth and final season sees its lead character under siege from former blacklisters; their combined effort to destroy Reddington leads to trouble not only for him but those at the FBI who work with the informant. Series star James Spader will complete his run as Red, with castmates Diego Klattenhoff, Hisham Tawfiq, Anya Banerjee, and Harry Lennix also returning (via The Hollywood Reporter).
In a written statement (via Variety), current showrunner John Eisendrath thanked the network, cast, and crew for bringing the stories to life, and fans for making the series so popular. "It's been incredibly fun to create the strange, devious and delightful Blacklisters to challenge Raymond Reddington and our FBI Task Force each week ... We appreciate our dedicated fanbase who came along for this wonderful ride and are excited to share this final season with them."
NBC provided a special teaser for the announcement that should hold over fans until the season premiere — it recaps some of the series's most well-known moments and characters. The tenth and final season of "The Blacklist" debuts Sunday, February 26. In another milestone for the series, its 200th episode will air on March 19.