Sarah Michelle Gellar Confirms Rumor About Dolly Parton's Involvement In Buffy The Vampire Slayer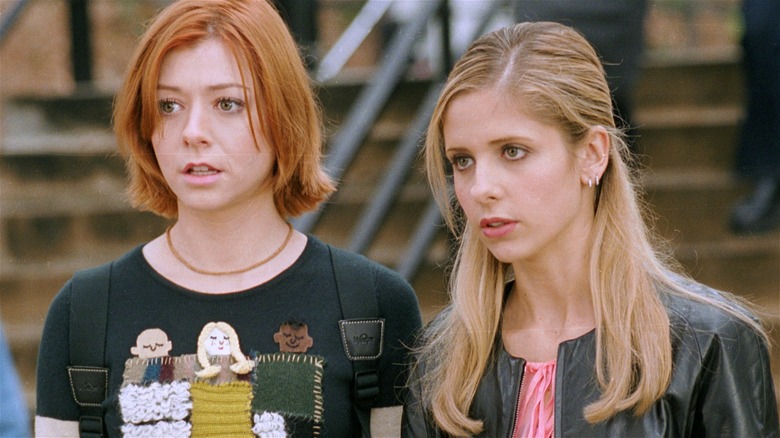 The WB
When some people hear the phrase "Chosen One," chances are that an image of Buffy (Sarah Michelle Gellar) thrashing some vampires may come to mind — not a vaunted music star. "Buffy The Vampire Slayer" is a popular show that, according to IMDb, ran for 145 episodes between 1997 to 2003 and even inspired a spin-off. What makes "Buffy The Vampire Slayer" so interesting is that the series blends humor, the macabre, pop cultural references, and snappy dialogue into a nice package that sees a regular high school become the site of demonic incursions.
Dolly Parton is a legendary country music star that has used her success to branch out into several other endeavors. As Britannica notes, Parton displayed musical talent at a young age, and she quickly rose to stardom by pursuing her dream. After becoming a household name, Parton created her own amusement park called Dollywood, acted in several movies, and even started a charitable foundation aimed at childhood education. For her efforts, Parton was named a "Living Legend" by the Library of Congress in 2004. Surprisingly, it seems as if Parton and "Buffy The Vampire Slayer" have now been revealed to have an intrinsic connection, which has acted as a persistent rumor for many years.
Gellar confirmed Parton's involvement during a recent talk show appearance
The Independent reported in 2021 that one of the clues that many people believed connected Dolly Parton to "Buffy The Vampire Slayer" is that both the main character of the show and Parton share the same birthday — January 19. The publication also shows that Sandollar Entertainment is listed as a production company for "Buffy The Vampire Slayer," which is a company that Parton started in 1986, though Parton was never listed as an executive producer on the show. However, it seems as if Sarah Michelle Gellar herself has recently confirmed that Parton indeed had a hand in creating the popular television series.
While appearing on "The Tonight Show Starring Jimmy Fallon," Gellar was asked an assortment of questions about her life, her husband Freddie Prinze Jr., her new show "Wolf Pack," and, of course, the subject of Parton popped up being a secret producer on "Buffy The Vampire Slayer." This conversation started when Fallon mentioned that he had heard that Parton helped craft the show, and Gellar replied, "Yes. Little-known fact. The legend Dolly Parton was a producer. And, you know, we never saw her. Like, we'd get Christmas gifts in the beginning that would have our name, and I would think, 'She doesn't know who I am.' And then, one day, somebody asked her about it, and she complimented the show and my performance. And I was like, 'Oh, I can die now. Dolly Parton knows who I am and thinks I'm good.'" One thing is for certain — it is interesting to think that the immediately recognizable country music star and philanthropist Parton had a hand in making the "Buffy The Vampire Slayer" television show.