A Lap Dance In Magic Mike's Last Dance Put Salma Hayek In Real Danger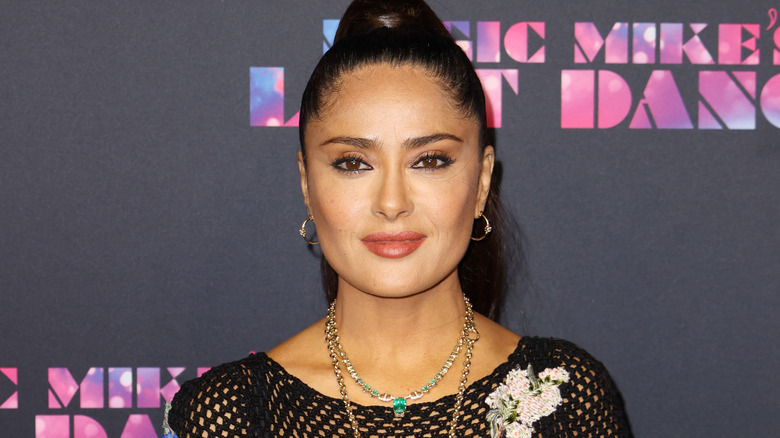 Alexander Tamargo/Getty Images
In a world where franchises are typically reserved for superheroes and gun-toting vigilantes, it's nice that a series about male strippers can break through the noise to become a phenomenon. Starting in 2012, "Magic Mike" was a bonafide success. Following the exploits of a male stripper group in Florida, the film went on to gross $167 million at the box office and acquire numerous accolades. There were plenty more stories to tell with this kind of setup, so a sequel was inevitable. That came in 2015 with "Magic Mike XXL."
Things were quiet on the "Magic Mike" front for a while until it came out that director Steven Soderbergh was returning to helm the third installment in the trilogy — "Magic Mike's Last Dance." The film sees the return of Channing Tatum's Mike Lane, but this time around, the character will be tasked with putting on a show in London while navigating a new relationship with series newcomer Maxandra Mendoza, as played by the esteemed Salma Hayek.
The combination of a new environment and a new love has plenty of potential to close the comedy-drama trilogy on a fine note, with the comedy derived from the vast fish-out-of-water potential that comes from inserting Mr. Lane in London, and with the new relationship providing the drama. However, shooting any major project can be potentially dangerous. While starring in a "Magic Mike" movie may sounds like the definition of fun and games, filming the threequel wasn't always an easy ride. In fact, Hayek has now revealed that one particular scene featured a stunt that almost went wrong in a truly spectacular — and potentially very dangerous — fashion. 
A hand placement mishap between Tatum and Hayek led to a dangerous situation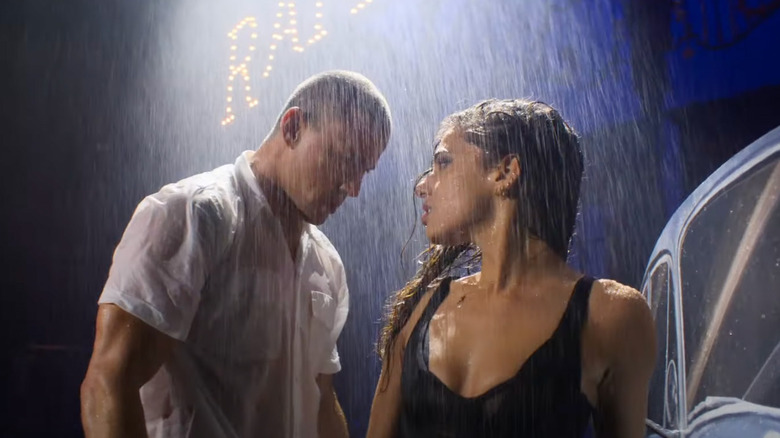 Warner Bros. Pictures
A movie like "Magic Mike's Last Dance" may not have a ton of action sequences, but those dance moves can get pretty crazy. Hayek appeared on "Jimmy Kimmel Live" to promote the film, and shared an anecdote from behind the scenes. Though the incident is clearly something she can now look back on and laugh at, it seems that there was fairly little mirth involved at the time. 
As you might expect from a "Magic Mike" movie, there's a fair amount of physicality involved. Tatum and Hayek's characters get up close and personal throughout the movie, and at one point, they shot a scene that involved her character getting in on the dancing. As Hayek described the situation, this led to a potentially dangerous mishap. 
"You know, there's one part that's not in [the film] where I'm upside down, and my legs had to be somewhere. But upside down, one loses sense of direction, and I didn't do what I was supposed to do, so in the rehearsal, I went like, head down, almost hit my head," " Hayek told Kimmel and the audience. "[Channing] held on to my pants, but I was really concerned because my pants were going away, and I couldn't remember if I had underwear or not in this moment." 
Hayek's immediate instinct was to use her hands to protect her pants, while Tatum instructed her to keep her hands up. Ultimately, Hayek didn't hit her head, and other members of the production rushed to end the accidental hand-placement stalemate between the stars. "Everybody came in, and kind of took me away from him, and he said, 'What's wrong with you?' I said, 'What's wrong with me? You nearly killed me!'" Hayek described the aftermath. 
Fortunately, the star made it out of the incident all right. While this particular choreography didn't make it in the movie, audiences can see Tatum's other moves on display when "Magic Mike's Last Dance" comes to theaters on February 10.