Magic Mike's Last Dance - What We Know So Far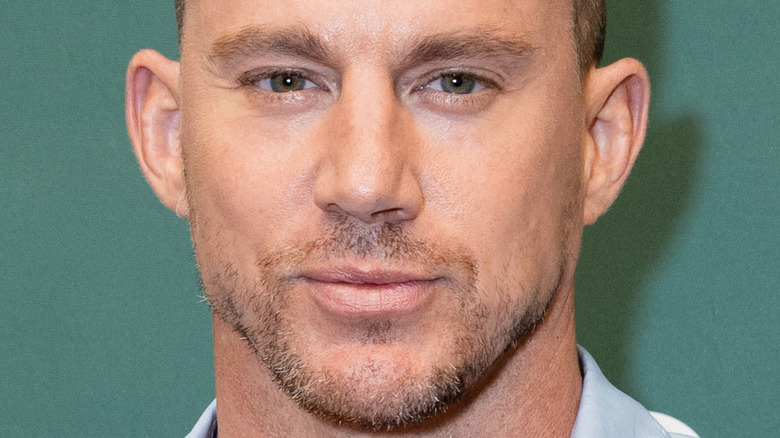 Matt Winkelmeyer/Getty Images
We may receive a commission on purchases made from links.
Just like a pair of sparkly, removable pants, the HBO streaming premiere for "Magic Mike's Last Dance" has been stripped away and tossed aside. The "Magic Mike" threequel will now premiere in movie theaters this winter. The series, which loosely chronicles star Channing Tatum's days as a Florida stripper, was originally going to premiere exclusively on HBO Max. But that was before Warner Bros. Discovery Chief David Zaslav decreed that "Last Dance" should maintain a rightful place on the silver screen. Now, fans can rejoice that Tatum and his salacious routines will not only appear in theaters but on a specific date.
However, there's even more information available on "Last Dance" that might potentially overshadow the premiere date news. Here's everything we know about the "Last Dance" premiere date, cast, plot, director, and more. Strap yourself in: The world hasn't grappled with a new "Magic Mike" movie since "XXL" graced movie screens in 2015.
When will Magic Mike's Last Dance be released?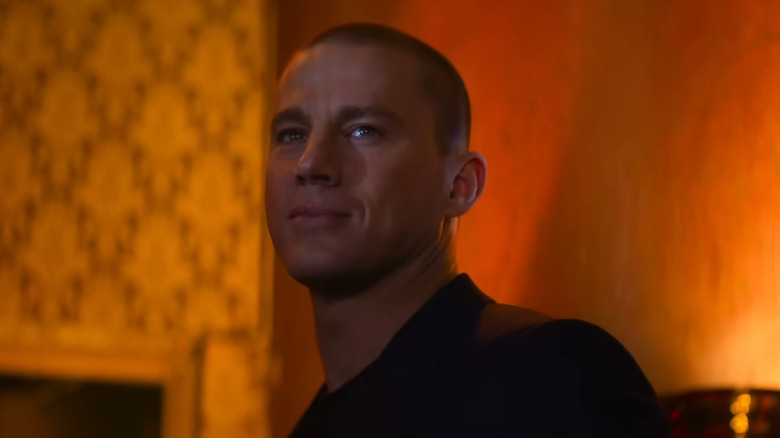 Warner Bros.
Last month, it was Deadline that reported "Magic Mike's Last Dance" will premiere during Super Bowl Weekend 2023, in keeping with new Warner Bros. Discovery CEO David Zaslav's beliefs that movies should be seen on big screens. The February 10 premiere date is already marked on Warner Bros' calendar, and there will also be a short window of time between the movie's theatrical release and its HBO Max premiere.
This won't be the first time that Channing Tatum has had a movie premiere close to Valentine's Day. The Tatum-starring "Dog" premiered to an opening of $14.9 million in February 2022, whereas 2012's "The Vow" also brought in big numbers. As for the original "Magic Mike" and its sequel, "Magic Mike XXL," they've collectively grossed over $285 million at the international box office, and the third one has its sights set on success as well. "We're kind of swinging for the fences," Tatum told The New York Times. "There never needs to be another stripper movie after this one."
What is the plot of Magic Mike's Last Dance?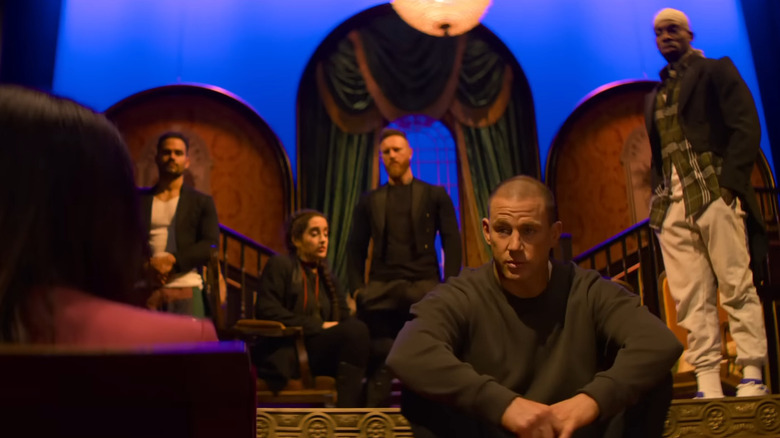 Warner Bros.
Based on the trailer for "Magic Mike's Last Dance," it seems the story will start off with everybody's favorite stripper bartending in Florida, trying to make his way until he meets a socialite played by Salma Hayek. After the two hit it off in the hottest way possible, she takes him to London, where she wants him to put on a show that will bring his unique dance moves and unbridled passion to the world. Of course, getting a bunch of dancers ready while negotiating his new relationship with Hayek's character will prove difficult for Mike, so we'll get plenty of drama along with a heaping helping of sex appeal.
As Channing Tatum teased to The New York Times, his character will have a satisfying love story. "We're trying to do a fish-out-of-water story where it's a reverse-role 'Pretty Woman' story that ends up with a lot of dancing in it." There will also, of course, be another indelible lap dance. "I have a pretty crazy dance that opens the movie," Tatum told Entertainment Tonight. "We kick it off on a pretty strong level and then at the end, I might do a version of the water dance in the show. There's a splash zone in the movie, so it's a for real thing." We also know that the film's climactic number will be pretty spectacular, as director Steven Soderbergh told Empire that the final dance sequence would be 30 minutes long.
Who is starring in Magic Mike's Last Dance?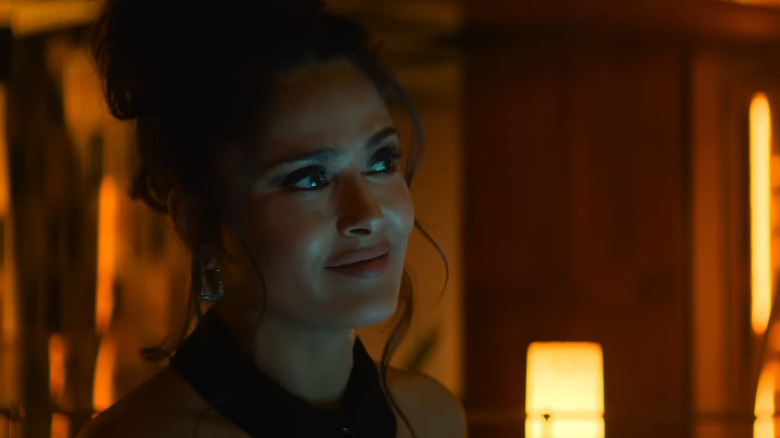 Warner Bros.
In April 2022, it was reported that "Westworld" star Thandiwe Newton had left "Magic Mike's Last Dance" so that she could deal with "family matters" (via Variety). Production had already begun, and she was quickly replaced with Salma Hayek as Mike's love interest. 
According to screenwriter Reid Carolin, Hayek's character will have her own entertaining arc in "Last Dance." "It's really about a woman stuck at a horrible strip show like a Chippendales and then realizing, 'What the hell am I doing here?'" Carolin told Variety. "And then Magic Mike comes down from the ceiling. She gets to go down the rabbit hole and asks: What do I really want?"
In addition to Hayek and Tatum as co-leads, we can expect to see Gavin Spokes, Caitlin Gerard, Christopher Bencomo, Ayub Khan-Din and Juliette Motamed rounding out the cast (via Yahoo! Entertainment).
Who is directing Magic Mike's Last Dance?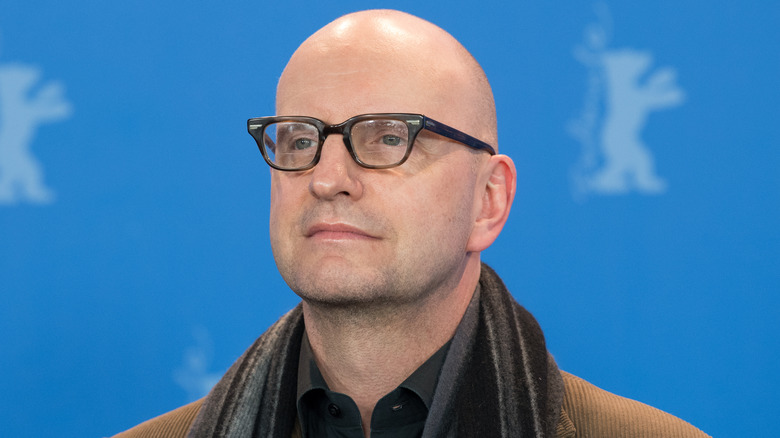 Cineberg/Shutterstock
When it comes to directors, the "Magic Mike" franchise seems to be following the "Star Wars" sequel trilogy model, which went J.J. Abrams, Rian Johnson, J.J. Abrams. Here, Steven Soderbergh directed the first flick, Gregor Jacobs directed part two, and now Soderbergh is back in the director's seat.
In addition to helming the first and last "Magic Mike" movies, Soderbergh is an incredibly prolific filmmaker and one of the most critically acclaimed directors of the modern era. He gave us the ultimate heist flick with "Ocean's Eleven," helped Julia Roberts earn her Oscar with "Erin Brokovich," kickstarted the '90s indie drama movement with "Sex, Lies, and Videotape," and won his own Academy Award for "Traffic."
And that's saying nothing about all his other films, such as "Contagion," "Logan Lucky," "Kimi," "Che," "Unsane," "No Sudden Move," and "The Informant!" Yeah, the man keeps busy, and everything he spins is gold. As for "Magic Mike's Last Dance," Soderbergh told Collider his new film will dig deeper and explore the subject relationships, with the director explaining, "The third [movie] is the sort of apex of everything that we've been talking about in that area. Not just taking the dancing to another level, but really getting into the relationship aspect that's been an undercurrent in all of the films. Like Mike has a full-on relationship that's at the center of this movie, while all this stuff is going on, and we haven't done that before."
Is there a trailer for Magic Mike's Last Dance?
When the trailer for "Magic Mike's Last Dance" opens, we see Mike tending bar in Miami, which is where he crosses paths with Salma Hayek's unhappy character. The two quickly hit it off, and we get a quick glimpse at what promises to be a very hot lap dance. From there, we're off to London, with Mike heading up a stage production, complete with try-outs and theatrical dancers, with Hayek helping him along the way. "People are numb, disconnected," she says, "We're gonna wake them up with a wave of passion they've never felt before."
As the trailer plays out, we get little looks at their relationship, and while it's clear Mike is in love, we wonder if there's trouble on the horizon. The plot of their show is a woman choosing whether she should marry for love or money. Will that conflict somehow play out between the two leads? Regardless, we're expecting some incredible dance scenes, both on the stage, behind closed doors, or even on a London bus. 
Where to watch the previous Magic Mike movies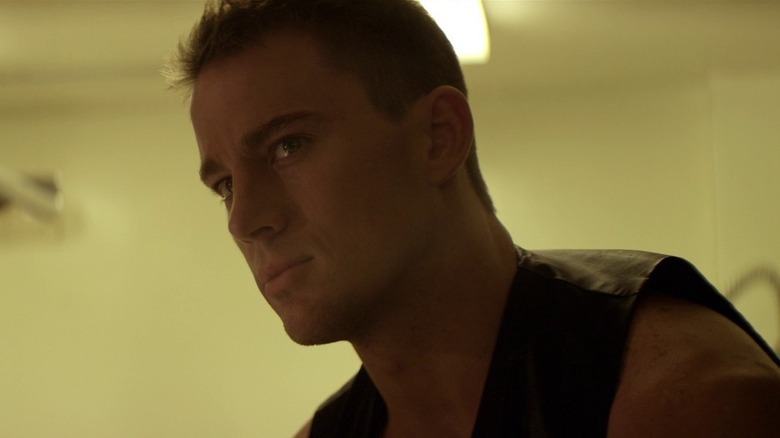 Warner Bros.
Before Magic Mike and his crew roll into theaters on February 10, 2023, you might want to revisit all the tearaway action. If you feel like checking out the first "Magic Mike" movie, helmed by Steven Soderbergh and co-starring Matthew McConaughey, you can stream that on HBO Max or pay $3.99 to watch it on Apple iTunes, Amazon Video, YouTube, Google Play, and Vudu. Or if you'd rather watch one of the best road trip movies and see Joe Manganiello tear it up in a supermarket, you can stream "Magic Mike XXL" on HBO Maxor rent the sequel for $2.99 on Apple iTunes, Amazon Video, YouTube, Google Play, and Vudu.