Who Plays D.A. Rika Harold On Law & Order: Organized Crime?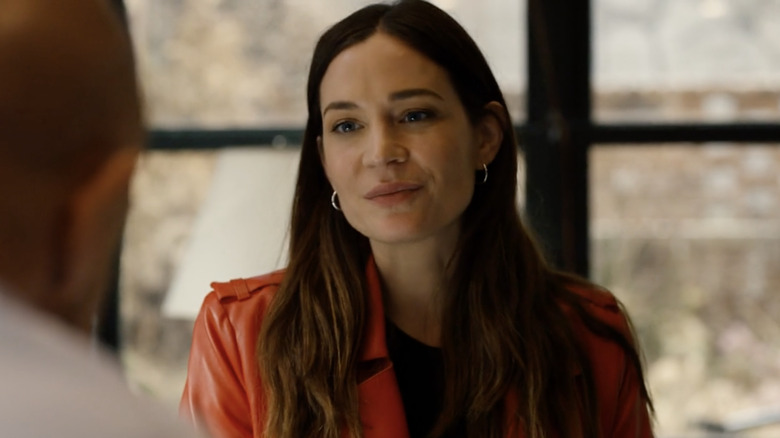 NBC
Dick Wolf's "Law & Order" franchise continues to feature some of the most-watched TV shows available. This includes "Law & Order: Organized Crime" (via Variety), which also has earned a pretty solid audience score on Rotten Tomatoes. The seventh show to come out of the long-running television property stars Christopher Meloni as Elliot Stabler, a member of the NYPD's Organized Crime Task Force. For three seasons, the veteran of the small screen has been entertaining viewers, and Season 3, Episode 12 was what some followers would claim has a debatable shot at being yet another exceptional addition. In this entry, Stabler encounters the assertive D.A. investigator, Rika Harold, when she unexpectedly shows up at his place. She has intel for him involving the death of Octavio Montanero (Brandan Espinoza) and informs him that a person of interest – Eamon Murphy (Timothy V. Murphy) — may have someone assisting his efforts within the department. Later when the two talk, she tells him to be careful before the credits roll.
Many people who tuned in would agree that D.A. Rika Harold made her presence known in the entry and has arguably piqued some people's curiosity about what the future holds for her character in the series. But most of all, some are probably wondering who played her in "Law & Order: Organized Crime."
D.A. Rika Harold is played by Kathleen Munroe
The actor who portrayed D.A. Rika Harold on "Law & Order Organized Crime" is Kathleen Munroe, and it isn't even the first time she has played a role in Dick Wolf's "Law & Order" shared TV universe. Munroe also played Evelyn Bundy in the "Contrapasso" episode of "Law & Order: Special Victims Unit." Other big-name titles that she has lent her talents to over the years include "NCIS: Los Angeles," "NCIS: New Orleans," "CSI: NY," "Chicago Med," "Chicago Fire," and "S.W.A.T." But she is probably more well-known for her recurring roles on shows like "FBI," "Alphas," "Resurrection," and "Haven." Other credits on Munroe's resume include "Beautiful People." "Call Me Fritz," "Patriot," "Strangers," and "City on Fire" (via IMDb).
Out of everything she has accomplished, her time on "Law & Order: Organized Crime" is arguably shaping up to be a worthwhile affair. The entry was one of the most watched episodes of the season so far (via TVseriesfinale.com). In addition, Munroe also got the attention of TV Fanatic in their review of the episode, where they commented on the intrigue of her character. Followers of the series will definitely not want to miss out on what the future holds for D.A. Rika Harold, and fans should now know not to sleep on the prolific small-screen player known as Kathleen Munroe.