The DCU's New Swamp Thing Film Will Have A Tough Time Topping MCU's Man-Thing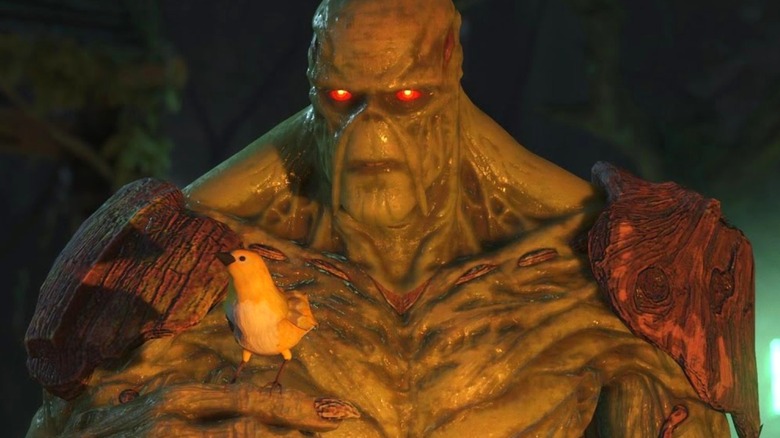 Warner Bros. Interactive Entertainment/YouTube
It has been a strange few months for DC fans, with it seeming like the brand will never get ahead of the competition. Between the Ezra Miller situation, the failure of "Black Adam," and internal changes at Warner Bros. Discovery, there hasn't been much to get excited about. At long last, that changed when James Gunn and Peter Safran were announced as the leaders of DC Studios: a division dedicated to getting the DC film and television slates in check and putting the shared universe back on track. It has taken some big changes, but they seem to be headed in a proper direction.
To drum up some hype for the new era of the DC Universe, Gunn and Safran recently presented their first batch of movies to the world (via Jenna Busch of /Film). Among the likes of "Superman: Legacy" and "The Brave and the Bold" sits "Swamp Thing," which is unlikely a dream movie for the average DC fan. Nevertheless, Dr. Alec Holland is headed to the movies for what has been teased as a dark, dreary affair that will explore the origin of the title character. That's all well and good, but there's a big obstacle that the film will have to overcome if it wants to gain a foothold with casual superhero movie fans.
Despite how interesting Swamp Thing is, he and his film will have a tough time topping the Marvel Cinematic Universe's rendition of Man-Thing. Here's why and how the "Swamp Thing" team can sidestep this hurdle.
Man-Thing and Swamp Thing have been at odds for years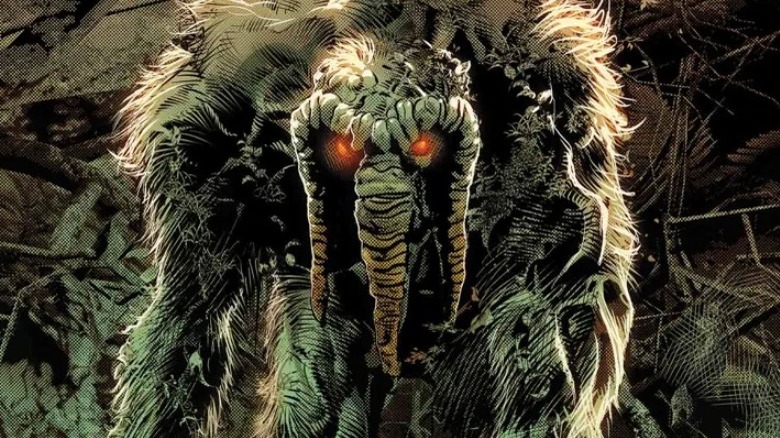 Mike Deodato Jr./Marvel Comics
Before diving into the MCU's take on Man-Thing, it's important to look at why he would be compared to DC's Swamp Thing in the first place. For those unfamiliar, his real name was Dr. Theodore Sallis, and he took on the daunting task of attempting to recreate the famed Super Soldier Serum. His research took him to a facility within the Florida Everglades, which was attacked while he was there. During his botched escape, the magic properties of the nearby swamp water, coupled with the incomplete serum, resulted in him transforming into the monstrous Man-Thing: a cosmic being and protector of the cross-dimensional portal known as the Nexus of All Realities.
As for Dr. Alec Holland, he started out as a human scientist working in a secret facility within the bayous of Louisiana. The station is attacked, Holland is killed, and his chemicals blend with the swamp life, resulting in his consciousness being transferred into his newly-created Swamp Thing body. He eventually learns to embrace his new form to become the guardian of the Green: a cosmic energy he can tap into as an elemental being. Can you see why fans have compared them for decades and continue to do so to this day? To further muddy the waters, Man-Thing debuted in May 1971 in "Savage Tales" #1, while Swamp Thing arrived in July 1971 in "House of Secrets" #92.
So, with their parallel comic history in mind, let's get back to this MCU-DCU situation.
Swamp Thing would be wise to avoid stepping on Man-Thing's toes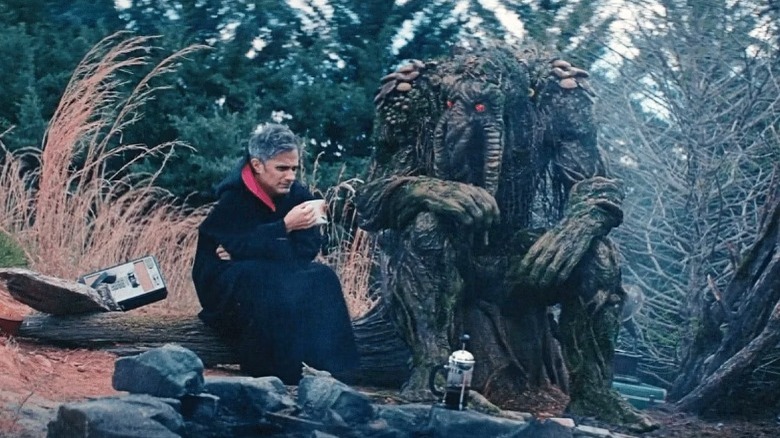 Marvel Studios/Disney+
As part of the "Werewolf by Night" Marvel Studios Special Presentation, Man-Thing (Carey Jones) debuted in the MCU, and fans absolutely adore him. The poor guy was trapped in a maze being stalked by monster hunters, after all, so how could you not root for him at least a little bit? Not to mention, he's depicted as a big, friendly guy who wants to take care of his friend Jack Russell (Gael García Bernal). Sure, he departed a bit from his brutish, unfeeling comic counterpart, but most would agree — particularly in this Reddit thread — that the Chewbacca-esque sidekick version "Werewolf by Night" gave us was a fine trade-off.
Therefore, "Swamp Thing" has to go in a completely different direction.
Look, it's bad enough that Swamp Thing is considered the Man-Thing rip-off since he came after, he's aesthetically similar, and he has basically the same backstory. If James Gunn and Peter Safran try to keep this trend going in live-action, the character could very well be doomed. So, instead of trying to top the MCU's Man-Thing, the DCU's Swamp Thing should chart his own course. As Safran has already noted, the film should be dark, with a tragic depiction of the character who struggles with his new life. If they really want to, they could always take inspiration from the painfully slept-on "Swamp Thing" TV series, which took on a horror edge to great effect.
All in all, it's great to see that Swamp Thing is getting a shot at the silver screen. He's among DC's most compelling characters and has constantly been saddled with poor or poorly-advertised adaptations. Dr. Holland deserves a win, but he's not gonna find it by chasing the success of the MCU's Man-Thing.