Hollywood Reacts To The Death Of Laverne & Shirley Star Cindy Williams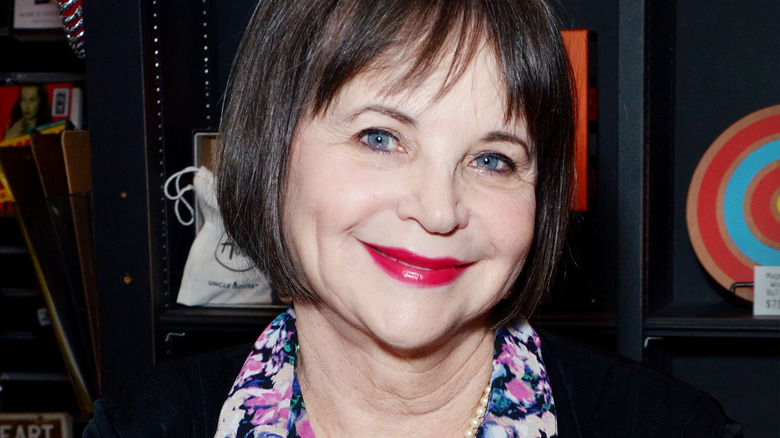 Beck Starr/Getty Images
The entertainment industry is grieving the death of actress Cindy Williams who played one-half of the dynamic TV duo "Laverne & Shirley." According to a family statement, Williams died on January 25, 2023, at 75 years old (via AP News).
Williams first started playing the role of sweet and spunky Shirley Feeney on "Happy Days" in 1975. Shirley and her pal Laverne DeFazio (Penny Marshall) are introduced in Season 3, Episode 10, "A Date with Fonzie." "Laverne & Shirley" would premiere in 1976, following the best friends and roommates as they navigated life, love, and work in Milwaukee, Wisconsin. They became an iconic duo known for their quick wit. Williams would receive a Golden Globes nomination for her work in 1978. While the show ended in 1983, Williams would wrap her time on "Laverne & Shirley" in 1982.
Williams joined other big projects over the years, including starring as Laurie in the 1973 film "American Graffiti" alongside "Happy Days" star Ron Howard. She would also take on brief roles in shows like "Lois & Clark: The New Adventures of Superman," "Law & Order: Special Victims Unit," and the reboot of "The Odd Couple." And as many look back on her long career, fellow celebrities are reacting to her death.
Past co-stars shared fond memories of Williams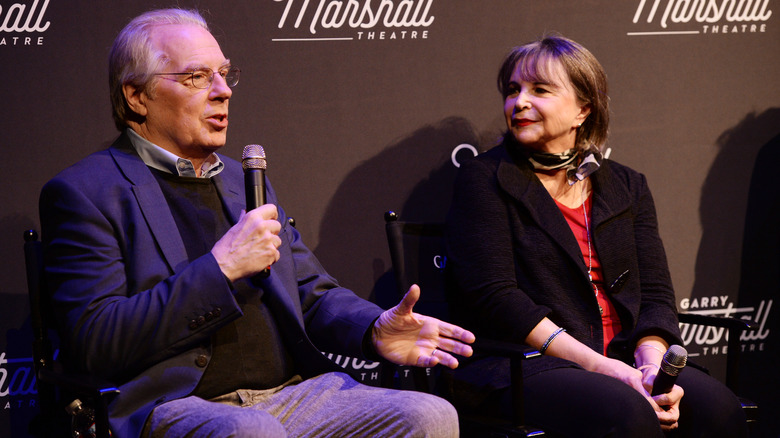 Amanda Edwards/Getty Images
While Laverne and Shirley made many people laugh, it was their friends Lenny Kosnowski (Michael McKean) and Andrew "Squiggy" Squiggman (David L. Lander) who always brought extra laughs to help elevate any comedic situation that came their way. McKean tweeted a memory from Season 1 of the hit comedy. "I'm offstage waiting for a cue. The script's been a tough one, so we're giving it 110% and the audience is having a great time. Cindy scoots by me to make her entrance and with a glorious grin, says: 'Show's cookin'!' Amen. Thank you, Cindy," he wrote.
In Season 6 of "Laverne & Shirley," the best friends leave Milwaukee and head to Hollywood, where they meet interesting new characters, including stuntman Sonny St. Jacques, who was played by NFL-star-turned-actor Ed Marinaro. "So sad to hear of the passing of Cindy Williams. Very talented actress who I had the pleasure of working with. RIP," Marinaro tweeted.
Meanwhile, Yvette Nicole Brown recalled the time that she spent with Williams on the set of "The Odd Couple" reboot, which would also guest star Penny Marshall's brother Garry Marshall. Williams played Vivian in Season 3, Episode 4, "Taffy Days." "When I was blessed to meet her on the set of 'The Odd Couple' she was as lovely as I always imagined she'd be," she wrote.
Celebrities expressed their love for Laverne & Shirley
Celebrities who were fans of "Laverne & Shirley" also took to Twitter to share their grief. Joely Fisher tweeted about her love for the show. "Oh Shirl," she wrote while posting a video of the sitcom's iconic opening, which includes an unforgettable song and dance performed by the show's titular characters. 
"The Book of Boba Fett" actor Ming-Na Wen and Rosario Dawson each took to Twitter to share their love for that opening number. "Singing this song with so much gratitude for both you ladies. Absolute gems. United Again ... Rest in Paradise Cindy Williams," wrote Dawson, referencing the death of Penny Marshall, who died in December of 2018 (via The Hollywood Reporter). 
Jason Alexander also shared his admiration for Williams and the show. "I did not know Cindy Williams but boy do I adore her work, especially the wacky joyful funny pleasure of watching her 'Laverne & Shirley' days. I pray she had a good life and send my sympathy to those who knew and loved her," he tweeted.