Yellowstone's Kevin Costner And Piper Perabo Never Discussed Their Onscreen Relationship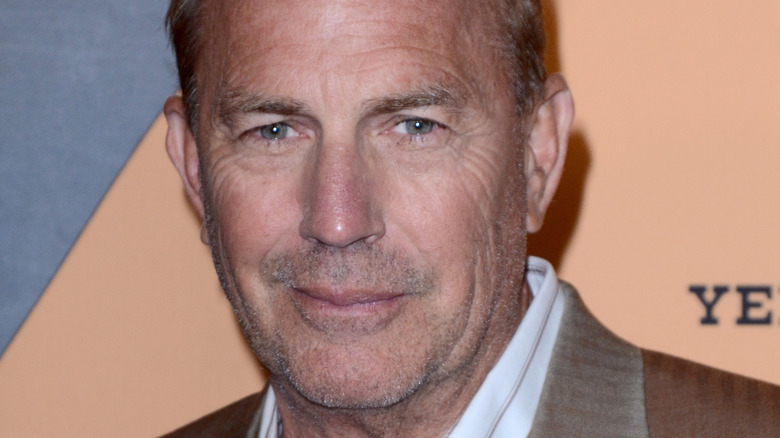 Kathy Hutchins/YouTube
One of the more surprising relationships to bloom in the world of "Yellowstone" is one between John Dutton (Kevin Costner) and Summer Higgins (Piper Perabo). Not only are the two a couple of generations apart in age, but their worldviews are polar opposites. Higgins is an environmentalist and activist who spends her time organizing crowds and demonstrations, while Dutton is a tried and true rancher interested in protecting his massive plot of Montana land and family at all costs.
When a relationship between John and Summer is discovered by Beth Dutton (Kelly Reilly), it's not clear whether Summer's future with the Duttons will be as an ally or enemy. In "Yellowstone" Season 5 Episode 7 ("The Dream Is Not Me"), Summer is back from a short stint in jail stemming from her brand of activism, and sparks are still flying between her and John, the two sharing a kiss at a fair. According to a TV Guide interview with Perabo, the kiss was real, even though her husband, Stephen Kay, directed the episode.
"We actually kissed because you can see us moving. Adults know. Like, have you ever seen actors pretend to drive a car, and you're like that's not really how you drive a car? It's the same way with kissing," she said.
The relationship between John and Summer is a subject of much conversation in "Yellowstone." However, according to Perabo, she and Costner have never actually discussed the connection between their characters.
Kevin Costner and Piper Perabo mainly talk about movies and Costner's band
In the same TV Guide interview on "Yellowstone" Season 5, Piper Perabo said she and Kevin Costner don't dive deep into the relationship between John Dutton and Summer Higgins, their real-life conversations remaining fairly light.
"When I talk to Kevin, we talk about his band, or movies. I hang out with Kevin Costner, I never ask him what he thinks John thinks. It's just pretty fun to hang out with Kevin Costner. He had just done a show right before we did the fair, and I was really interested. Like how was the crowd? He loves music so much. I just never ask him what John is thinking," the actress said. She explained there is a method to the laid-back approach as it makes the actors comfortable with each other, making the ease their characters feel with each other easier to play.
Speaking to The Hollywood Reporter about her husband directing a "Yellowstone" Season 5 kiss (in "The Dream Is Not Me") between her and Costner, the actress joked things were made easier thanks to a hat between the pair and director Stephen Kay.
"The good news is there was a hat between us and the camera lens," she said.