Kevin Bacon Is Very Willing To Dig Into A New Tremors Movie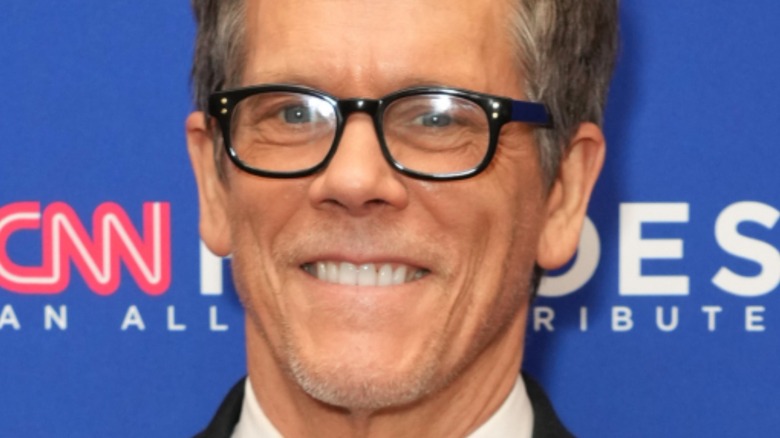 Kevin Mazur/Getty Images
Kevin Bacon's dream of revisiting the world of "Tremors" is still alive and well, with the actor revealing in a recent Twitter post that he'd still be down to do another one of the creature features, should the opportunity ever arise.
When fans last heard from Valentine "Val" McKee — Bacon's "Tremors" character — the Perfection, Nevada, mechanic had married Rhonda LeBeck (Finn Carter) and eventually had a daughter with her. This all happened off-screen after the events of the first "Tremors" film directed by Ron Underwood, who went on to make "City Slickers" and "Mighty Joe Young."
Underwood and Bacon's impact on the "Tremors" franchise, despite being a part of it for just one installment, was enough to catapult the movie series into cult classic territory. Seven different films have now come out under the "Tremors" banner, the most recent being 2020's "Tremors: Shrieker Island." Sure, the entries have gotten increasingly ridiculous over the years — with actor Michael Gross still leading the charge against the franchise's infamous Graboids and Shriekers. But with Bacon potentially back on board, who knows what the future could hold for the "Tremors" empire.
'I'm just waiting for the call...'
Replying to a tweet on Friday, January 27, Kevin Bacon claimed that he was totally down to make another "Tremors" movie, or project of some sort, following several failed attempts to do so. "I'm just waiting for the call..." he tweeted after being asked by a fan to make it happen. People who caught wind of the response were elated by Bacon's willingness to return.
"Would LOVE to see another 'Tremors' with @kevinbacon, one of the few long-span sequels I would GLADLY pay to see in theaters," said Twitter user @WhoIsJohnLoc. "If the world needs one cinematic masterpiece...the one to make or remake is hands down Tremors," wrote @badass1972. Some folks have even offered ways for Val and the story to return to Perfection.
"Val comes back to Perfection after being gone for 30 years because of Earl's passing [RIP Mr. Fred Ward]," tweeted @ArkansasChannel. "While in town to pay his respects it seems that the Graboids have awaken after a 30 year slumber." Another user had a similar idea: "The characters come back for Earl's funeral and something crazy happens! The original Writers would do it. Their script was perfect. Incorporate some of your tv series ideas into story."
For those who don't know, Bacon had been signed on to do a "Tremors" TV show for the SyFy channel, but the plans fell through and it was eventually scrapped. "Although we made a fantastic pilot [IMHO] the network has decided not to move forward," Bacon said in a 2018 statement (via RadioTimes). He had hoped that the series would follow up on Val and his life now. "What happens to this guy 25 years later? That's what we're going to explore," Bacon told the RadioTimes.