Emma Roberts Says Her 6-Hour Makeup Process For AHS Was Exhausting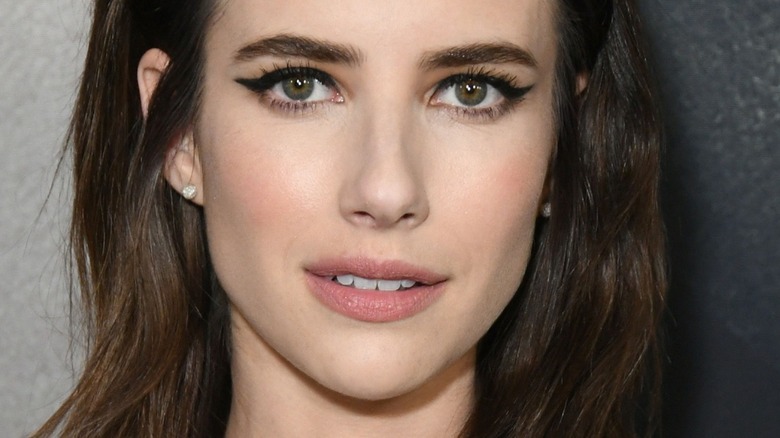 Quinn Jeffrey/Shutterstock
When tuning into "American Horror Story," you may not always be in for logic or cohesive storytelling, but you will be in for a wild ride. The joy of the series isn't the narrative but every way Ryan Murphy can shock you from season to season. Not all of them are winners, but at the very least, we can look forward to a revolving door of repeating actors. Sarah Paulson and Evan Peters are high on the list of those who appear in the most "AHS" seasons but don't be so quick to discount other fan favorites.
Emma Roberts, in particular, has proven her worth with the varying performances she brings to the screen. First appearing as the deplorable and highly entertaining witch Madison in "AHS: Coven," she also went in the opposite direction as innocent Brooke in "AHS: 1984." With such a long tenure on the series in some of the best seasons, Roberts is undoubtedly more than accustomed to blood and guts. But even with so much "AHS" experience, trips to the makeup chair are not always the easiest.
The longest days required the least amount of work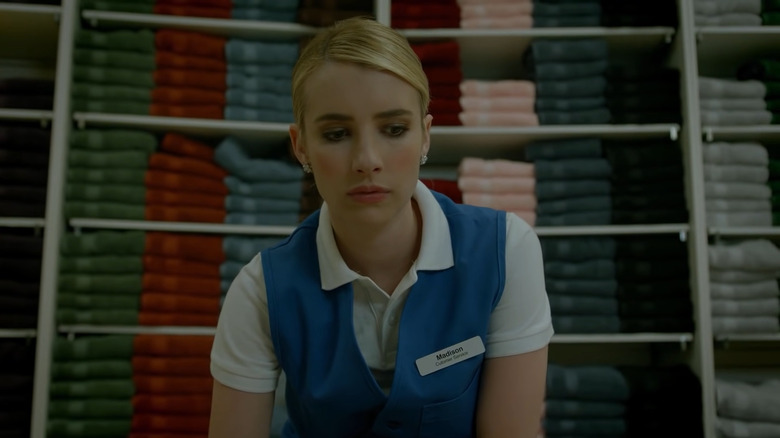 FX/YouTube
Emma Roberts' introduction to the "American Horror Story" family is probably the most memorable. Not only is Madison a famous starlet, but she also happens to be a powerful witch. With her telekinesis abilities, Madison is a front-runner to inherit the position of Supreme. But even with her backstabbing personality and dying multiple times, Roberts recalls one of the most taxing scenes was when Madison was at her quietest. Madison's first death comes at the hands of Fiona (Jessica Lange), who slashes her throat and demands caretaker Spalding (Denis O'Hare) dispose of her. Instead, he stashes Madison in a trunk while dressing her like a doll. Even though Roberts had no lines, the scene proved to be one of her longer days on set.
"What is so funny about that is I would have to go to work longer for that scene than any of my talking scenes because I would be in hair and makeup for like six hours, and then I worked for maybe 12 minutes," Roberts revealed to Gold Derby. "And so I would be exhausted by the time I got to set because they would do full head-to-toe body makeup, and I was like, 'I've never worked so hard in my life.' And it was just laying there and doing nothing." Though not the last Madison would see the great hereafter, it will always be remembered as the iconic "AHS" death that launched 1,000 memes.