Phoebe's Jokes In Ghostbusters: Afterlife Were Created By Mckenna Grace Herself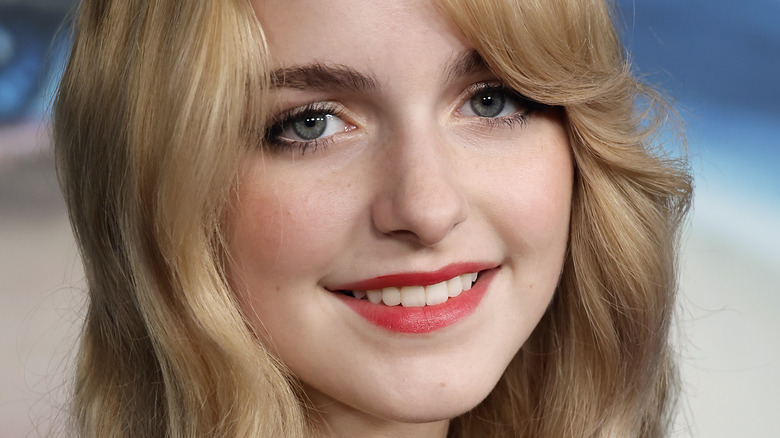 Frazer Harrison/Getty Images
While the "Ghostbusters" franchise is chock full of more strange ghouls and monsters than you can shake a Proton Pack at, the franchise arguably wouldn't have had half its legacy without its gut-busting comedy. The 1984 original and its 1989 sequel brought together some of the best names in comedy at the time with such talents as Bill Murray, Dan Aykroyd, Harold Ramis, and Rick Moranis imbuing their genius timing and larger-than-life personalities to the paranormal adventure. 
So when it came time to bring the series back to its roots with "Ghostbusters: Afterlife," it was crucial that the franchise's special brand of comedy be present. Set over three decades following the events of "Ghostbusters II," "Afterlife" sees Egon Spengler's (Ramis) estranged daughter (Carrie Coon) and her children move into a farm they inherited from him, only for a new series of supernatural secrets to arise. 
Amongst that family is Phoebe Spengler (Mckenna Grace), an awkward young girl who learns to embrace the legacy her grandfather left behind. And this wasn't only limited to the character, but Phoebe's actress, Mckenna Grace, was well aware of the torch she carried from the original "Ghostbusters" in not only making her character likable, but also very funny. 
Mckenna's performance brought something old and new to the table
While "Ghostbusters: Afterlife" provided fans with plenty of delightful nods to the franchise's pasts, the film made genuine efforts in creating a new, rich world full of characters who could stand toe-to-toe with their iconic predecessors. Finding that balance for Egon Spengler's granddaughter and the film's protagonist, Phoebe, was a hurdle that actress Mckenna Grace knew she'd have to overcome to make the film work. But she was more than up for the task. 
In a 2021 Collider interview featuring Grace and "Afterlife" co-star Finn Wolfhard, the "Captain Marvel" actress shares how she kept up the franchise's knack for comedy during the film's making. "I tell a lot of jokes in the movie and every single take I told a different joke," Grace explains. "Those are my jokes I came to set with ... Jason's [Reitman] favorites are in the movie." While Phoebe's constant joking could've proven annoying in lesser hands, Mckenna manages to imbue her comedy with the dry wit that fans have come to love from the franchise while bringing her own charm to it. 
Finding the perfect person to take on such a part was a tall task for director Jason Reitman, but it was smooth sailing when Mckenna came on board. As the "Juno" director says in a behind the scenes featurette, "We needed a young woman who was genuinely brilliant. And that's who Mckenna is."