Why Family Guy's Seth MacFarlane Usually Gets His Way When Dealing With Network Executives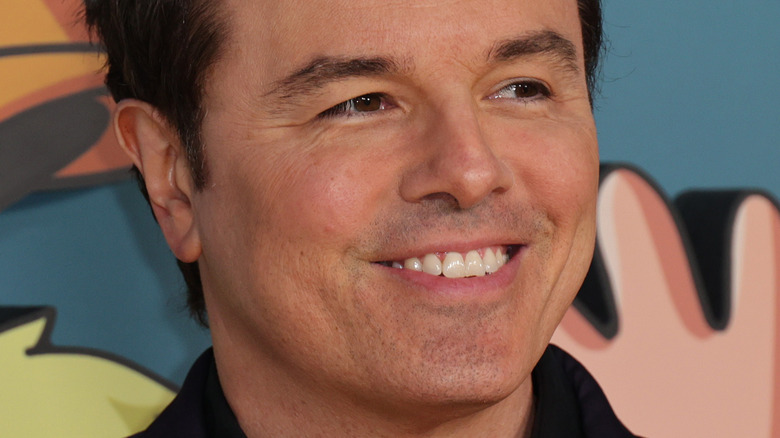 Momodu Mansaray/Getty Images
While many would agree that the show "Family Guy" is known for its hilarious characters and side-splitting cutaways, there is no denying that the animated series is not afraid to push the limits of comedy. Despite putting out jokes that may potentially rub people the wrong way, the cartoon's creator Seth MacFarlane rarely receives any interference from those above his pay grade.
It may come as a shock, but Seth MacFarlane has lent his talents to a number of high-rated projects over the course of his career (via Rotten Tomatoes). "The Orville" star and creator has starred in several motion pictures like "A Million Ways to Die in the West," "Logan Lucky," and the "Ted" films. But he is pretty well known by most for being an adult-oriented animation powerhouse. The Television Academy Hall of Famer has several notable endeavors in this area, including "The Cleveland Show," "American Dad," and "Family Guy." But out of everything he has done, people would probably equate the series "Family Guy" to being a contender for the status of MacFarlane's biggest career accomplishment. The show that first aired in 1999 has passed the 400-episode mark, and it has won many accolades, including several Emmy awards in the process. It seems pretty clear that MacFarlane knows what he's doing when it comes to the small screen, and it makes sense that those in charge would avoid tampering with his comedic vision in any way.
The people in charge trust MacFarlane to make the right call with Family Guy's jokes
There are many reasons that the seasons of "Family Guy" have resonated well with fans over the years, and some would agree that the relentless and unforgiving jokes ensure it stands out from the competition. The series is not known for pulling its comical punches or holding back its humor. And it probably wouldn't be able to successfully deliver its signature blend of comedy if it constantly received backlash from the top. According to Disney General Entertainment Content chairman Dana Walden, who has been involved with the series since the beginning, while there were times she would attempt to get something changed, it would always go MacFarlane's way in the end. "Seth won almost every time — it's not even fair to say we compromised," Walden told The Hollywood Reporter." The executive added she would always trust his thought process, saying, "and at the end of the day, I back him. No one has a better sense than he does of where the line is in terms of taking something too far."
Walden is not the only person involved in the series to offer a considerable amount of praise as Alex Borstein, who voices Lois Griffin on the animated sitcom, also has recognized MacFarlane's next-level comedy crafting abilities. "A blessing and a curse. Blessing because he's a genius. A curse because he's a genius," Borstein said while answering questions from fans. "The reality is that he is one of the smartest, most talented people I've ever met, and working with him is always fun and rewarding." MacFarlane's material may ruffle some feathers sometimes, but it seems pretty clear that he is highly revered for his work.