Ren & Stimpy Creator John Kricfalusi Has Harsh Words About Family Guy's Animation
John Kricfalusi (John K.) brought the "Happy, Happy, Joy, Joy" to cartoon fanatics with the exploits of his irreverent Chihuahua, Ren Höek, and the dog's chummy cat, Stimpy (Billy West), in "The Ren & Stimpy Show." The animated series aired on Nickelodeon from 1991 until 1995, with its final season appearing on MTV in 1996. The ground-breaking show was the brainchild of the man who voiced Ren, and John K. has his own ideas on the state of animation in the 21st century.
"Here's an interesting theory," Kricfalusi said in an interview with Cartoon Brew. "The main difference between cartoonists and illustrators, and this isn't going to apply in every case, but in general cartoonists are untrained artists, while illustrators are more trained. But because the standards were so high in illustration and fine art in the early to mid-20th century, that even the cartoonists and animators who were mostly self-taught, looked up much higher than you have to look today."
"The Ren & Stimpy Show" reveled in its laugh-out-loud gags and memorable characters. And, for those who watched the animated series with any regularity, getting the "Log" advertising jingle out of your head is likely still a challenge. Yes, Kricfalusi's "Ren & Stimpy" was a pioneer in more adult-themed animation, and given his "theory" on cartoonists versus animators, it's not surprising to discover he has strong feelings about Seth MacFarlane's "Family Guy."
John K. bashes Family Guy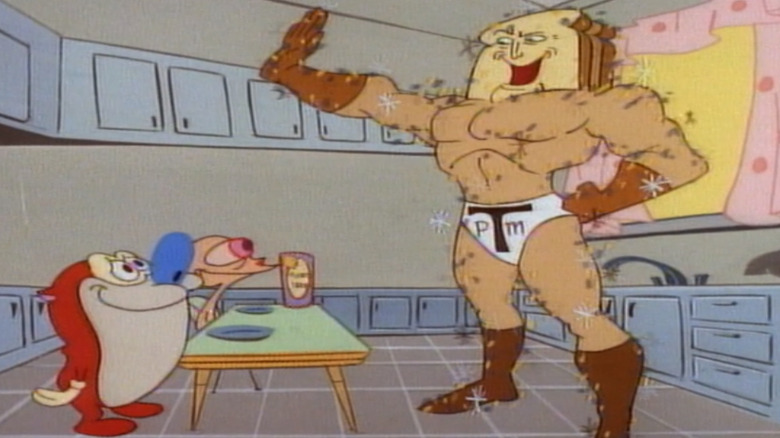 Paramount
The debut of "The Ren & Stimpy Show" represented a new era of adult-themed animation that was spearheaded by "The Simpsons" two years prior, followed by a number of likeminded cartoons. "Beavis and Butt-Head," "South Park," "King of the Hill," and "Family Guy," all brought their own respective absurdities to television in the 1990s. But "Ren & Stimpy" creator John Kricfalusi isn't impressed by the artistic efforts of Seth MacFarlane's "Family Guy."
"If you're a kid wanting to be a cartoonist today, and you're looking at 'Family Guy,' you don't have to aim very high," Kricfalusi said in an interview with Cartoon Brew. "You can draw 'Family Guy' when you're 10 years old. You don't have to get any better than that to become a professional cartoonist. The standards are extremely low." Now, while comparing "Ren & Stimpy" to "Family Guy" may come across as ostentatious, or even pedantic, there's a reason the cliché "people in glass houses" exists.
First, consider each show's lifespan. The Griffin clan is the winner with 21 seasons compared to only five for "Ren & Stimpy" (via IMDb). MacFarlane's series has also been ranked in the top 10 of all-time adult cartoons, while "The Ren & Stimpy Show" doesn't even crack the top 20 (via IGN). But, despite Kricfalusi's objections, there's no reason fans can't enjoy both shows since they're each worth streaming.