Eddie Murphy Is Ready To Voice Donkey Again, Whether Shrek Comes Or Not
The world is eager for "Shrek" to return. 
With the franchise seemingly forced into exile following the release of 2010's "Shrek Forever After," audiences have long waited to see the recluse-turned-family-man ogre (voiced by Mike Myers) return to the big screen alongside his noble steed Donkey (voiced by Eddie Murphy). Following the release of the fourth fairy-tale chapter, several reports emerged suggesting that a fifth "Shrek" entry was in the works. Perhaps the most notable sign of progress was when Murphy told Cinema Blend in 2016 that a fifth "Shrek" would release in either 2019 or 2020, confirming that a script was finished. 2020 has come and gone, and "Shrek" fans are still waiting for their beloved ogre. 
Hope, however, has persisted in Shrek's feline friend. 
The last decade has been particularly kind to one of Shrek's most nefarious companions: Puss in Boots (voiced by Antonio Banderas). The suave kitty was given the opportunity to headline his own spin-off film in 2011, which raked in over $555 million worldwide at the box office, per The Numbers. Late last year, Puss in Boots returned to cinemas with "The Last Wish," quickly emerging as a critical darling — it boasts a 95% Fresh rating on Rotten Tomatoes. Now a fan-favorite to win Best Animated Feature Film at the Oscars, "The Last Wish" has reignited the passion of "Shrek" fans throughout the world.
With all eyes once again on DreamWorks Animation's premier franchise, Murphy has expressed interest in voicing Donkey again, even if it means having a solo adventure.
Eddie Murphy is ready for a Donkey spin-off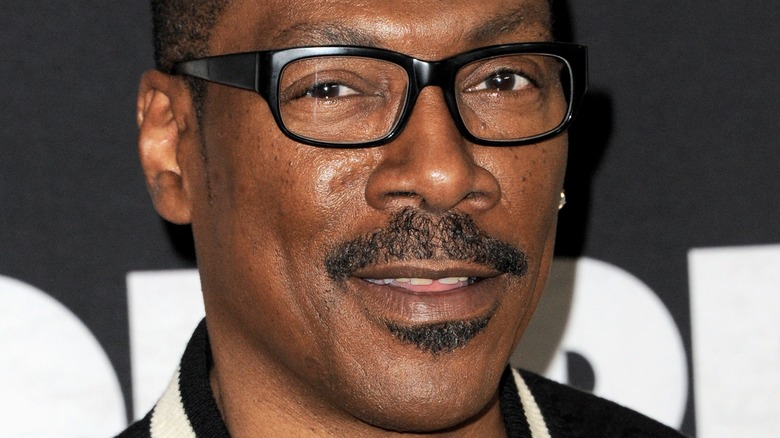 Tinseltown/Shutterstock
While speaking with Etalk, Eddie Murphy expressed interest in returning to the "Shrek" franchise, gushing over the love he has for Donkey. "I'd absolutely be open if they ever came with another Shrek, I'd do it in two seconds. I love Donkey," the "Beverly Hills Cop" actor said. Murphy has appeared as Donkey in every mainline "Shrek" film, including the theme park attraction "Shrek 4-D." Murphy continued by expressing interest in a Donkey spin-off movie, in a similar vein to the "Puss in Boots" films which were released in the wake of "Shrek Forever After." 
"I was like, 'They should have did a Donkey movie.' Donkey is funnier than Puss in Boots. I mean, I love Puss in Boots, but he ain't funny as the Donkey," the actor said. "I would do a 'Donkey movie'. I would do another 'Shrek' in two seconds."
A spin-off focused on Donkey is an intriguing prospect. Ranked as one of the best "Shrek" characters, it would be interesting to see Murphy return to voice the character in an origin story that ends with him escaping captivity and joining Shrek on his debut adventure. A fifth "Shrek" flick would absolutely be welcome as well. With Cameron Diaz (Fiona) returning to acting and "Puss in Boots: The Last Wish" receiving high-praise, now is the perfect time to bring the gang back together for "Shrek 5."  The possibilities are absolutely endless and Murphy is ready for whatever the animation studio can cook up, saying, "Dreamworks, if you all want to do it, just call me. I'm ready, I'm sitting and ready to do Donkey."