Why Kayla From Chicago Fire Looks So Familiar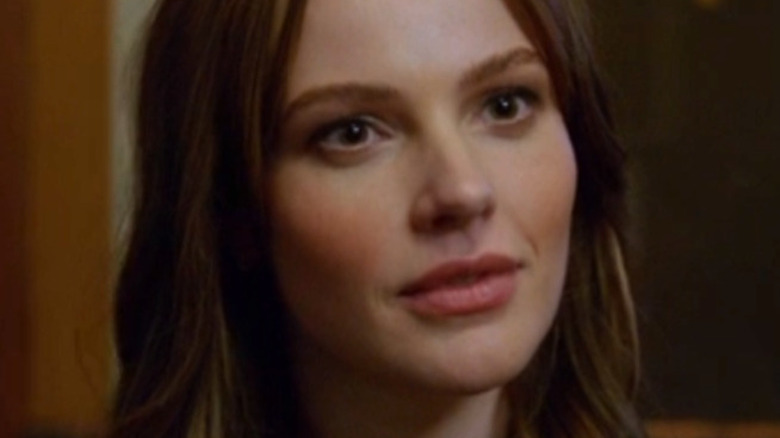 NBC
Romance in "Chicago Fire" can often go in unexpected directions, much like the unpredictable blazes the characters of Firehouse 51 have to put out. The Season 11 episode "How Does It End?" reinforced this theme, as a plot involving Blake Gallo (Alberto Rosende) trying his luck with a supposed admirer doesn't go according to plan. He and Darren Ritter (Daniel Kyri) find a social media post from a woman wanting to meet the good-looking hero who saved her from a fire. Gallo and Ritter initially believe that the woman, who we later learn is called Kayla, is talking about Gallo in her post. But as Gallo later meets Kayla for a date, it turns out he's not her mystery beau.
The catalyst that unravels everything is a glove Kayla returns that she thought Gallo left at the fire scene she was rescued from. It's not his glove, meaning he wasn't the one who saved her. His eventual confession and another reveal about a past romantic hook-up douse any hope of future sparks. This might have served as Kayla's first and possibly last appearance in the One Chicago universe of "Chicago Fire." But as for her actor, Cait Fairbanks, fans may have spotted her elsewhere. If you were left scratching your head, wondering why Fairbanks looks so familiar, that's likely because you've seen the actor in other notable TV shows.
One of Fairbanks' earlier roles included CSI: NY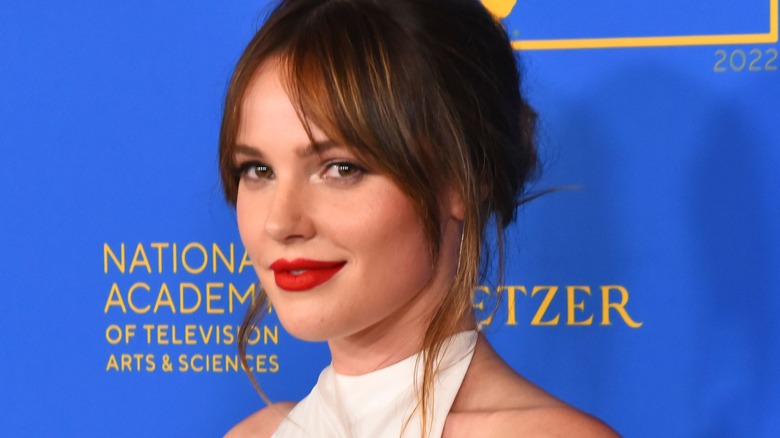 Michael Mattes/Shutterstock
Cait Fairbanks began acting when she was only eight years old, starting a busy career that includes time in theater and onscreen roles (via CBS). In 2006, she made her first TV appearance with a bit part in "Untold Stories of the ER," a series that presented dramatizations of real tales pulled from the emergency room. Then, the following year, Fairbanks went through a rite of passage familiar to many other actors. She got the chance to appear in a procedural crime drama. She guest-starred as a young version of the tragic character Mindy Sanchez for "CSI: NY," on the episode "Cold Reveal."
In "Cold Reveal," Mindy is connected to an old murder case involving detective Stella Bonasera (Melina Kanakaredes). It's later revealed that Mindy and Stella were so close as children that Mindy even collected both their blood in a locket. It's this detail that causes some authorities to become suspicious of Stella, as the locket links her DNA to a murder case. And things take a more tragic turn once Stella figures out what really happened with her old friend. Although her appearance is brief, Fairbanks couldn't have found a better episode to guest star on "CSI: NY." Not only did she get to portray the child version of an essential character, but the episode served as a shared universe moment with CBS' other hit crime drama show, "Cold Case."
She made appearances on Everybody Hates Chris and Two and a Half Men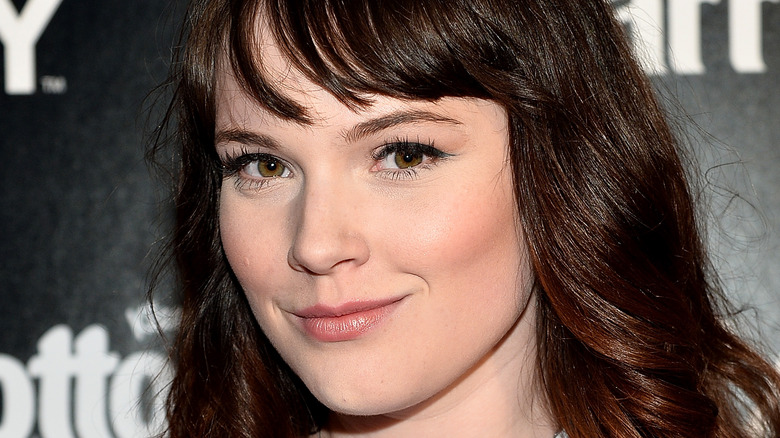 Mike Coppola/Getty Images
Cait Fairbanks continued her string of guest appearances on other hit TV shows. Fairbanks' guest parts leaned into comedy sitcom territory. In the same year, she played one of young Chris' (Tyler James Williams) classmates in an episode of "Everybody Hates Chris." Titled "Everybody Hates The Ninth-Grade Dance," Fairbanks could be seen as the character Darlene, one of many in the episode that reject Chris' proposal to go to a dance.
In 2010, Fairbanks appeared on an episode of "Two and a Half Men." In the episode "Three Girls and A Guy Named Bud," she causes panic for Alan Harper (Jon Cryer) as he spots her character Joanne as one of two girls sneaking out of his son's room. And in 2013, she appeared in an episode of "The Middle," playing a teenager named Amanda. Ironically, her appearance on "The Middle" was the first of two times she got to work with another episode guest star. Actor Ryan McCartan who also guest starred in the same episode, "Valentine IV," worked with Fairbanks the following year in theater for "Heathers: The Musical (via Broadway World).
Fairbanks hunted down Zendaya on K.C. Undercover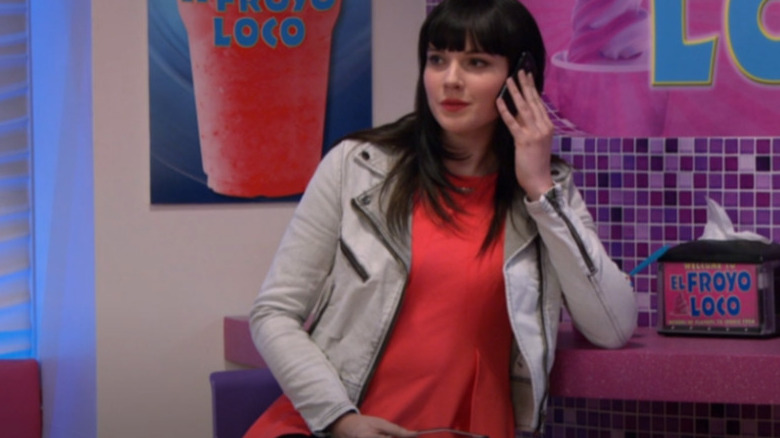 Disney
While Cait Fairbanks spent some time off-Broadway in 2014, she continued to increase her resume of TV appearances a few years later. In 2016, she acted as a dangerous spy in a Disney Channel hit show that featured another budding star. Zendaya may be known today for her success in the critically acclaimed show "Euphoria," or for starring as MJ in the MCU's "Spider-Man" films. Still, before that, the actor was teenage spy K.C. Cooper in "K.C. Undercover." In the series, K.C. juggles teenage life and combating evil agents. And it all came to a head in the two-parter Season 1 finale.
In the episode "K.C. and Brett: The Final Chapter – Part 1", K.C.'s ex-boyfriend and enemy agent, Brett Willis (Ross Butler), is tasked by his superiors at The Other Side to kill K.C. However, he can't bring himself to do so, which causes The Other Side to send another agent to hunt down both him and K.C. This turns out to be Ursula Witt, played by Fairbanks.
Her breakout role came through The Young And The Restless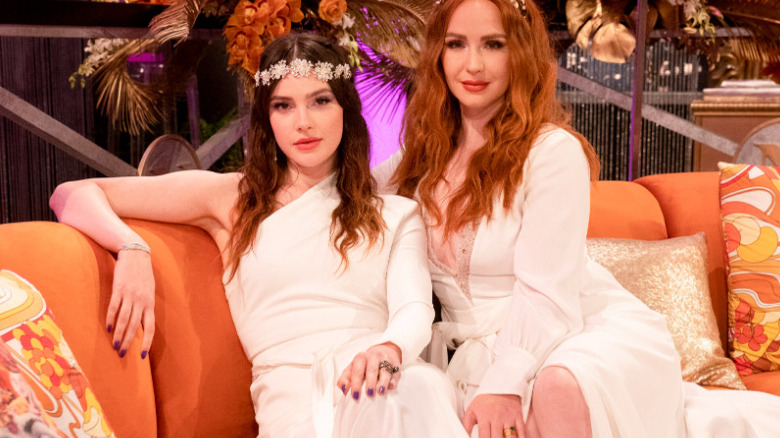 Sonja Flemming/CBS
After years of guest appearances and bit parts, in 2017, Cait Fairbanks landed her breakout role in one of the most iconic soap operas to date. Fairbanks portrays the character Tessa Porter in "The Young and The Restless," who is a bit of a free spirit and a talented musician. For years fans have witnessed Tessa's captivating storylines on the soap opera, especially her on-again-off-again romance with Mariah Copeland (Camryn Grimes), which happily ended in marriage in 2022. Tessa seems like the perfect character for Fairbanks, as it's allowed her to showcase more of her acting skills and flex her astonishing musical talents.
Per CBS, Fairbanks earned three Daytime Emmy nominations while on "The Young and The Restless," with two for songs she co-wrote and performed on the show. Fairbanks has featured many of her songs on the "Young and the Restless." And that might be thanks to her insistence on helping with songwriting duties. "I always kind of stick my nose in anytime I think I could write a song on the show, and if it involves the storyline, then it's even more exciting," she said to Celebrating The Soaps. In addition, Fairbanks has continued to work on her music career. She's released songs under her name and her electro-pop moniker, Ginesse.