Tobey Maguire Is Ready And Waiting To Put On The Spider-Man Suit Again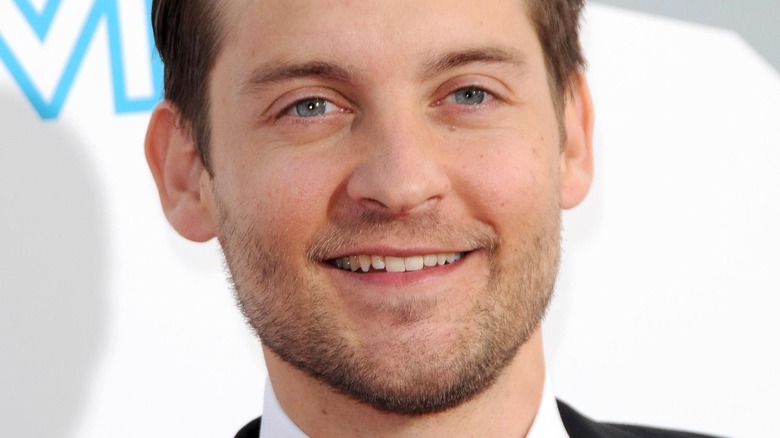 s_bukley/Shutterstock
For superhero movie fans who grew up in the 2000s, Tobey Maguire was absolutely their Spider-Man. He starred as the web-slinger in Sam Raimi's epic trilogy of films from 2002 to 2007 in a performance that The Hollywood Reporter praised in 2002, saying, "Guileless and charming with a perpetual look of startled bewilderment at the super powers he possesses, Maguire is perfect as an ordinary guy with a big secret."
While the trilogy has some semblance of a series cap in "Spider-Man 3," the filmmakers and studio fully intended on making Raimi's "Spider-Man 4" with Maguire. Due to the script not feeling right for Raimi and co., plans for a fourth film, which was rumored to feature Vulture as the main villain, were scrapped in 2010. The movie never hit the big screen, signaling Maguire's final bow in the role that made him a star ... or so we thought.
In December 2021, unsuspecting Marvel movie audiences were shaken to their cores by the surprise appearances of former Spider-Men Maguire and Andrew Garfield in "Spider-Man: No Way Home." Their appearances offered catharsis for fans who wanted to see official endings to both "The Amazing Spider-Man" series and Raimi's "Spider-Man" trilogy. While fans may have gotten that closure from the film, it seems Maguire is absolutely down to suit up yet again.
Tobey Maguire loves being Spider-Man
In an interview with Marvel for its upcoming book, "Spider-Man No Way Home: The Official Movie Special," due out February 28, 2023, former Spider-Man Tobey Maguire shared that he has nothing but love for all the "Spider-Man" movies. The actor said unprompted, "I love these films and I love all of the different series." 
Maguire added that he loves the franchise so much, he said he'd jump at the chance to work on another film for Marvel as the friendly neighborhood crime-fighter, even if it would be just a scene as the character. "Because why wouldn't I want to do that?" he continued.
Maguire recalled when he first got the call from Marvel to appear in "No Way Home." "I was like finally! ... [I] was immediately open about coming to do this. ... To get to show up with beautiful, talented, creative people and play together?" he said. "It's fun and exciting." His excitement to join the other Spider-Men in the 2021 Marvel film and keep playing the role in the future is a far cry from his outlook concerning the character after he played him for the first time in 2002.
In 2003, when Sony was setting up "Spider-Man 2," which confusingly was called "The Amazing Spider-Man" at first, Maguire was actually let go from the role, citing issues with his back as the reason he didn't want to return. When the project gained steam, he leveraged his way back into the role, and the rest is history (via the Los Angeles Times). Now, it seems as if Maguire is glad to have embodied the role. Time will tell if he gets to don the tights one more time.