Nipsey Hussle Fans Are Split Over Family Guy's Seemingly Distasteful Joke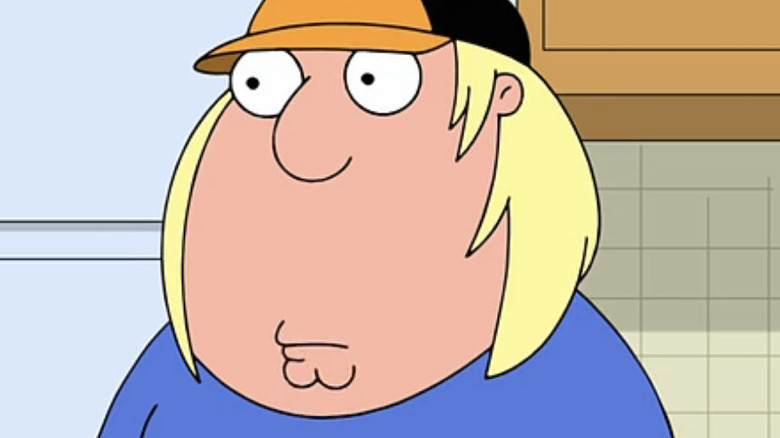 Fox
It's not unusual for "Family Guy" to run afoul of controversy — after all, several episodes of the show have been banned from airing on Fox due to their content, including the DVD-only installment "Partial Terms of Endearment." But the program's most recent dust-up involves an older clip that made a joke about Nipsey Hussle, a rap star who was murdered on March 30, 2019.
The joke was made during Season 19's "Young Parent Trap," an episode that aired for the first time on April 18, 2021. It features Meg Griffin (Mila Kunis) and her brother Chris (Seth Green) posing as a young hipster couple trying to win a berth in a trendy apartment complex. They mostly want to show up their parents, who have been mistaken for a younger couple by some new acquaintances and have been living there with Stewie (Seth MacFarlane), basically ditching Meg and Chris at home.
The Griffins meet beside the complex's pool, where the offending dialogue occurs. After Peter (MacFarlane) remarks about Meg and Chris' stated plan to go to the nonexistent music festival Quochella, Chris says, "They're gonna have holograms of 2Pac and also Nipsey Hussle, who I'd never heard of and then was told to care immensely about."
A clip of the joke abruptly went viral on Twitter in January 2023. Now fans of both Hussle and "Family Guy" are divided over whether the reference is a funny joke about hipster culture or a bridge too far from MacFarlane and company.
Fans aren't sure whether they find the joke funny or offensive
Fans on both Twitter and Reddit had different reactions to the joke. While some defenders of Nipsey Hussle were horrified by the riposte, others got a laugh out of it, and they even thought Hussle would approve of the snark.
On the pro-joke side, plenty of fans pointed out that Chris' line on "Family Guy" reflected a truism about the behavior they witnessed online at the time of Hussle's death. "To be completely honest, the joke was kinda true. Yeah, I'm sure Nipsey had fans when he was alive, but as soon as he died, EVERYONE was acting like they've been fans of him since the beginning, and his death even introduced new people to his music, since it was a worldwide phenomenon at that point," said Reddit user u/21stcenturydiablo. 
A number of fans felt the joke was on point and noted that this isn't even the most extreme joke "Family Guy" has ever done. On Twitter, one user pointed out that the joke is not about Hussle but about the hipster culture that only embraced him after his death. But one Redditor felt that Hussle was too well-known on the West Coast for the joke to work.
Likewise, some commentary was more pointedly skewed toward favoring the seemingly offended subset of Hussle's fanbase. "Yeah that's wild to even speak on. Seth [MacFarlane] a loser for this," tweeted @kiddwizzle. "I need somebody to tell me again how Family Guy is funny," agreed @TegoSigel.
Since the episode aired two seasons ago and "Family Guy" was just renewed for two more seasons, it appears that the show will go on to entertain and confound its audience for at least a few more years to come.