Young Sheldon's Mckenna Grace Thinks Reese Witherspoon Should Play An Adult Version Of Paige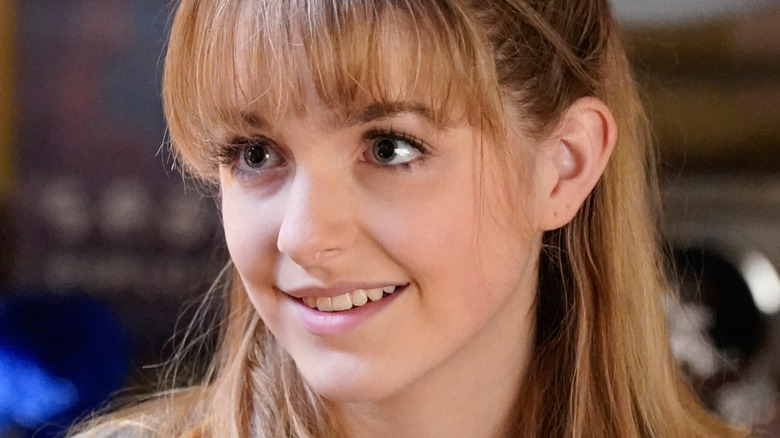 Robert Voets/Warner Bros. Entertainment Inc.
In "Big Bang Theory" prequel "Young Sheldon," the titular young version of the former show's protagonist Sheldon Cooper (Jim Parsons), portrayed by Iain Armitage in the latter series, possesses what would be considered a well above average intellect for an adult despite his relative inexperience in life. Because of his prodigious nature, Sheldon appears to enjoy surrounding himself with others that can challenge his signature smarts, no matter their age. Sheldon's foil in "Young Sheldon," therefore, is Paige Swanson (Mckenna Grace), seemingly the only other child who can rival him intellectually.
Among the considerable cast of side characters featured throughout the series, "Young Sheldon" fans think Paige has the biggest impact on Sheldon, due to how she challenges him not just on an intellectual level, but interpersonally too. That said, some viewers have noticed that, in spite of Paige's significance in Sheldon's childhood, she doesn't come up once in "The Big Bang Theory," suggesting that their bond weakens over time. In fact, "Young Sheldon" seemingly fixes this plot hole in an episode that reveals Paige gives up her accelerated college trajectory due to a feeling of alienation, while Sheldon continues his.
Though Paige is a non-factor in "The Big Bang Theory" — which, notably, ended in 2019 — Grace nevertheless has thoughts on who might ideally play an adult version of her character, listing none other than Reese Witherspoon as her number one choice.
Mckenna Grace finds Paige and Reese Witherspoon to be kindred spirits
Ahead of an episode of "Young Sheldon" premiering that revolves around Sheldon's dynamic with Paige, Entertainment Tonight published a video in which Iain Armitage and Mckenna Grace interview one another about their roles on the show. To kick off their discussion, Armitage asks Grace who she would want to play an adult version of Paige.
"I think Reese Witherspoon," Grace replies. "Because she's a lot like Paige in 'Legally Blonde.'"
"She's awesome and kind like you," adds Armitage, who acted opposite the "Legally Blonde" star on the HBO series "Big Little Lies."
Playing a younger version of a character portrayed by an acclaimed actor is well-trodden territory for Grace, whose credits include younger counterparts to characters played by the likes of Margot Robbie, Brie Larson, Amanda Seyfried, and others. "I think that I've played 12 or 13 younger versions," Grace told Yahoo Entertainment in an interview about this aspect of her career. While she has yet to work with Witherspoon specifically as she expressed something of a desire to in her conversation with Armitage, doing so would, therefore, be well in line with the trajectory of her career thus far.