The 2023 Oscars Best Actress Nominees - Who Will Win & Who Should Win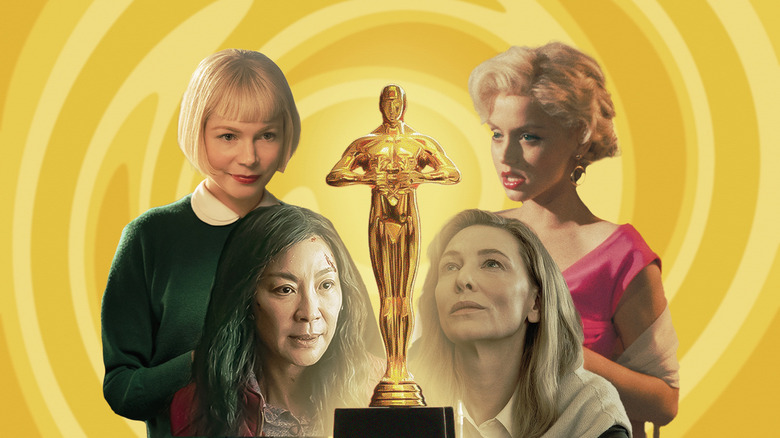 A24, Focus Features, Universal Pictures, Netflix, LanKS
On March 12 of this year, a new lead actress will be anointed by the Academy Awards as the very best of the bunch, and until then, we can only speculate about which performance from 2022 will be celebrated. The Best Actress race this year is particularly stacked, which makes sense considering that last year was pretty solid overall when it came to film, and five talented women will duke it out soon to see who takes home that little gold dude.
Amongst the five nominees, one does stick out like a somewhat sore thumb; though it's nice to see Ana de Armas get her first Oscar nomination, it's frustrating that it's for a movie as exhausting and grueling as "Blonde." Besides de Armas, Andrea Riseborough managed to make it into the race after a social media campaign for her film "To Leslie," Cate Blanchett was recognized once again for her work in "Tár," Michelle Williams got her fifth nomination for "The Fabelmans," and Michelle Yeoh got her very first and long overdue nod for "Everything Everywhere All at Once."
So who's going to win it all on that fateful Sunday? Here's who Looper thinks will win... and who probably should.
Cate Blanchett will triumph for her turn as Lydia Tár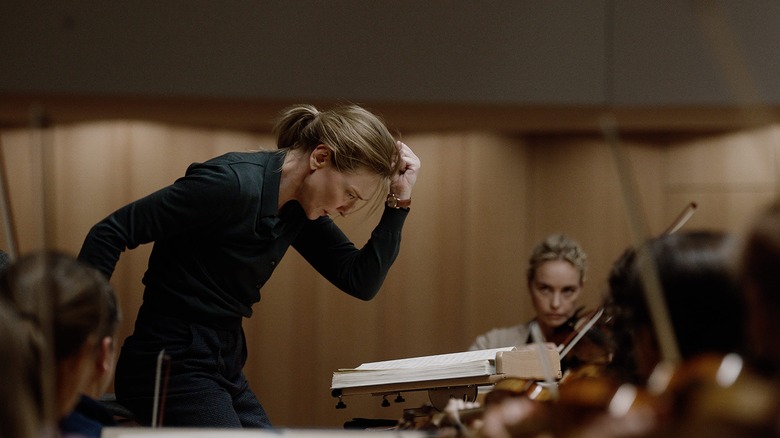 Focus Features/Universal Pictures
Cate Blanchett already has two Academy Awards — for her performances in 2004's "The Aviator" and 2013's "Blue Jasmine," in case you forgot — but you can probably put her name down on your ballot sheet for this year as well. Blanchett is, without question, one of the most talented actresses working today; who else could play both a scene-stealing Marvel villain and Bob Dylan and make both performances legendary? Ultimately, her turn as celebrated yet disgraced conductor Lydia Tár will very likely net her a third statue.
Why is that, exactly? Well, Blanchett's career seems to have led to this performance. We saw hints of this coming in the film that earned the actress her second Oscar, "Blue Jasmine," where she plays a woman completely undone by the death of her disgraced, cheating husband and her subsequent fall from the very top to the rock bottom of society; throughout the film, Blanchett's Jasmine shakes and trembles and sweats profusely, seeming unable to control her own movements or even bodily functions. "Tár" takes a similar path, with writer and director Todd Field giving Blanchett a role that lets the movie focus entirely on her, but Blanchett begins the movie in supreme control, at the top of her game as an extraordinarily famous composer.
It's when Blanchett begins to unravel — which, honestly, seems to be her speciality as an actor — that the movie really gets going, and watching as Lydia's indiscretions are revealed takes the audience on a bizarre, unsettling, and surreal journey as she falls firmly from grace. Blanchett is unquestionably delivering an enormous performance here that feels tailor-made for an Oscar reel, but there's a reason she's one of the best actors around: she makes it work. "Tár" wouldn't have worked with any other actor anchoring it, and Blanchett will very likely be acknowledged for that.
Michelle Yeoh should absolutely win for Everything Everywhere All at Once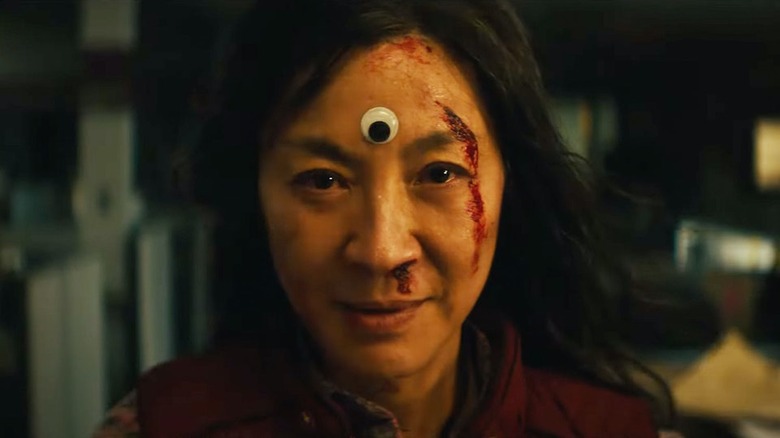 A24
Blanchett's great. We get it. She already has two Oscars. She's amazing in "Tár," but it's also... just kind of a boring choice. You know who would be the opposite of a boring Oscar winner? Michelle Yeoh.
Yeoh's been working steadily and turning out great supporting performances for decades, and finally, thanks to an incredible script originally intended for fellow martial arts legend Jackie Chan that was written by Daniel Kwan and Daniel Scheinert, she's getting the lead role and recognition she richly deserves. Yeoh has to play an enormous variety of roles in "Everything Everywhere All at Once," starting with Evelyn Quan, who just wants to save her laundromat and get her taxes done. Once Evelyn learns about the multiverse that's desperately in need of saving, she has to start accessing all versions of herself, and the result is a ton of equally great performances from Yeoh, who's clearly having the time of her life.
Rewarding Yeoh, who has gone overlooked for years, over someone who's already got a bunch of Oscars like Blanchett, would be exactly what the star deserves after toiling away as a supporting player for all this time. It's not completely impossible that she could win; at the Golden Globes, Blanchett and Yeoh won in the drama and comedy categories, respectively, and fans will have to keep an eye on both actresses as all of the Oscar precursors like the Screen Actors Guild Awards give out their own trophies. Still, imagine how thrilling it would be for Michelle Yeoh to take home an Oscar for the absolute best role of her long career, marking her first nomination and win.