Hayden Christensen Had A Hilarious Sound Effect Struggle While Filming His Star Wars Roles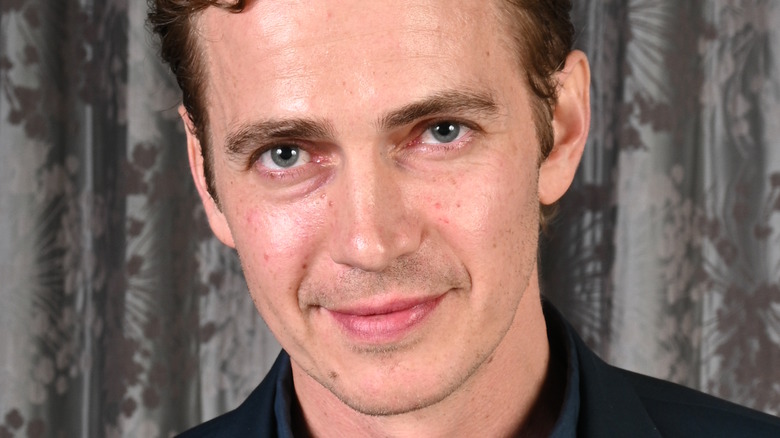 Jody Cortes/Getty Images
Many of us cannot remember a time before "Star Wars." It's not just that the many facets of the saga saturate our culture in the form of movies, TV series, and endless amounts of cosplays. The first film — retroactively titled "A New Hope" — hit theaters in 1977. The first generation of kids to see it is just about old enough to start collecting social security. Even the middle-aged will struggle to think of a time in our lives when we couldn't identify the likes of Luke Skywalker (Mark Hamill) or Chewbacca (Peter Mayhew).
Whether we like to admit it or not, we also grew up fantasizing about a version of a galaxy far, far away that included us. Look at the amount of "Star Wars" character costumes that fly off the shelves of your local Spirit Halloween store every year, and you'll get the point.
This means that by the time someone like Hayden Christensen was old enough to be cast in the role of Anakin Skywalker in "Episode II – Attack of the Clones," there was a good chance that he had grown up playing a Jedi in his backyard. Indeed, he's admitted as much or at least given us ample reason to believe so.
He couldn't stop making lightsaber sounds while filming
Filming lightsaber scenes very likely requires a certain amount of imagination, if only because the technology behind them does not exist in the way that it does in the "Star Wars" universe. For the original trilogy, actors involved in lightsaber duels simply carried prop swords — sometimes rigged with rotating reflective tape, sometimes with no blade at all — with all the light effects added during post-production (via The Verge).
By the time Christensen was cast, everything was CGI. George Lucas' embrace of technology meant a lot of the prequel trilogy was shot against giant green screens. There wasn't any place for the lightsabers to be lit up realistically, as the cameras were essentially rolling just to capture what the actors were doing. Everything else in the scene would be created later — by digital artists and computers. Still, that didn't hinder Hayden Christensen's excitement.
"I always had a tough time not making the lightsaber sound effects when I was doing my lightsaber scenes," the Anakin actor confessed to Vanity Fair. There is, admittedly, something quite entertaining about a grown man going "whoosh-whoosh" on a film set while he swings a pretend weapon. But then, can any of us say we never did that ourselves when we were younger? "It's like muscle memory from being a kid," Christensen added.