Grey's Anatomy Intern Harry Shum Jr. Genuinely Worries About His Fictional Patients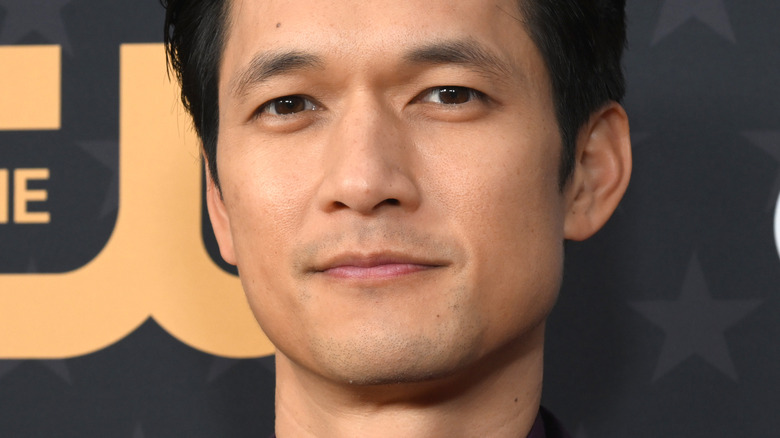 Michael Kovac/Getty Images
"Grey's Anatomy," which was created by Shonda Rhimes, is easily one of the most popular and well-known medical dramas of all time, right up there with the likes of "ER" and "House." At the show's start, the titular Meredith Grey (Ellen Pompeo), the daughter of the famous general surgeon Ellis Grey (Kate Burton), begins an internship in the surgical residency program at Seattle Grace Hospital. Over time, Meredith evolves in her career, eventually working her way up to the Chief of General Surgery position. As Meredith has moved on from her days as an intern, more interns have come in along the way — after all, the show has been on for 19 seasons thus far.
One of the new interns is Benson "Blue" Kwan, played by "Glee" cast alum Harry Shum Jr., who came into the mix in "Grey's Anatomy" Season 19. While brilliant and generous, Blue is also known for being impatient and competitive. Like the many characters of "Grey's Anatomy," Blue has also found himself falling into an office romance — or, at least, an office fling — with fellow intern Jules (Adelaide Kane). And on the more serious side, Blue is still grappling with his mother's death.
But, of course, a considerable portion of Blue's time on screen showcases him dealing with patients and their well-being. And, as it turns out, Shum Jr. has admitted to having difficulty separating his fictional patients from real life — here's what he has to say about his concern for the on-screen patients.
Shum Jr. gets nervous working on his fake patients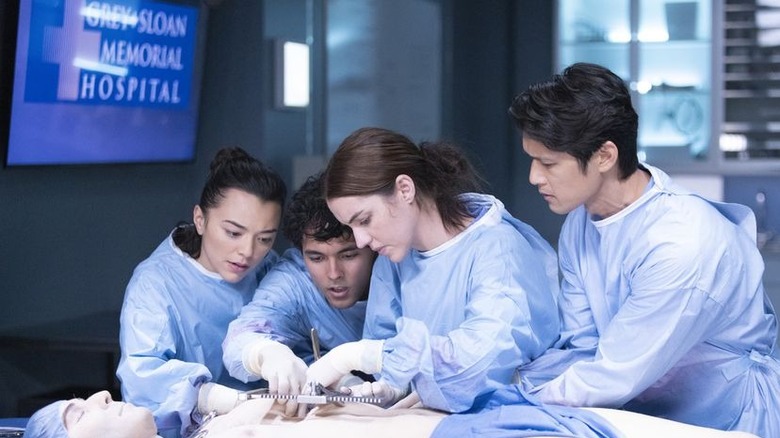 ABC/Liliane Lathan
In October 2022, Harry Shum Jr. sat down with Los Angeles Confidential to discuss his new role on "Grey's Anatomy." During the conversation, interviewer Haley Bosselman wanted to know how Shum Jr. prepares to play a doctor on screen — which led to the actor admitting that a specific part of the job makes him a bit nervous.
Shum Jr. said, "At certain points when you're filming, you forget that you're filming something really on a fake person or on a cadaver or whatever it is. I start to get really nervous, like I'm going to possibly kill the person if we do something wrong, along with all the lines. We have the medical terminology that we spend so much time, but once you put the action into it, it starts to mess with your brain. So, how do real doctors do it? I don't know. But on the TV side of it, it's definitely nerve-racking."
The actor also noted that the set does feel like a real hospital, which likely contributes to him feeling like he is working with actual patients instead of fellow actors. He also credited the show's medical directors, Linda Klein and Michael Metzner, for helping the actors' experience.
Shum Jr. has loved his time on Grey's Anatomy so far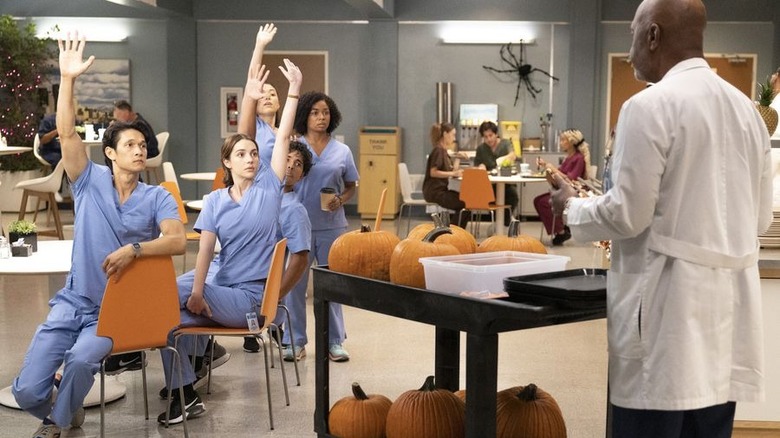 ABC/Liliane Lathan
Despite feeling nervous while filming scenes with on-screen patients, Harry Shum Jr. has spoken openly about loving his time on "Grey's Anatomy" thus far. In August of 2022, the actor spoke to People about what his experience on the iconic show has been like. Firstly, Shum Jr. was excited to see that everyone in the crew was fully energized even though the show has been on for nearly two decades.
Shum Jr. said, "For a show that's been on for this long, you would think, 'Okay, everyone is doing the same thing.' But coming on to set, it was a completely different energy than I was expecting. Even the actors who have been there since the beginning were welcoming and invigorated."
The actor also described what it was like to meet the show's veteran actors — including Ellen Pompeo. Shum Jr. said, "[Pompeo] was just so gracious with her time, and giving us advice, and just welcoming us to the OR. I look at her as someone who's so iconic, who's been doing this for so many years, but still again, having such a fresh energy, which is really inspiring."
All in all, Shum Jr. expressed how much he's enjoying the storylines the writers have come up with for the 19th season and beyond.