Who Plays Trevor On That '90s Show?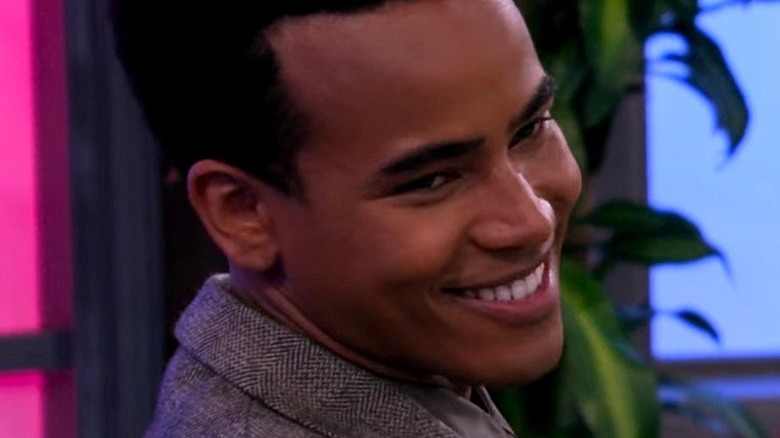 Netflix
Netflix hit a nostalgic gold mine with "That '90s Show," taking audiences back to Point Place, Wisconsin. If the setting and the new version of the iconic "That '70s Show" theme song weren't enough, the series also brought back Red (Kurtwood Smith), Kitty (Debra Jo Rupp), and most of the characters fans knew and loved from the original series.
As with most sequels, "That '90s Show" introduces a new cast of teenagers, making sure there's always a group of stoners in the Forman basement. Leia (Callie Haverda), Gwen (Ashley Aufderheide), Jay (Mace Coronel), Ozzie (Reyn Doi), Nikki (Sam Morelos), and Nate (Maxwell Acee Donovan) spend all of the episodes getting into shenanigans, resulting in Red threatening to shove his foot into each of them.
In Episode 7, "That '90s Show" also introduces audiences to Trevor, Nikki's handsome and charming tutor. Ozzie immediately falls in love at the sight of him, while Nate has a much different response, becoming jealous of the time Trevor is spending with his girlfriend. Nikki reveals that Trevor is a star football player, receiving a scholarship to Notre Dame, and the son of a congressman. He later wins Nikki's love in a relationship talk show that Ozzie imagines, further expressing Trevor's perfections. Although he only appears in one episode, fans may be curious to know more about the actor behind the "smart and hot" Trevor.
Indar Smith charms as Trevor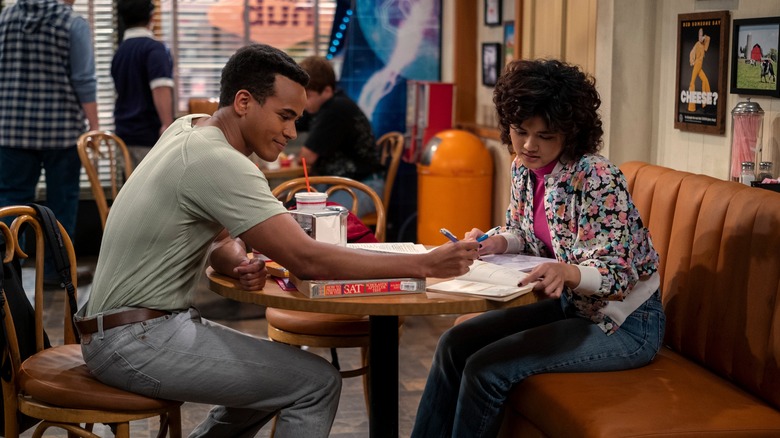 Patrick Wymore/Netflix
In "That '90s Show," Trevor is played by up-and-coming actor Indar Smith. Although he doesn't have many acting credits in his young career, he's popped up in a few projects here and there that could leave Netflix viewers trying to figure out where they have seen him before.
Aside from "That '90s Show," Smith's most notable role is in another Netflix teenage hit, "13 Reasons Why." He plays Damon Dawes, a minor character in Season 2 who has a crush on Jessica Davis (Alisha Boe). After admiring her from afar, the two share an intimate moment while eating lunch outside. Damon hits Jessica with a world-class cheesy pickup line, saying, "Every time you smile, I forget where I was because I get so caught up in it." It's cringy at best, but the line works for him as Jessica kisses him afterward.
Like most actors, Smith also appeared in numerous short films to start his career. However, his first feature-length project was Thomas J. Churchill's "The Godfather Buck." The movie centers around two brothers whose annual hunting trip is interrupted by the arrival of their stepbrother. Smith plays the stepbrother, acting alongside industry veteran Fredrick Keeve and soap star Kyle Lowder. Unfortunately for Smith, it doesn't seem like the best film, as one critic compared it to "forcing oneself to listen to Joe Rogan's performative masculinity hustle podcast while on vacation at Fire Island" (via Rogers Movie Nation). However, everyone has to start somewhere.