Kate Winslet Describes Avatar's Film Capture Process As 'The Purest Form Of Acting'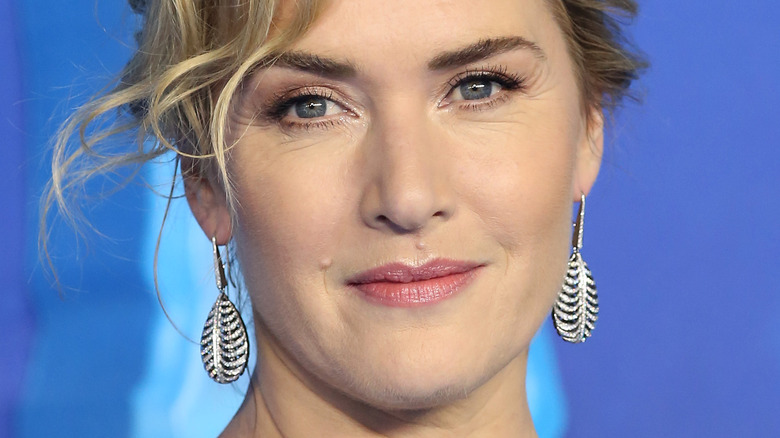 Lia Toby/Getty Images
It appears there's no stopping the mighty wave created by "Avatar: The Way of Water." Much like its 2009 box-office-shattering predecessor, director James Cameron once again proved why he's the king of the world. As of now, the "Avatar" sequel is the sixth film in history to cross the $2 billion mark (via Deadline). And earlier this week, Cameron, Disney, and all involved got an even bigger gift when the film earned four Oscar nominations, including a nod for best picture.
In addition to returning cast members Sam Worthington and Zoe Saldaña, helping bring the larger-than-life aquatic epic to life was a new crop of motion capture performers who brought compelling realism to both Jake Sully's (Worthington) family and the ocean-dwelling Metkayina Na'vi tribe. The latter camp saw the "Titanic" director reunite with Kate Winslet, who portrays the Metkayina tribe leader, Ronal.
Having not worked with Cameron since his other $2 billion sea venture — an experience that put the actress through the wringer — "Avatar: Way of Water" would see Winslet face a new challenge in tacking a fully motion-captured performance. But being the professional she is, Winslet was more than up for the task.
Winslet's efforts yielded record-breaking results
When Kate Winslet was brought on board to star in James Cameron's "Avatar: The Way of Water," there were new avenues to explore even for her. The film required the Oscar winner to act in barren rooms, wearing a motion capture suit to portray Ronal. However, Winslet came out appreciating the process.
In an interview with ScreenRant, Winslet shares what it was like to work on the "Avatar" sequel: "The film capture process is actually on dry land, and it's probably the purest form of acting because you have cameras all over the studio. You have cameras in a regular filming set, but there's like 20 of them around you [here ... You] can't hide. So everything has to be absolutely rock solid so that the camera can pick up every single part of it."
With "Avatar: The Way of Water," Cameron and company — once again — pushed the limits of the technique by shooting motion capture performances underwater. For Winslet, that meant jumping over new hurdles: "[Doing] all of that under the water is definitely a lot more challenging. Because of course you're holding your breath, you can't release your bubbles, otherwise ... the camera doesn't see anything. So it was, yeah, a lot to learn, but we were all doing it together." Winslet more than succeeded in that process, holding her breath for a record-breaking seven minutes long (via Variety).