Mark Hamill Originally Thought Star Wars' Holiday Special Would Be A Big Mistake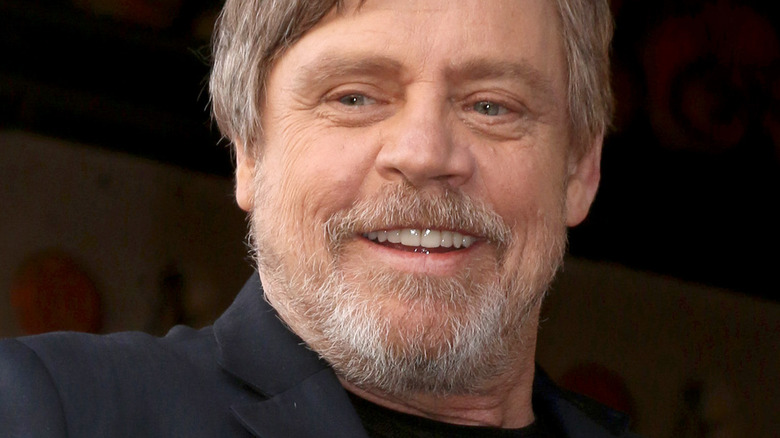 Kathy Hutchins/Shutterstock
In a galaxy far, far away from anything resembling thoughtfully-conceived end-of-year TV programming, the 1978 "Star Wars' Holiday Special" drifts like a derelict Nar Shaddaa garbage-hauler venting the last molecule of its fetid oxygen into the lifeless vacuum of space. OK, that's a little harsh. But it's safe to say that when the special debuted on CBS in the wake of the wildly successful 1977 theatrical run of (the retroactively re-titled) "Star Wars: Episode IV – A New Hope," the response was less than stellar.
Ostensibly set between the events of the first movie and its follow-up "The Empire Strikes Back," the special features many of the franchise's original characters — including Mark Hamill's Luke Skywalker, Harrison Ford's Han Solo and Carrie Fisher's Leia Organa — along with inexplicably baffling guest appearances from the likes of Art Carney, Harvey Korman, and Bea Arthur. The program drops its hapless cast into a hokey, bare-bones' plot involving walking-carpet Chewbacca and Han attempting to get back to the Wookie's home world of Kashyyyk in time to celebrate "Life Day." As far as a critical reaction, ReelViews' James Berardinelli basically sums things up by warning viewers that the program is "worse than you can imagine." All the above being said, it's entirely understandable why Mark Hamill considered the "Star Wars' Holiday Special" a really bad idea right from liftoff.
Hamill felt the special was just too far from what fans expected from Star Wars
During a Reddit Ask-Me-Anything session, Hamill responded to a question about the "Star Wars' Holiday Special" with the revelation that, "I thought it was a mistake from the beginning. It was just unlike anything else in the 'Star Wars' universe."
Reluctant at first to even be involved with the program, Hamill mentioned that a comment from "Star Wars" creator George Lucas made him change his mind. "I initially said that I didn't want to do it, but George said it would help keep 'Star Wars' in the consciousness and I wanted to be a team player so I did it." Hamill went on to explain that he thought the idea of galactic freedom fighter Luke Skywalker launching into holiday musical schtick would just be too much for fans to stomach, saying, "I didn't think Luke should sing, so they cut that number."
Nonetheless as time went by, Hamill's rebel-turned-Jedi Master began to feel that the show's farcical absurdity is actually a feature not a bug, saying, "Now, I think we shouldn't be ashamed of it, [because] it shows how incredibly fallible we are!" And while even George Lucas himself may have thought the Force was not particularly strong with the seriously awful "Star Wars' Holiday Special" (via The Decider), for Mark Hamill at least, the much-maligned show still serves the purpose of humanizing its larger-than-life heroes.