Debra Jo Rupp Left Mila Kunis Hanging When She Came To Her For Advice On That '70s Show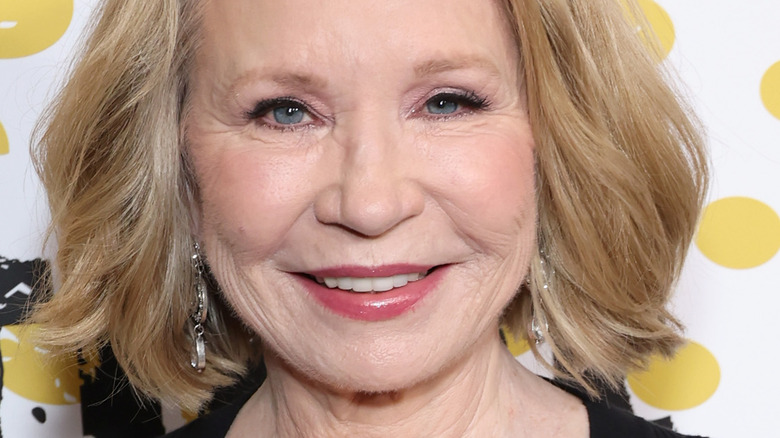 Monica Schipper/Getty Images
Set in, well, the 1970s, the popular sitcom "That '70s Show" follows the lives of a group of teens who live in Point Place, Wisconsin, and, due to the small town ways, must make their own fun — which they often do while sitting in a circle in the basement and smoking marijuana. Created by Bonnie Turner, Terry Turner, and Mark Brazill, the series ran for eight seasons from 1998 to 2006.
Besides being a beloved sitcom, "That '70s Show" is also notable for essentially launching the careers of its then-young cast: Mila Kunis, Ashton Kutcher, Laura Prepon, Topher Grace, Danny Masterson, and Wilmer Valderrama. Kunis, notably, went to great lengths to secure her breakout role, as it's been known for some time that Kunis, who was 14 years old at the start of the series, lied about her age, claiming to be older to get the part. In 2022, Kunis told Vanity Fair, "There's a rumor going around that I may or may not have lied about my age. I'd like to make it very clear now that I did lie. I did." The actress then added that, by the time she was signing her contract, the truth had come out and they followed through with her casting anyway.
Being younger than the rest of her cast mates, it's no surprise that Kunis was a bit less experienced than them in certain regards — such as, say, on-screen kissing. When it came time for her character, Jackie Burkhart, to kiss Kutcher's character, Michael Kelso, Kunis was a bit nervous. And she went to Debra Jo Rupp, who played Eric's mother Kitty, for advice.
Rupp admits she wasn't sure what advice to give Kunis
In January 2023, Debra Jo Rupp appeared on Today to promote "That '90s Show," the sequel series to "That '70s Show," in which Rupp returns as a main cast member. During the conversation, Rupp revealed that, while filming "That '70s Show," Mila Kunis came to her for advice because she had an on-screen kiss to film with Ashton Kutcher, who, at the time, was 19 while Kunis was just 14; this is, of course, long before the pair got together in real life. Further, this was Kunis's first kiss ever, not just on-screen. Unfortunately, Rupp didn't exactly have loads of advice to give her young co-star.
"I had [no advice] for her," Rupp said. "Basically I just said, 'Well you know, he's cute. And she goes, 'I know but ...'" Despite Kunis' apparently less than pleased reaction, Rupp just didn't know what else to say, noting that she's not a mother (at least off-screen, anyway). Rupp continued, "I said, 'Well, he's cute. I mean, it could be worse.' And I sent her on her way."
When the hosts brought up the fact that Kunis and Kutcher are now married with children, Rupp responded, "I was stunned and just really, really happy. I'm so proud of all of them."
Kunis has spoken publicly about how nervous she was for the kiss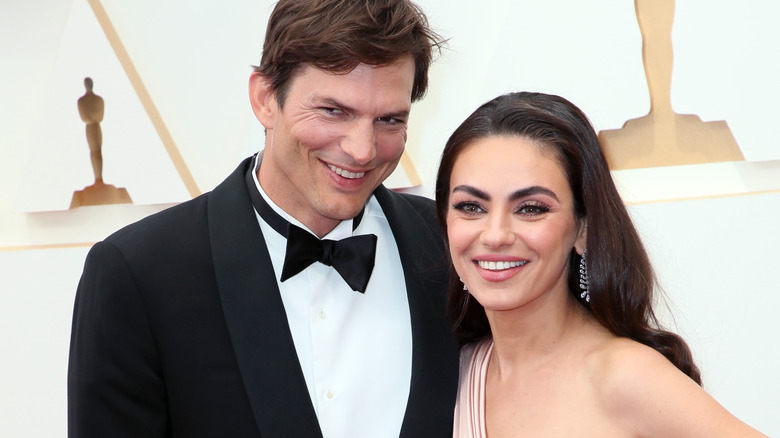 David Livingston/Getty Images
In December of 2020, Kunis spoke to People for an interview, during which she confirmed that that on-screen kiss with Kutcher was her first ever — and that she was extremely nervous about it, just as Rupp has described.
Kunis said, "I was like, 'Oh, he's so cute, it's the Calvin Klein model!' Then I was like, 'I have to kiss him?' I was so nervous and uncomfortable. I had the biggest crush on him." Luckily, her scene partner tried to put her at ease before filming the scene. Kunis continued, "Ashton was so nice. He just made jokes and gave me funny little compliments. He made me laugh."
Kutcher has also admitted to feeling a bit uncomfortable due to how young Kunis was at the time. In 2017, he told Howard Stern on his radio show (via Elle), "It was really weird. I was like, 'Isn't this illegal? Like can I-am I allowed?' It was really awkward because I'm like a 19-year-old kid. She was 14! She was like my little sister. I wanted to make sure she was okay."