Rick And Morty Fans Think The Show Already Has A Built-In Contingency Plan For Justin Roiland's Departure
Irvin Rivera/Getty Images
The following article includes mentions of domestic abuse.
In January 2023, charges of domestic battery and false imprisonment were brought against "Rick and Morty" co-creator Justin Roiland in Orange County, California. They stem from a 2020 incident reportedly involving an unnamed woman Roiland was involved with at the time. In response to this news, Adult Swim made the decision to part ways with Roiland on January 24, 2023, with a spokesperson saying in a brief statement, "Adult Swim has ended its association with Justin Roiland," as mentioned by Deadline. As this situation continues to unfold, "Rick and Morty" viewers have begun to question what will become of it, in addition to Roiland's other projects.
"Rick and Morty" premiered on Adult Swim in late 2013, and in only a few short years, it became one of the top adult animated comedies on television. Not only did Roiland develop it — alongside Dan Harmon — but he also voiced several of its characters, including Rick Sanchez and Morty Smith themselves. Therefore, it's only logical to assume the show is a sinking ship with him gone, but Adult Swim has expressed its desire to recast Roiland's previous roles. While this makes plenty of sense, and it's certainly a step in the right direction, there's no denying that the changing voices will be quite jarring for longtime viewers of the series.
According to fans of "Rick and Morty," however, making sense of all the new voices shouldn't be too difficult, especially given its love of meta-humor and alternate dimensions.
Fans think Rick and Morty can use Roiland's exit to its advantage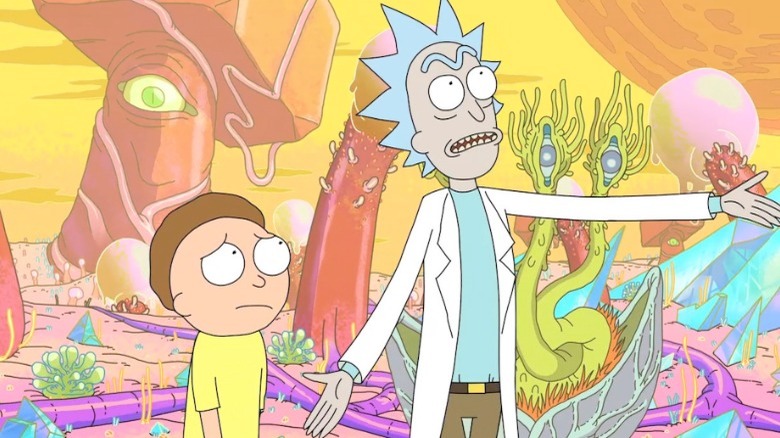 Adult Swim
Not long after word of Justin Roiland's exit reached the internet, "Rick and Morty" fans on Reddit got to work brainstorming ways for the show to address the titular characters' new voices. For one, u/jessebona hopes they get meta with it, writing, "I hope they reference it at least once. Like the season opens with blatantly different Rick and Morty voices before they get killed and our usual Rick and Morty show up." Meanwhile, u/c0rp_53110ut and u/BigbySamMelody think shuffling around some Ricks and Mortys from different dimensions could solve the new voices issue with relative ease. After all, it's not like such universe-crossing shenanigans are unheard of on the show.
Even if "Rick and Morty" doesn't attempt to do anything in-universe with Roiland's departure, it stands to reason audiences will get well-acquainted with his replacements in the coming years all the same. Following Season 3, Adult Swim renewed the animated favorite for a staggering 70 episodes in 2018 (via Deadline). Ahead of Season 7, over half of that 70-episode order has yet to be filled, meaning that there's plenty more of the show to come as the 2020s continue on. That also means that, so long as Adult Swim keeps up with its massive 2018 renewal, fans will get to spend plenty of time with the new versions of Rick, Morty, and all of Roiland's other former characters.
If you or someone you know is dealing with domestic abuse, you can call the National Domestic Violence Hotline at 1−800−799−7233. You can also find more information, resources, and support at their website.