Rocky Carroll Describes The Challenging NCIS Scenes That Improved His Skills As A Director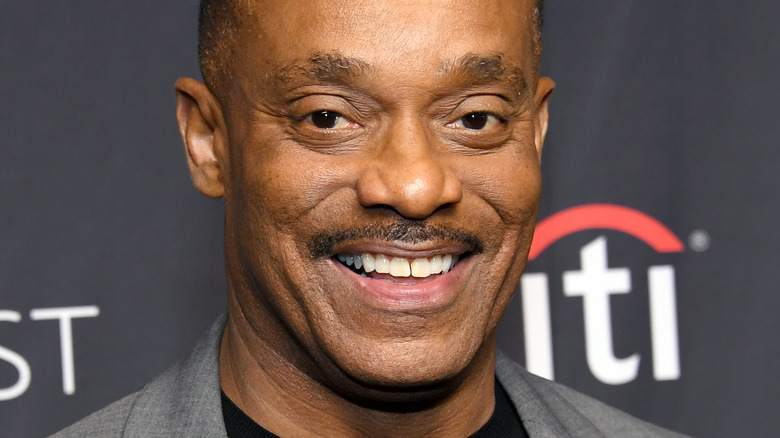 Jon Kopaloff/Getty Images
Rocky Carroll has been as steady a film and television presence as any actor in Hollywood over the past several decades. While he's delivered powerful turns in projects like "Born on the Fourth of July," "Crimson Tide," and "Chicago Hope," he's perhaps best known for his portrayal of Director Leon Vance on CBS's hit procedural "NCIS."
Carroll joined the series as a regular in 2008, after making a few brief appearances in 2005. The actor has since made more than 300 on-camera appearances as the level-headed "NCIS" big boss, becoming a bit of a fan-favorite character along the way. What you may not realize is that Rocky Carroll doesn't just play a director on the show, but does so in the real world as well. In fact, since joining the cast of "NCIS," Carroll has helmed a whopping 20 episodes of the show, ranking him among the more frequent directors the show has booked since it began its primetime tenure.
The actor's most recent directing gig on "NCIS" came in the Season 20 episode titled "Big Rig." And according to Carroll, it featured just the sort of scene that's given fits when he's calling the shots in an episode. Even still, Carroll claims such scenes have only improved his skill as a director.
Shooting scenes with multiple characters talking has upped Carroll's game as a director
Over the years, "NCIS" has become the very definition of "ensemble drama." Understandably, there are quite a few scenes in which multiple characters not only appear but have lines of dialogue. And as Rocky Carroll told TV Insider, such scenes have tested him throughout his career. "Any time there's more than four people in the same scene who have to talk is, to me, the ultimate challenge," the actor said, adding, "It could be a tea party. It doesn't have to be a fight scene ..."
Carroll admits such scenes have forced him to up his game as a director. He promptly points out the most recent episode of "NCIS" he helmed indeed features just such a moment, with Agents Nick Torres (Wilmer Valderrama) and Dale Sawyer (Zane Holtz) eventually facing off against a handful of low-level baddies in an abandoned warehouse. "I had, I think, either seven or eight speaking parts in a warehouse," Carroll told TV Insider, equating the shoot to organizing a wedding. "You had so many people in this warehouse, guns drawn, there's a fight scene... That was the challenge."
As Carroll notes, such challenges have become standard on his "NCIS" directing gigs, which makes him think producers now see him as a more than capable helmer. "I think I've been upgraded as a director," he said, adding "because when I first started, I didn't have any scenes like this in my episodes. Now they come pretty regularly." With Carroll continuing to prove himself behind the camera, it's safe to assume his directing gigs will only get bigger.