We've Actually Seen Greg Yates Actor Dallas Roberts In The Law & Order Universe Many Times Before
Alberto E. Rodriguez/Getty Images
The "Law & Order" and "One Chicago" franchises aren't known for presenting larger-than-life villains, but Greg Yates (Dallas Roberts) -– a character originally brought in for the 2015 crossover between "Chicago Fire," "Chicago P.D.," and "Law & Order: Special Victims Unit" – is an exception. Yates is considered to be one of the show's big, scary villains thanks to his smarts, charm, and intelligence, which often puts him a step or two ahead of the police.
The rapist and murderer's crimes were first revealed in the "Chicago Fire" episode "We Called Her Jellybean," while the character himself wasn't actually introduced until the "Chicago P.D." episode "The Number of Rats." He then took his latest victim to New York to show up in the "Law & Order: SVU" episode "Daydream Believer." Yates returned the following year for another crossover between "Chicago P.D." and "Law & Order: SVU." 
In an interview with Roberts regarding his character, he noted that the "SVU" and "Chicago P.D." squads "are formidable, but they've met their match a little bit with him." In the same interview, the actor explained that the character succeeds as a criminal because "he blends into crowds, he doesn't draw attention to himself, and you can get a lot of work done in the shadows."
But surprisingly, while Greg Yates may have been Roberts' first role in the "One Chicago" franchise, he's actually appeared in the "Law & Order" universe a number of times before. In fact, Yates wasn't the first character that Roberts played on "SVU" who turned out to be the villain.
Dallas Roberts appeared in original Law & Order, Special Victims Unit, and Criminal Intent before playing Greg Yates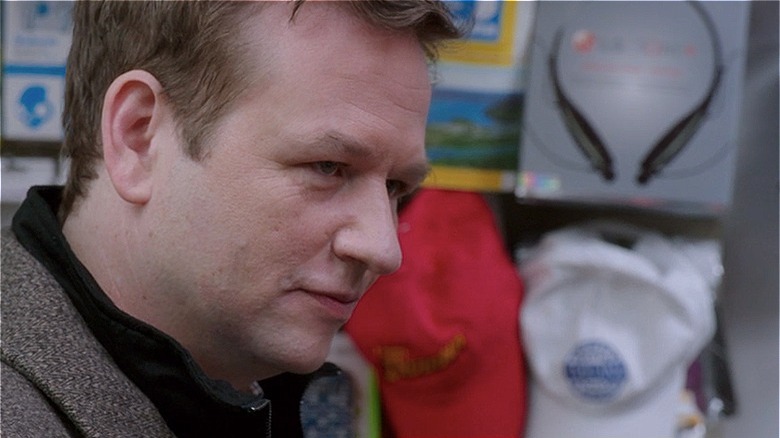 NBC
In 1995, Dallas Roberts made his first "Law & Order" franchise appearance, playing Matthew Blanchard in the Season 5 original "Law & Order" episode "Guardian." He returned to the series in 2001 as Mark Daltrey in the Season 11 episode "Bronx Cheer" and in 2009 as Marty Winston in "By Perjury." In 2010 he portrayed the psychotic Dr. Abel Hazard in the "Law & Order: Criminal Intent" episode "Abel & Willing." Most notably, more than a decade before he took up the role of Greg Yates, Roberts guest starred in the "Law & Order: Special Victims Unit" Season 6 episode "Weak" as Thomas Mathers, and that character also turned out to be the rapist.
In a thread in the r/SVU subreddit, fans discussed Roberts' acting prowess and praised his terrifying depiction of Greg Yates. Redditor u/dysfiction talked about how Roberts as Yates "can pull off smarmy, pretentious, smirky, holier-than-though, elitist–bc he knows he's an evil mastermind and we are but insects beneath him." In another thread in the r/SVU subreddit, u/deemaclean902 asked who fans felt was the most "scary/crazy/psychotic" killer in the show's history: William Lewis, Greg Yates, and Carl Rudnick. Most people picked Lewis as the scariest. Still, Yates seems to be in the top three, which is a testament to Roberts' acting skills.