Who Plays Brother Ellis Kane On NCIS: Hawai'i?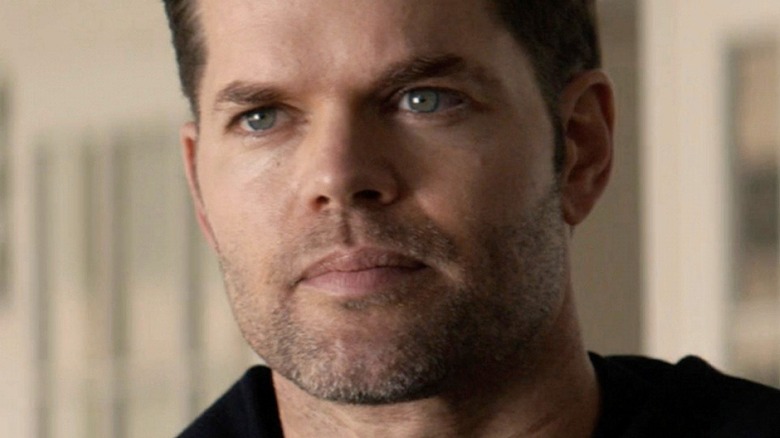 CBS
Contains spoilers for "NCIS: Hawai'i" Season 2, Episode 12 "Shields Up" 
Anyone who has seen a crime procedural knows that the first suspect is likely not the guilty party. If anything, the "NCIS" franchise adheres faithfully to these tropes. "NCIS: Hawai'i" is the newest spin-off of the decades-long franchise and hits on all the points that made the flagship show a massive success. The series fulfills all the procedural archetypes with the special agent in charge, Jane Tennant (Vanessa Lachey), and your typical tech character is familiar-looking Ernie (Jason Antoon).
In Season 2, Episode 12, "Shields Up," "NCIS: Hawai'i" stays true to form. After Marine Captain William Dennison (Aaron Densley) is murdered on a beach, Jane and her team follow clues that lead them to Brother Ellis. Formerly in the same unit, Ellis had issues with Dennison and was subsequently stricken from the Marines. Leaving behind his life in the military for one of faith, Jane zeroes in on Ellis as her prime suspect. But of course, this is "NCIS" and the Brother is cleared of all wrongdoing after the true murderer comes to light. This is just one of many offbeat characters that fans may recognize Brother Ellis from. From the dystopian to the futuristic, the actor been part of many beloved franchises fans love.
Wes Chatham has lent his name to many popular adaptations
In Wes Chatham's list of credits, he has had an admirable number of beloved franchises. Working in the industry since the early aughts, one of his most popular films to date is in "The Hunger Games" franchise. Starring beside Jennifer Lawrence in "Mockingjay Part 1 & 2," Chatham appears as one of the members of Katniss' (Lawrence) propaganda film crew. Castor's (Chatham) most touching moment comes from his relationship with his brother Pollux (Elden Henson), who the Capitol made an Avox. The role is tragically short-lived but memorable, as Castor dies attempting to help Katniss on her mission.
But Chatham's most prolific role was in the sci-fi series "The Expanse," adapted from the books of the same name. First airing on SyFy before being rescued by Amazon Prime in its last seasons, "The Expanse" is a fascinating look at political intrigue in space. Set in a world where Earth has colonized Mars and the Asteroid Belt, common man James Holden (Steven Strait) becomes a vigilante hero after he and his crew are caught up in the brewing cold war between the territories. Chatham plays the complicated and violent Amos, whose brutal life has taken his ability to feel fear. Only his relationship with his crew helps him wade through the moral muck of the world and find a true family. "The Expanse" stands the test of time with its resonant themes and is Chatham's most impressive credit to date.