Jerry Bruckheimer Joins The List Of Industry Vets Becoming First-Time Oscar Nominees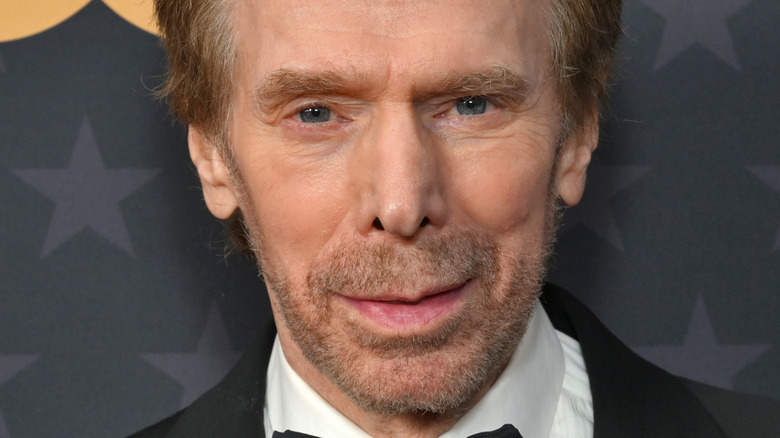 Michael Kovac/Getty Images
In a career spanning over 50 years, producer Jerry Bruckheimer has established himself as one of the most important names in Hollywood — rolling out dozens of monumental hits across both film and television. Bruckheimer first rose to prominence in the mid 1980s, producing iconic pop culture milestones like "Beverly Hills Cop" and "Top Gun" (via Britannica). He followed this success with the '90s classic "Bad Boys," while simultaneously expanding his production work to include television shows as well as movies.
Since then, Bruckheimer has helmed dozens of iconic projects throughout the entertainment industry: including "Con Air," "Armageddon," "National Treasure," and the "Pirates of the Caribbean" franchise, as well as shows like "CSI: Crime Scene Investigation" and "The Amazing Race." Despite the fact that Bruckheimer's productions have received a ludicrous amount of awards and nominations throughout the years, until this year the producer himself has never received an Oscar nomination. Thankfully, Jerry Bruckheimer is finally receiving some recognition at the 2023 Academy Awards — with "Top Gun: Maverick" being nominated for best picture.
Bruckheimer shares the best picture nomination for Top Gun Maverick
Having first worked with fellow nominee Tom Cruise on the original "Top Gun" back in 1986, it seems like a no-brainer that Jerry Bruckheimer would be involved with the film's long-awaited sequel, "Top Gun: Maverick." What nobody could've anticipated was the historic level of success that the film achieved — breaking the box office and receiving universal acclaim from audiences and critics alike (via Rotten Tomatoes).
Now, the film has scored a nomination for Best Picture, earning Jerry Bruckheimer his first ever Oscar nod (which he shares with Tom Cruise, Christopher McQuarrie, and David Ellison) (via IMDB). Although there's no question that "Top Gun: Maverick" was one of the biggest films of 2022, the film still has some stiff competition for best picture, including "Avatar: The Way of Water," "Elvis," "The Fabelmans," and "Everything Everywhere All at Once."
Indeed, it seems like "Top Gun: Maverick" will have an uphill battle if it wants to score the most coveted award, though it's still exciting to see Jerry Bruckheimer get some long-overdue recognition from the Academy.