Tom Hanks' Rise To Stardom Began By Kicking Fonzie Through A Window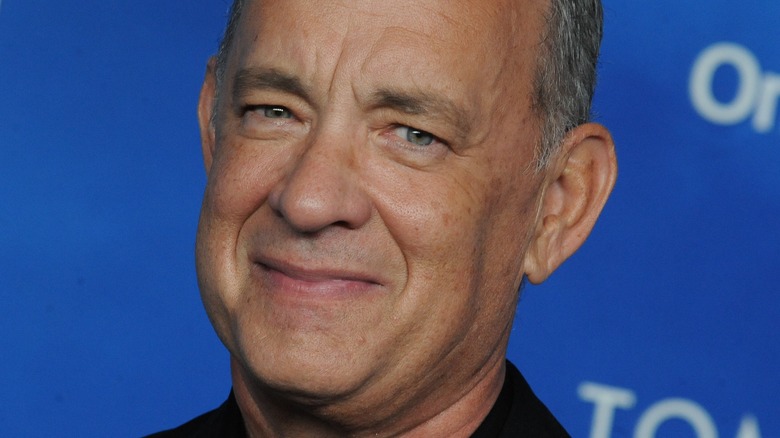 Tinseltown/Shutterstock
Given what an almost universally beloved household name he's become, it is in some ways quite difficult to imagine Tom Hanks as a workaday actor, excited to land even a bit part in "Happy Days." That's actually what happened, though.
The story goes like this. It wasn't long after the cancellation of "Bosom Buddies," the ABC sitcom that essentially gave Hanks his first starring role on television. As acting jobs go, it was a significant step up in Hanks' still-new career, but as a sitcom, it wasn't quite a smashing success and was canceled after two seasons in March of 1982.
Luckily, Hanks landed another television role –- albeit a far smaller one –- on the hit show "Happy Days." By this time, "Happy Days" was already established as one of television's most enduring shows and was headed into its 10th season on the ABC network. Meanwhile, it had already resulted in no fewer than five spin-offs, including "Laverne & Shirley" and "Mork & Mindy." And while it would be an exaggeration to say that this storied sitcom launched Hanks into stardom per se, it did, in fact, link him up with the collaborators who would provide him the platform to break out.
Hanks' character took revenge on Fonzie for bullying him when they were kids
The role itself was memorable enough. Tom Hanks was cast in the Season 10 episode "A Little Case of Revenge." In it, he played Dwayne Twitchell, a former schoolmate of Arthur "Fonzie" Fonzarelli (Henry Winkler), who, despite having become a successful doctor himself, still holds a grudge against the Fonz for bullying him in the third grade. Dwayne, who has also become accomplished in martial arts, ends up kicking Fonzie through the stained glass window of Arnold's Drive-in.
Interviewed on SiriusXM's "The Jess Cagle Show," Hanks recalled the experience. "I got dressed up in a judo karate outfit. And I think I'm legendarily the first guy to actually strike Fonzie." If this sounds just a wee bit outlandish, then let's not forget it was a good five years after Fonzie and "Happy Days" had quite literally jumped the shark (via MovieWeb).
What made the "Happy Days" gig especially fortuitous though was that it gave Hanks the opportunity to get linked up with Ron Howard. Howard had left the show two years prior, with his character Richie Cunningham written off. But Lowell Ganz and Babaloo Mandel were still around, serving respectively as supervising producer and creative consultant (via IMDb).
From Happy Days to Splash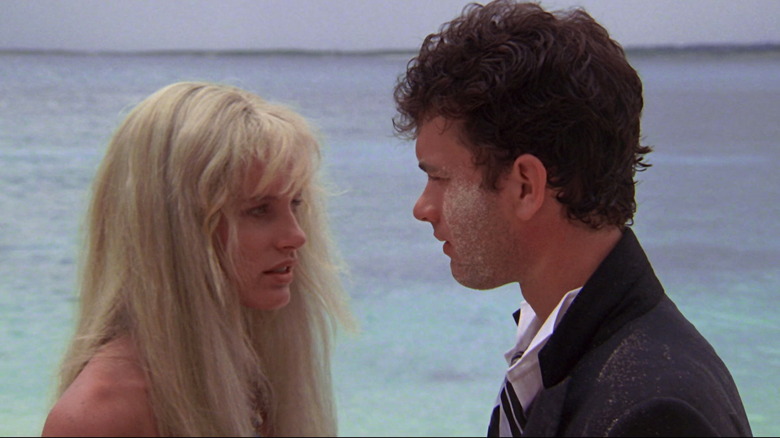 Touchstone Pictures
Lowell Ganz and Babaloo Mandel would get a lot of mileage out of their "Happy Days" connections, particularly in relation to screenwriting. The duo created and wrote for the spin-off "Laverne & Shirley." Nine years later they would also write the screenplay for "A League of Their Own," which was directed by Penny Marshall, who played Laverne on "Laverne & Shirley" and "Happy Days" (via IMDb).
They were also the screenwriters for "Splash," a romantic comedy that had already attached Ron Howard to direct, and cast Daryl Hannah in the role of a mermaid in human disguise. The film would eventually gain an Oscar nomination for best original screenplay. At the time of Tom Hanks' appearance on "Happy Days," however, it was still struggling to get on its feet production-wise.
The problem, according to Hanks, was that "Splash" was to be the first production of Disney's new label Touchstone Pictures. "And it was at Disney, and no one wanted to work for Disney, and no one would take the job," Hanks told Jess Cagle. "And eventually they said, 'Hey, this guy who kicked Fonzie through a plate-glass window might be good.' And so I ended up auditioning for that."
Mandel and Ganz introduced Hanks to Howard, and as we know now, he got the role, cast alongside not just Daryl Hannah but also comedic greats Eugene Levy and John Candy. "Splash" was a massive hit, and it proved a major breakthrough for Tom Hanks.