Star Trek: Picard Teases Impending Season 3 Trailer Drop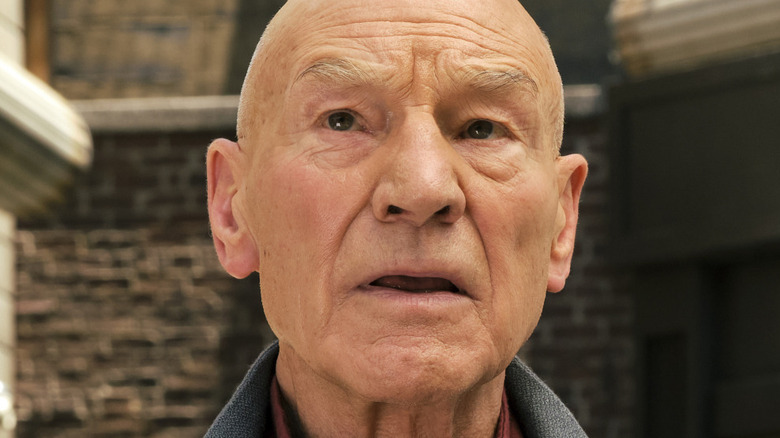 Trae Patton/Paramount+
Ever since the thrilling conclusion of Season 2 of "Star Trek: Picard," those who enjoyed the series have probably been eager for a glimpse at what's to come in the third and final set of episodes. Luckily, fans will not have to wait an extended amount of time to get a look at what's in store, as the franchise has announced when the first full-length trailer for "Star Trek: Picard" Season 3 will be released.
Patrick Stewart is known for his many memorable performances over the years, but a few have managed to resonate as well with fans as his performance as Captain Jean-Luc Picard in the 'Star Trek" franchise. During his time boldly going where no one has gone before, he has done something not many people who played Starfleet officers can brag about, having headlined two successful "Star Trek" shows (via Rotten Tomatoes). Stewart led the crew on "Star Trek: The Next Generation" for seven seasons and in several full-length feature films. Now, more than two decades later, Stewart has reprised the role in "Star Trek: Picard." The new series sees Picard putting together another group of skilled individuals to save the day once again. 
After two seasons, the threat has become so dangerous that Picard is getting "The Next Generation" crew back together to help his "Picard" team. Now fans have an idea of when they will get to see the official trailer for Season 3.
Star Trek fans should look out for Picard at halftime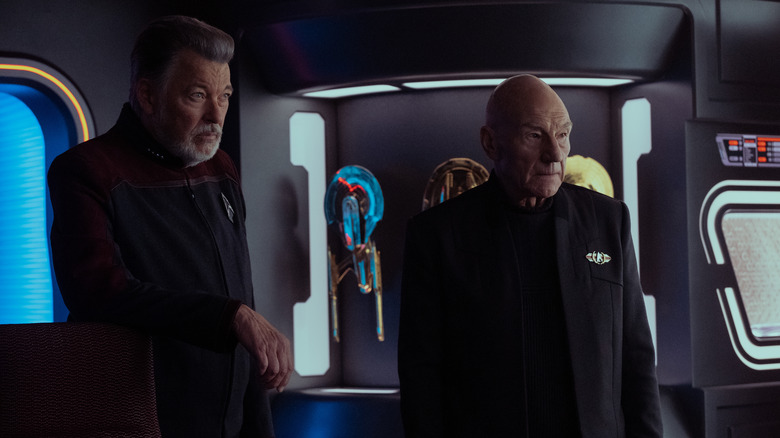 Trae Patton/Paramount+
The news was revealed in a tweet promoting the AFC Championship game and the release of "Star Trek: Picard" Season 3. "Allies and adversaries will go head to head in an epic clash," the caption reads, before revealing the trailer would debut at halftime on Sunday, January 29. The video showcased shots of football players in action between new footage of the upcoming third season. Several old and new faces are on display as they unite to take on the villain, Vadic (Amanda Plummer), who also makes an appearance. The official trailer release date announcement ends with William T. Riker (Jonathan Frakes) telling Picard, "This is the end, my friend." Before it concludes, the ad reiterates that the upcoming season of "Picard" will be the last.
While the announcement certainly has fans excited to see what is set to go down, it's probably bittersweet for some to know that Picard's amazing journey is coming to a close. But the next set of episodes may be far from the last we have seen of the legendary Starfleet captain, as Patrick Stewart himself has indicated in the past that he would be up for a return as Jean-Luc Picard. While the character may continue elsewhere, "Star Trek: Picard" Season 3 is scheduled to begin airing its final run starting on February 16.