Sons Of Anarchy's Ron Perlman Wasn't Confident That He Could Pull Off Playing Clay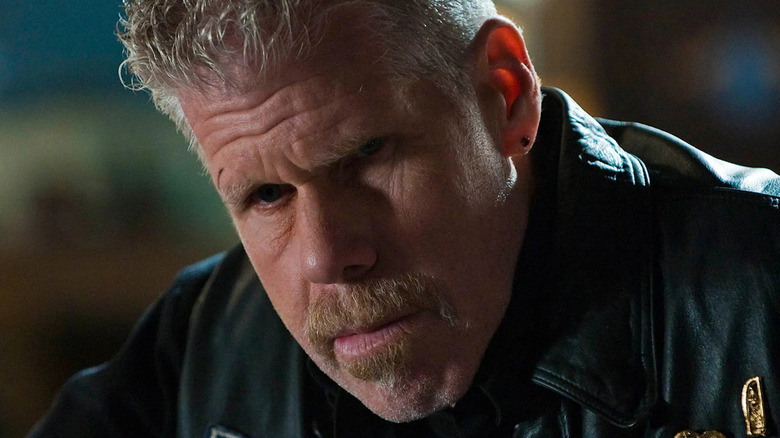 FX
Having accumulated several years of experience in the realm of acting, Ron Perlman has been fortunate enough to be attached to some pretty well-received TV and movie projects over the years (via Rotten Tomatoes). The Golden Globe winner is well-known for certain endeavors like his run in the Guillermo del Toro "Hellboy" movies, as well as some interesting credits in projects like "Alien: Resurrection," "Hand of God," "Blade II," and "StartUp." But his most popular role would have to be as Clay Morrow in "Sons of Anarchy." 
Throughout many of the critically-acclaimed seasons of "Sons of Anarchy," Perlman entertained home audiences as the ruthless leader of the titular biker gang. The actor played the club president for over 70 episodes until he departed the series in its sixth season. Anyone that watched the FX series knows that Clay has a threatening presence on the show, but some may not realize Pearlman was also pretty intimidated by the diabolical outlaw when he was considering taking on the role. In fact, was a time when he didn't think he had what it took to bring Clay to life on screen successfully.
Clay Morrow's cuthroat nature was almost too much for Ron Perlman to handle
It's no secret that Ron Perlman has played the bad guy on more than one occasion. But when it came to accepting the role of Clay Morrow, the actor initially hesitated. "To tell you the absolute truth, the first time I read it I wasn't sure I could play the guy. I've never played anybody like him," Perlman told Collider. "There was always a duality in all the characters I've played no matter how radical they were. There's no duality in Clay Morrow. He's got one gear and it's win at all costs, and he's not big on sense of humor. He has no feminine side whatsoever and I really didn't know whether I could, whether I had the chops to pull it off."
Perlman also revealed that despite his hesitation, the confidence others showed in their belief that he was the right individual for the job convinced the actor to take the risk with the challenging part. In fact, when he was offered the role of Clay, Perlman was brought in to replace the original person cast because the network wanted what the actor once described as a "more operatic version" of the character (via NPR). Ultimately, playing the part wasn't a walk in the park, with some scenes proving to be almost too much to handle, according to the actor. While it was certainly a challenging endeavor from start to finish, fans would likely agree that Perlman was the right choice to play Clay.