Amy Ryan Was Initially Slated For Just One Or Two Episodes Of The Office
Amy Ryan has amassed an impressive film and television portfolio since first appearing on "As the World Turns" in 1990 (per IMDb). However, fans of Scranton's favorite paper company, Dunder Mifflin, will never forget Ryan's guest star performance as Holly Flax on "The Office." Holly first showed up in Season 4's two-part episode, "Goodbye, Toby," and she was hired as the new human resources representative, replacing the person Michael Scott (Steve Carell) once threatened to shoot twice, Toby Flenderson (Paul Lieberstein). Michael initially thinks that Holly will undermine his authority at the Scranton Branch, as Toby did, but he soon feels the full weight of Cupid's arrow zinging him right between the eyes. Holly and Michael's rollercoaster romance eventually ends with the pair falling madly in love. However, as a consequence of their engagement, Michael quits his job in order to start a new life with Holly in Colorado.
Ryan immensely enjoyed her time portraying Michael's love interest on the NBC series. According to an interview Ryan did with Entertainment Weekly in 2020, the thespian said that Carell could invariably crack her up on set. She even had to reapply her makeup once because Carell made her laugh and cry habitually.  And while Ryan's impact on "The Office" can't be understated, her character wasn't originally written to have such an impact on the series.
Holly's time on The Office wasn't supposed to be so impactful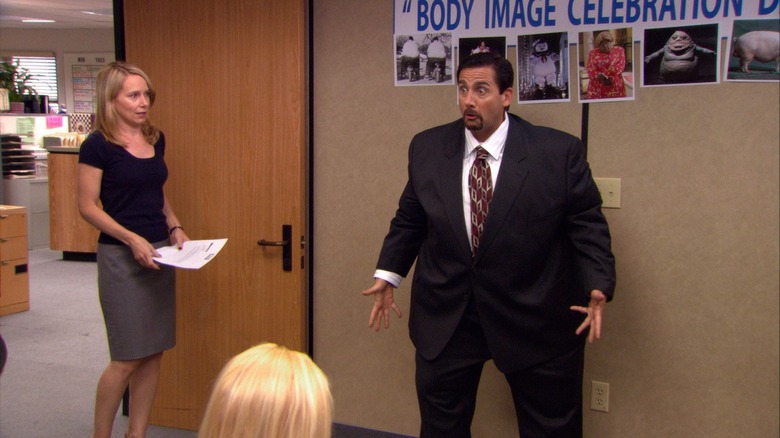 NBC
Amy Ryan's character, Holly Flax, appeared in only 17 episodes of "The Office" during Seasons 4, 5, and 7 (per IMDb), but Holly's arrival on the series clearly shook up Michael Scott's (Steve Carell) life. Michael returns to be the best man in the wedding between Dwight (Rainn Wilson) and Angela (Angela Kinsey) during the Season 9 series finale.  And it's then that Pam (Jenna Fischer) reveals during a voiceover that Michael is happy to be a family man with children. However, Holly's brief, but important, stint on "The Office" wasn't supposed to be as overarching and enduring as it turned out to be.
"It was just supposed to be like one or two episodes," Ryan revealed during an interview with the BUILD Series (via YouTube). "And then they kept saying, 'Well, will you come back for another?' I was like, 'Sure, it was fun. I'll do that again.'" During the interview, Ryan also revealed that she was a fan of "The Office," before joining the Dunder Mifflin family and that she felt lucky to have been a part of the series. "It is one of the most joyous places to go to work," Ryan said. "I would truly leave with aches in my sides from laughing, and, you know, it was so hard to keep a straight face on that set."