We Finally Know When To Expect Invincible Season 2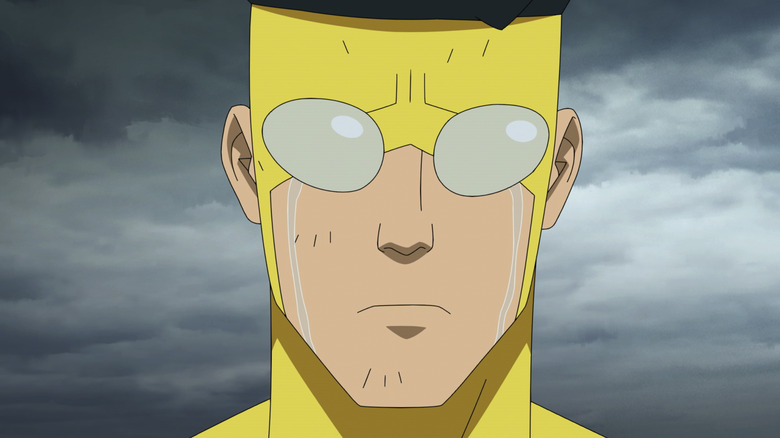 Courtesy of Amazon Studios
"Invincible" surprised the world when Season 1 dropped on Amazon Prime Video in 2021, giving fans a bloody and violent take on the superhero genre. Robert Kirkman ("The Walking Dead") brought his award-winning comic book series to the streaming service, bringing a lot of his "Walking Dead" cast members with him.
While "Invincible" Season 1 took forever to make it to our TVs, it delivered in every way possible. Audiences got to experience Mark Grayson's (Steven Yeun) origin growing up as the son of an alien and the most powerful superhero in the world, Omni-Man (J.K. Simmons). Once he develops his powers, Mark becomes Invincible and falls under the tutelage of his father, who teaches him how to become a renowned superhero of his own. Mark eventually squares off against his father, whose race sent him to conquer Earth. Omni-Man's love for his family convinces him to leave the planet, but something's got us feeling like we haven't seen the last of him.
"Invincible" Season 1 was everything newcomers and longtime fans of the comics could hope to see. It's gory, violent, emotional, and, best of all, it only covered an incredibly small portion of the comics, meaning there's much more "Invincible" on the way. Fans have patiently waited for any updates regarding Season 2, while the show's Twitter account has continued to troll them with vague information. Thankfully, that's all coming to an end as Amazon finally revealed when fans can expect to see more of Mark's journey.
Invincible Season 2 arrives in late 2023
After what felt like an eternity, "Invincible" fans can finally rejoice as Amazon has finally graced the world with a Season 2 announcement. Following in stride with the show's meme-filled Twitter account, the announcement takes its time revealing anything, dodging answers to the questions fans have asked the most. Instead, it opens with Mark and Allen (Seth Rogen) taking their Moon-based conversation from the Season 1 finale to Mark's local burger joint.
In a pretty meta way, Allen asks Mark what he's been up to since he last suited up, saying it's "a little ridiculous how long it's been," clearly echoing the fanbase's sentiments regarding Season 2. Continuing the meta-ness of it all, Mark says he's had a busy schedule since fans last saw him, working hard on the perfect Season 2. That includes writing, designing, storyboarding, voice acting, and perfecting the animation for the upcoming season. However, after some serious interrogation from Allen, Mark reveals that fans can expect to see him again in late 2023.
While that may seem like a drawn-out trailer just to reveal a vague release date, there's actually way more information that fans may have noticed. During Mark's montage, he gives fans a glimpse at the show's script, revealing that we'll see Invincible face off against The Immortal, who refuses to trust him after what Omni-Man did. Mark also gives us a look at some Atom Eve concept art, a shot of Steven Yeun recording in the studio, and a look at the possible new animation style for Season 2. The "Invincible" team has clearly been hard at work getting everything perfected for the release of the new season, and we're confident the final product won't disappoint.