The Walking Dead Reunion That's Happening In Amazon's Invincible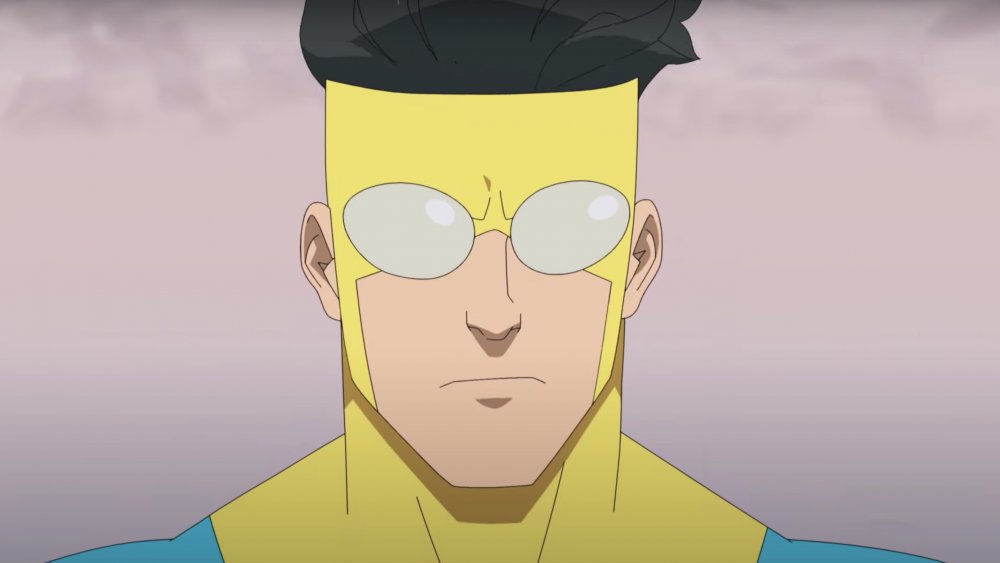 Amazon Studios/Skybound
Feeling an ache in your chest about the impending end of The Walking Dead? Still reeling, years later, over the loss of some of the zombie apocalypse series' most innocent, doe-eyed characters and wish they could be together again? Constantly hungering for more comic-book-based content to indulge in? There's a solution for all three of those unique troubles: Invincible. 
The forthcoming adult animated series set for release on Amazon Prime Video, Invincible is yet another brainchild of The Walking Dead comics co-creator Robert Kirkman. Not only did Kirkman create Invincible the TV series, but he also co-created Invincible the comic series — alongside comic book artist and noted penciller Cory Walker (Ryan Ottley also worked as its illustrator). 
As one might have hoped for when learning the mastermind behind the entertainment IP that arguably defined the modern zombie genre is setting off into new comic-to-show-adaptation territory, Invincible will feature a Walking Dead reunion of epic proportions. 
Invincible brings together a handful of Walking Dead stars, past and present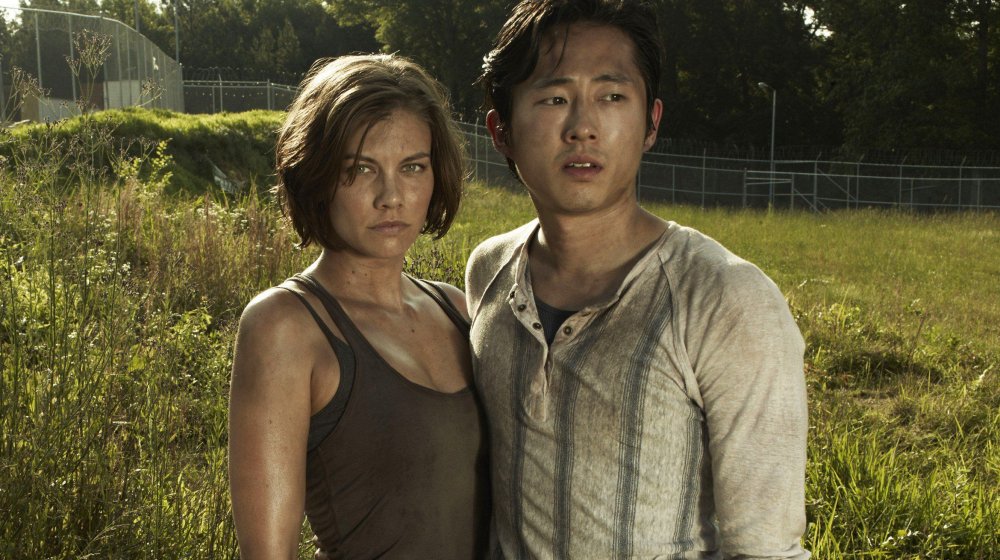 AMC
Like most series of its kind, Invincible centers around its titular superhero, otherwise known by his human name Markus "Mark" Grayson. Except, Mark's only half-human ... because he's the son of a Viltrumite alien superhero called Omni-Man. Being the offspring of an extraterrestrial vigilante and the human woman Deborah "Debbie" Grayson, Mark inherited from his father the powers of speed, flight, super-human strength, and, of course, invincibility. It's his sworn duty to keep Earth safe, but as a 17-year-old guy with pressures and worries that feel just as important as the fate of the planet, Mark has difficulty acclimating to his powers and the place from where they came. Things take an unexpected turn when Mark discovers that his all-powerful father isn't quite the hero he seems.
None other than Steven Yeun, known for playing the ill-fated Glenn Rhee on The Walking Dead until his character got brutally murdered, voices Mark Grayson on Invincible. Joining him in lending their voices to the project are several of his Walking Dead co-stars — including his on-screen wife-turned-widow.
Lauren Cohan, who portrays Glenn's beloved Maggie on the AMC series, voices War Woman on Invincible. Within the comics, which ended their 15-year run in February 2018, War Woman is a member of the Guardians of the Globe, a premiere superhero team who worked with Omni-Man. The actress who brought to life The Walking Dead's Sasha Williams, Sonequa Martin-Green, provides the voice of Green Ghost, another Guardians of the Globe member (who's actually a male in the comics). Michael Cudlitz, known to Dead-heads as Sergeant Abraham Ford, voices War Woman and Green Ghost's Guardians of the Globe companion Red Rush.
For an added Walking Dead franchise bonus, Lennie James from the flagship series and the spin-off Fear the Walking Dead (he plays Morgan Jones on both) will voice Darkwing on Invincible.
Invincible touts a star-studded voice cast
Those stars alone make Invincible's voice cast dazzling, but they're joined by some absolute titans of the industry. 
The series — which dropped an exciting teaser trailer during Kirkman's appearance at New York Comic Con's Metaverse on October 8, 2020 — also features decorated actor J.K. Simmons as Omni-Man (aka Nolan Grayson); Grey's Anatomy and Killing Eve powerhouse Sandra Oh as Mark's mother Debbie Grayson; Luke Skywalker himself, Mark Hamill, as Art Rosebaum; Seth Rogen as Allen the Alien; Deadpool 2 and Atlanta breakout Zazie Beetz as Amber Bennett; Zachary Quinto as Rudy Conners (aka Robot); Oscar-winning actor Mahershala Ali as Titan; Gillian Jacobs as Samantha Eve Wilkins (aka Atom Eve); Walton Goggins as Cecil Stedman; and Jason Mantzoukas as Rex Sloan (aka Rex Splode). 
There's also Mae Whitman, Andrew Rannells, Chris Diamantopoulos, Ross Marquand, Khary Payton, Malese Jow, Kevin Michael Richardson, Chad Coleman, Grey Griffin, and Max Burkholder lending their voices to Invincible. 
With a voice cast that enormous and talented, with a premise as intriguing as its source material proved to be for a decade and a half, and with the clear evidence in the series' teaser that each hour-long episode will pack a punch of action, gore, humor, and heart, Invincible just might become your new comic book show obsession. 
The eight-episode series will hit Amazon Prime Video in more than 240 countries and territories sometime in 2021. An exact release date for Invincible is yet to be announced.