George & Tammy Creator Explains The Inspiration Behind The Series' Melodious Ending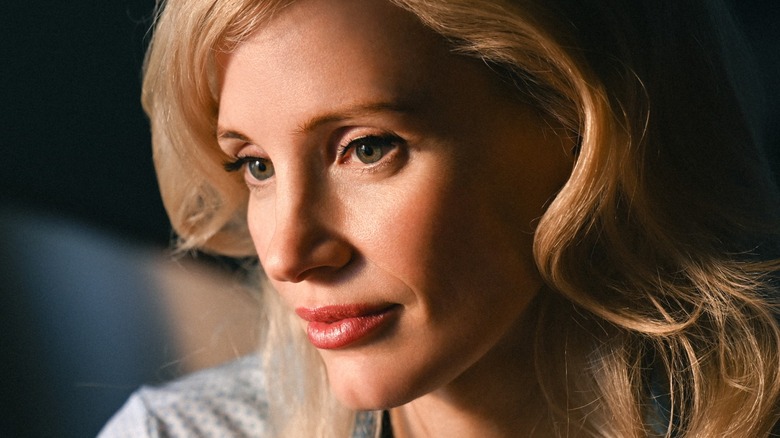 Brownie Harris/Showtime
Contains spoilers for "George & Tammy" Season 1, Episode 6 — "Justified & Ancient"

The recent Showtime biopic miniseries "George & Tammy" stars Michael Shannon and Jessica Chastain as the two titular country music stars, George Jones and Tammy Wynette. The series — which was based on the book, "The Three of Us: Growing Up with Tammy & George," written by the couple's daughter, Georgette Jones — follows George and Tammy through the various ups and downs of their tumultuous relationship, including their intertwining careers, their varying successes, and their individual problems with drug and alcohol use.
Of course, as country music fans already know, the couple eventually divorced after six years of marriage, so a happy ending wasn't exactly in store for the limited series. The finale episode sees the family reeling from Tammy's kidnapping, which, as it turns out, was staged by Tammy herself to cover up for the fact that her new husband, George Richey (Steve Zahn), was beating her (claiming the bruises came from her kidnapper instead). George and Tammy then have a romantic moment together once more, despite their marriage being over and both having moved on, with George even suggesting they run away together, so to speak, only for Tammy to tell him it's too late.
In the final moments of the show, the two are seen on a tour bus together, years after their marriage ended but also years before either of their deaths, singing "Lost Highway" by Hank Williams. Here's what creator Abe Sylvia had to say about ending the series on a musical note.
Sylvia says that Lost Highway reflects the characters' journeys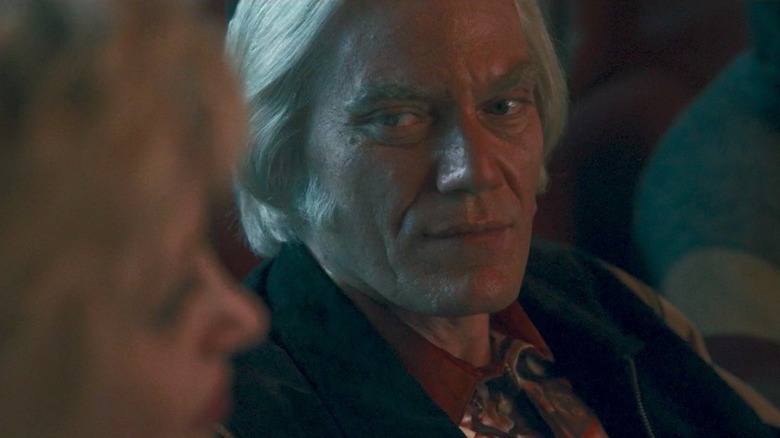 Showtime
In a January 2023 interview with Variety, "George & Tammy" creator Abe Sylvia discussed many details about the series as a whole, including the role that music played. Seeing as the show centers on two legendary music stars, it's only fitting for music to play such a vital role — including in the final scene.
Sylvia said, "'Lost Highway' says so much about who they are, and who they are as damaged people walking along the road of life. We leave them driving off into the sunset with this incredible body of work behind them. I would encourage the audience to listen very closely to the lyrics in that song. It is not just a singalong on a bus. It is summing up the entire series." The creator went on to explain that they didn't want to go the traditional biopic route of ending with one or both of their deaths. Rather, they wanted to leave the characters on a higher note. Sylvia continued, "We wanted to leave her, in particular, in a place of tension and beauty, not in tragic resolve."
Further, Sylvia gave credit to the couple's daughter, Georgette Jones, who spoke to Sylvia and the other writers about how her mother's death is often romanticized, spoken of as if it was operatic. Sylvia continued, "And in some of my early drafts, I did [dramatize it]. But it says so much more to just be on Jessica's face and hear those words, and know that no matter what happened to them, they will never leave us ... The more we used music to say everything we needed to say, the series was stronger for it."
Chastain and Shannon loved playing real people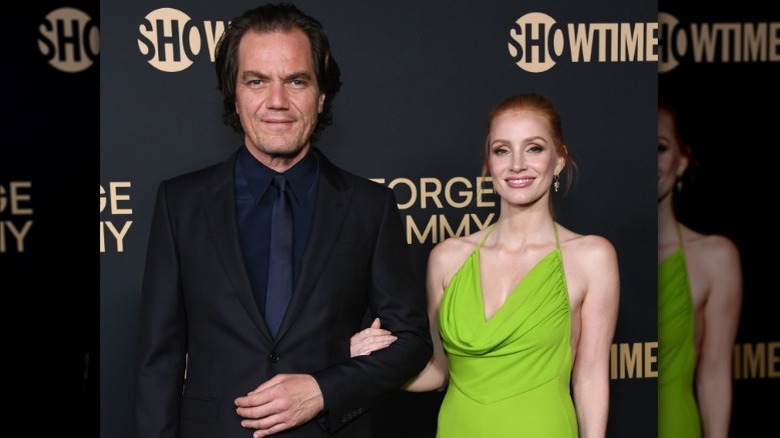 Jon Kopaloff/Getty Images
In a December 2022 interview with Entertainment Weekly, Michael Shannon and Jessica Chastain discussed their enjoyment of portraying real people in "George and Tammy."
Shannon explained that he enjoyed filling in the details of what you can't find out about a true story. He pointed out that, despite it being a true story, it's impossible to know the exact truth because George Jones, Tammy Wynette, and Georgette Jones all had different versions of the same events. Shannon continued, "You can spend a lot of time researching somebody and still feel like there's so much you don't know about what actually happened. ... You never hear George and Tammy just talk about what it was like to just be together, sitting on a couch having a cup of coffee or something. That we still have to come up with between the two of us."
When it comes to Chastain, she loved the research process. The actress said, "I love that about playing a real character, I love research. I love having the tools to bring me into a person separate from who I am into another experience, another life." She then explained that she, too, starts to separate the character from the real story and work her way through the project as she would any other. She continued, "That's my favorite thing about acting — doing all the work to get you to the start of the race, but then you really don't know what the course is gonna be."