How Michael Shannon And Jessica Chastain Prepared For Their Roles On George & Tammy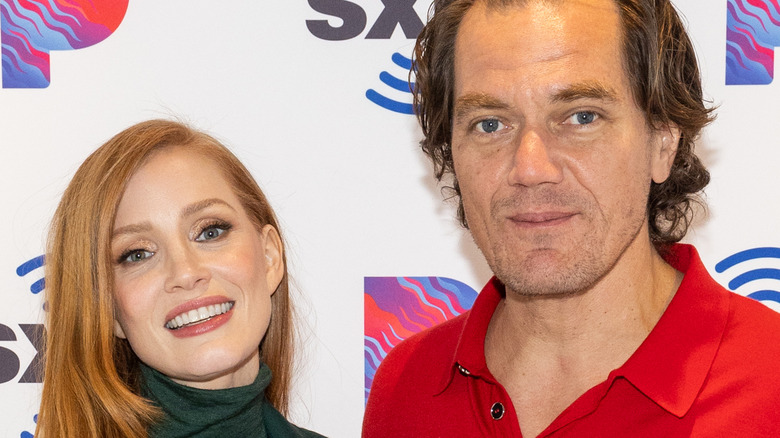 Emma Mcintyre/Getty Images
Playing country music royalty isn't easy, even for two acting pros like Michael Shannon and Jessica Chastain, who step into George Jones and Tammy Wynette's shoes on the now-streaming Showtime miniseries "George & Tammy." Chronicling the dynamic country duo's wild and troubled love story that led to memorable music, "George & Tammy" follows the pair through their tumultuous personal and professional relationship that lasted some 30 years, from the 1960s through the 1990s. During that time, the couple racked up chart-topping hits and awards while dealing with a rollercoaster-of-a-ride behind-the-scenes connection that led to them working together well past their divorce, despite personal demons.
During a roundtable interview that included Looper, Shannon and Chastain opened up about what it took to bring such beloved icons back to life for the small screen, which Chastain admitted was a "daunting" endeavor that took both her and Shannon on a self-imposed journey to truly embody Jones and Wynette.
Neither Shannon nor Chastain wanted to just mimic the singers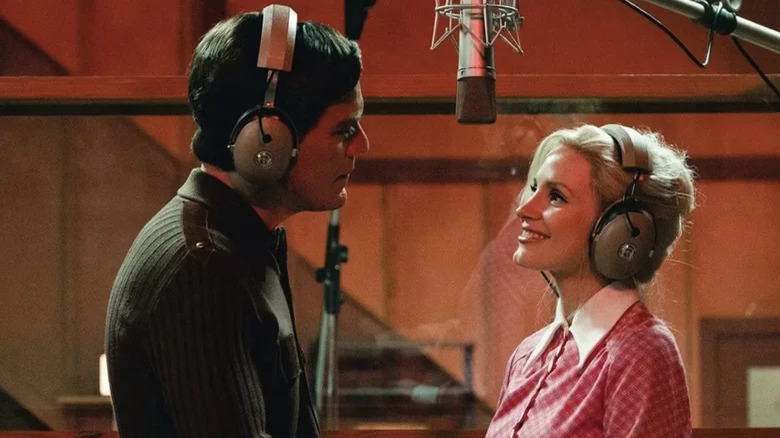 Showtime
There's a fine line between impersonation and putting your own twist on a real-life person that actors must walk when tackling onscreen biographies, but Shannon and Chastain put a lot of research into striking the perfect balance on "George & Tammy."
"I went to the Country Music Hall of Fame to see what I could find out about George Jones, and they had one of his suits there on a mannequin and it came up to just below my neck," says Shannon. "I was like, 'Hmm, well, I don't think I'm going to fit in that suit.' So I kind of had to abandon the idea that I was going to look exactly like George Jones. It was more about trying to consider what it was like to be that person psychologically, and what it was like to live their life and walk in their shoes."
Meanwhile, Chastain approached Wynette by focusing on her voice, both while singing and speaking. "That was huge way into it for me, because her voice is so deep in her body," says Chastain of the "Stand By Your Man" singer, adding, "Even if you're playing a real person, you have to allow the space for you to pull them from you. It's like using yourself as a way to honor someone else and never thinking of it as 'I have to be exactly like this person.' Because if you do that, you eliminate what's so exciting about this art form. I might as well just watch a documentary on Tammy Wynette. That's more interesting than me trying to mimic her every move. I need to allow some space for surprises."
"George & Tammy" is now streaming on Showtime.