Tom Hanks Knew Less Than Nothing About Col. Tom Parker Before Getting His Elvis Pitch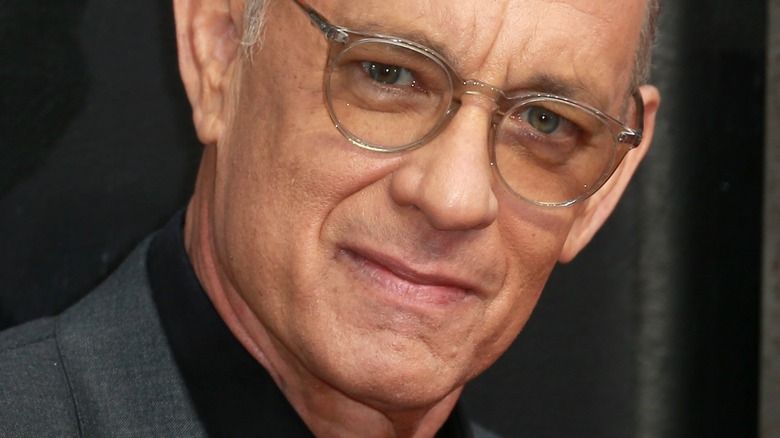 Fred Duval/Shutterstock
Much has been said about Baz Luhrman's "Elvis" since it shimmied its way to theaters in the summer of 2022. And it's safe to say the film continues to spark the same sort of emotional reactions in viewers that Elvis Presley himself inspired in both his fans and foes. Much of the chatter around "Elvis" has, rightfully, centered on Austin Butler's show-stopping turn as the titular music icon. The actor netted a Golden Globe for his performance and is positioned as a legit favorite for the Academy Award for best actor. 
Fewer accolades have come the way of Butler's co-star Tom Hanks, who portrays The King's long-time manager, Col. Tom Parker. As history tells it, Parker was as responsible as anyone for Elvis becoming the global icon he was, but Parker has long been seen as a controversial figure in Presley's life. Not only was Parker's personal relationship with Elvis at times reportedly quite contentious, but his business practices in particular were a point of contention after the rock star's death in 1977.
Hanks' showy portrayal of Parker has proven a touch controversial in its own right, with the star earning as many cheers (per Slash Film) as jeers (per The A.V. Club) for his performance. The actor was asked what drew him to the character in the first place during an interview with The One Show and Hanks candidly admitted he took the role in large part because he knew nothing about Col. Tom Parker.
Hanks was surprised to learn his character's real name was not even Tom Parker
Hanks admitted he had no idea what his infamous character even looked like. "I'd never seen a photograph of Col. Tom Parker," he revealed. "All I knew is that he was some sort of diabolical genius that manufactured Elvis Presley and made him one of the most important cultural icons in the history of America." 
The actor goes on to equate Parker to Sir John Falstaff from Shakespeare's "Henry IV" in that he was a lovably nefarious sort who helped prop up a would-be king, but never fully enjoyed the fruits of his labor. As it was, "Elvis" director Baz Luhrman was the first person to show Hanks a picture of Parker when the filmmaker came to pitch the role. As Hanks delved deeper into the man's life, he was amazed by what he found.
Hanks was particularly surprised to find Parker was actually a Dutch immigrant whose real name was Andreas van Kuijk. Seems the actor was most surprised, however, to learn that Elvis' ex-wife Priscilla Presley, and his longtime friend Jerry Schilling still spoke quite fondly of Parker in spite of his shady doings, reportedly even calling him a "lovely man who brightened up every room he came into." That hardly stopped Hanks and Luhrman from playing up Parker's devious side in "Elvis." Whether you love their interpretation or not, it's hard to imagine the film working without it.