It Isn't A Secret Why HBO Max's Gossip Girl Reboot Failed... Xoxo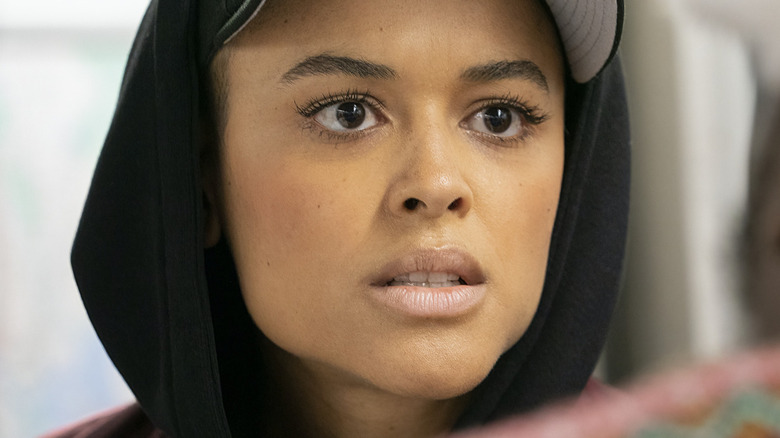 HBO Max
Hey there, Upper East Siders. As it turns out, there's one secret we'll have to tell, and you're probably not going to like it.
On January 19, 2023, news broke from showrunner and creator Joshua Safran that the "Gossip Girl" reboot, meant to introduce a new generation of viewers to the titular anonymous gossip blogger turned social media maven, was canceled after two seasons by the powers that be at HBO Max. Safran took to Instagram to announce the news, thanking the cast and crew, saying, "This was honestly the greatest set [he] ever worked on, top to bottom." Closing out the post, he made sure to thank loyal fans of both the reboot and original series, writing, "A big thank you to all the ['Gossip Girl'] fans around the world. You're the reason we came back in the first place, and who knows, maybe the reason we will meet again. Much love."
With all due respect to Mr. Safran, if "Gossip Girl" does manage to make a comeback after cancellation, we, the fans, have one big request: take a totally different approach. The HBO Max reboot was, on the surface, a good faith effort to revive the magic of the original, and there's no shortage of good things to say about the show's truly excellent cast, all of whom should hopefully get lots of offers for other projects after this. That said, the "Gossip Girl" reboot failed for several reasons — and it all ties back to the original show.
So what was so great about the original Gossip Girl?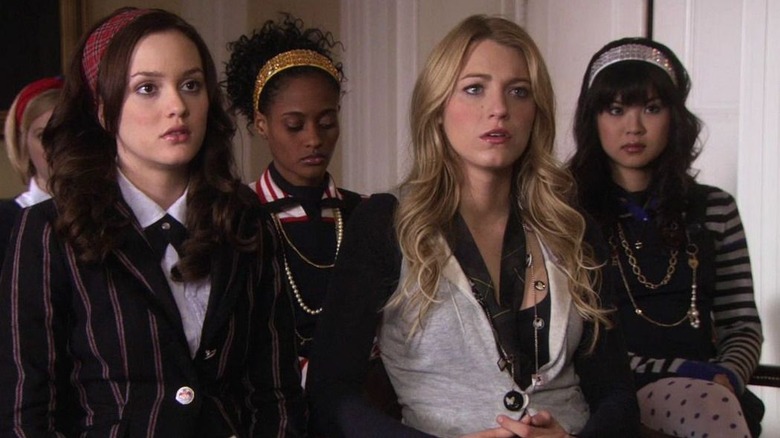 The CW
The original "Gossip Girl" — which ran from 2007 to 2012 on The CW, following in the footsteps of other WB teen dramas like "The O.C." and setting the stage for eventual hits like "Riverdale" — started out as a pretty straightforward adaptation of the original novels by Cecily von Ziegesar. The show did choose to diverge from its source material pretty quickly, ignoring some of the book's odder storylines (rather than an actual pet monkey, one character gets a dog named Monkey, and so on and so forth), but at first, the story was pretty easy to follow.
As Serena van der Woodsen (Blake Lively) stages her return to Manhattan from boarding school, her former best friend turned frenemy, Blair Waldorf (Leighton Meester) goes on the immediate attack... which makes sense, since Serena and Blair's long-term boyfriend Nate (Chace Crawford) had a tryst before she escaped to boarding school. Flanking them are the outsider Dan Humphrey (Penn Badgley) and the uber-rich bad boy Chuck Bass (Ed Westwick), Dan's wannabe younger sister Jenny (Taylor Momsen), and a friend from Dan's past, Vanessa (Jessica Szohr), just to name a few.
That all sounds pretty normal, right, aside from the wildly unrealistic, supposed-to-be aspirational lifestyle of these wildly wealthy teens? Sure. Well, buckle up, because this show got weird.
Gossip Girl had a major turning point... directly into the skid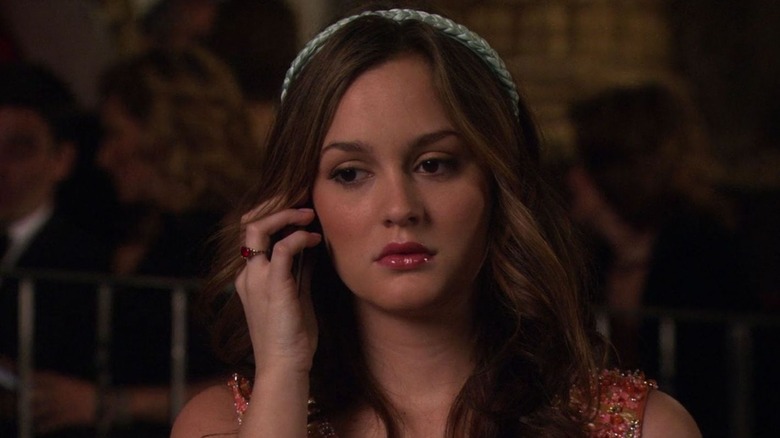 The CW
There were definitely some pretty wild things about "Gossip Girl" right out of the gate, but they were just a little silly instead of flat-out ridiculous — like the fact that every single sixteen-year-old on the show was freely served alcohol at every establishment in New York and that Dan, who lives in a palatial loft in DUMBO, is regarded as second-class simply because he's a Brooklyn dweller. Once the main cast graduates from high school and goes to college, though, the wheels start to come off somewhat.
Out of pure necessity, most of the main cast — save for Nate, who goes to Columbia, and Serena, who eschews school entirely — attends New York University, which, in the reality of this series, is regarded as subpar. (Okay. Sure.) Lady Gaga shows up to do a performance, which is just as out of place as it sounds. Chuck buys a hotel and then tries to trade his girlfriend — Blair, as the two become an endgame couple in the middle of season one — to his evil uncle to maintain ownership. (Quick reminder that, at this point, Chuck Bass is around 19 years old.) Dan's father Rufus (Matthew Settle) and Serena's mother Lily (Kelly Rutherford) are revealed to have a secret love child who's the same age as their children; they meet him and then he's never seen or spoken about again. Also, Wallace Shawn is there sometimes! This is, honestly, just the tip of the weird iceberg, and that's saying nothing of any time the series employs Georgina Sparks (Michelle Trachtenberg) as an agent of chaos.
The last three seasons of Gossip Girl were absolutely insane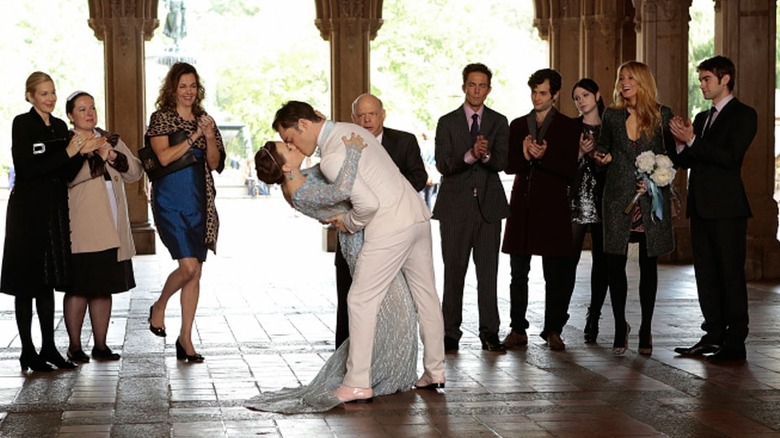 The CW
If you thought season three of "Gossip Girl" was crazy, please prepare yourself. In the following and final three seasons, Blair becomes the Princess of Monaco, a van der Woodsen cousin is unmasked as an impostor and the real one is discovered, and a dead parent comes back to life and... tries to kill his son. Also, at some point there's some sort of "Eyes Wide Shut" storyline that's never fully resolved, but it tangentially involves Elizabeth Hurley, who, because she's playing a "cougar," is constantly clad in animal-print bandage dresses.
Putting aside this barrage of plot synopses, the reason that "Gossip Girl" was able to get really weird and still be watchable is because the weirdness was really fun. Most of the time, it really just felt like the writers were throwing darts at a board and hitting different insane concepts that ultimately ended up in the script. Blair makes a deal with God to save Chuck's life? Sure, why not! Nate buys a newspaper? Makes sense, kind of. Serena runs away and changes her name to Sabrina? Of course! Dan and Blair should date? Well, they haven't paired up yet, so let's do it!
The unbridled, absolutely unhinged weirdness of the later seasons of "Gossip Girl" were, quite honestly, a delight; a guilty pleasure akin to your favorite junk food or a deliciously stupid movie. So, did the reboot bring that same deranged energy? Did anyone marry any dodgy princes or get married to evade a murder charge?!
Gossip Girl 2.0 lacked the weirdness of its predecessor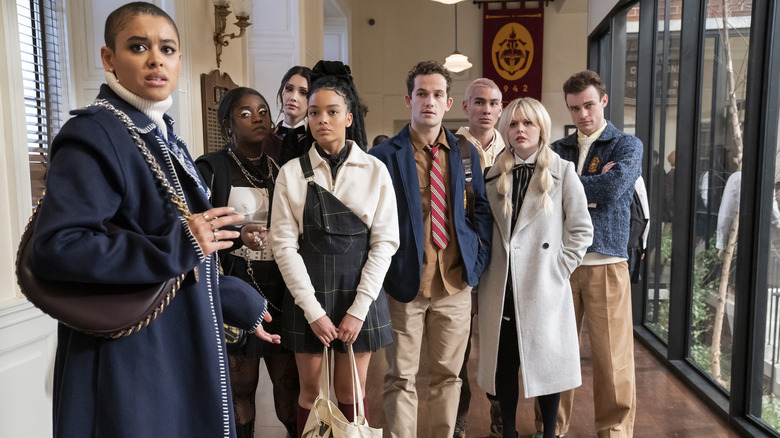 HBO Max
The new "Gossip Girl" tried to be edgy and modern, but it never really tried to be absolutely weird... and that, above all else, was its biggest downfall. Perhaps its best attempt at being "weird" was to reveal the identity of Gossip Girl right out of the gate and assigning that role to a high school teacher, which isn't crazy, per se — it's actually just predatory and objectively pretty wrong for a teacher to torment underage minors by spreading information about their personal lives on the Internet.
There's no denying that a lot of the plotlines and politics of the original "Gossip Girl" haven't aged particularly well (Chuck Bass tries to assault not one, but two women in the pilot episode and is then painted as the romantic lead for the rest of the series), but its successor tries perhaps too hard to right these wrongs. Every character has mean-spirited moments, but they're all... pretty nice when all is said and done, and lessons are learned pretty frequently. The weird, often cruel, constantly vindictive spirit of the original "Gossip Girl" is nowhere to be found in the new one, which makes sense, but is also disappointing; yes, the original is a product of its time in about a million ways, but the way it heightened its storylines at least made it fun to watch. The remake? Well, it's just... sort of a drag from top to bottom.
In an interview with Vanity Fair, Safran noted that the show is unlikely to be rescued by another streamer due to the sheer cost of production, so it looks like this is the end of the road for this reboot. If it's not, let's hope they skeer directly into the stupidity skid next time around.
If you or anyone you know has been a victim of sexual assault, help is available. Visit the Rape, Abuse & Incest National Network website or contact RAINN's National Helpline at 1-800-656-HOPE (4673).