Sylvester Stallone Was Stunned At The Difficulty Of Filming For TV During Tulsa King
Kevin Mazur/Getty Images
Sylvester Stallone hasn't done a lot of work in television. The action star did an episode of "Kojak" and an episode of "Police Story" early in his career (the latter, appropriately, as a character named Rocky), in 2002 he voiced Paul Revere on "Liberty's Kids," and in 2005 he did two episodes of "Las Vegas" as "Frank the Repairman." Aside from those brief appearances, "Tulsa King" marks the actor's very first foray into television.
Stallone basically avoided having to work his way up through television thanks to his film "Rocky." In an interview on the show "Dinah!" in 1976, Stallone explained that he wrote the script for "Rocky" and shopped it around to a number of studios until he found one willing to let him star in the film himself. The actor agreed to work for a minimal rate just to get his film made. The unlikely success of "Rocky" made him a bona fide film star overnight. Once "Rocky" became an entire franchise of films and Stallone started a second action franchise with the first Rambo film "First Blood" in 1982, the actor was in high demand for action flicks and never looked back.
Now that Stallone has starred in his first television show, the star has some things to say about the difference between working in film and working in television, namely that television is much harder.
Sylvester Stallone thinks film is a vacation compared to television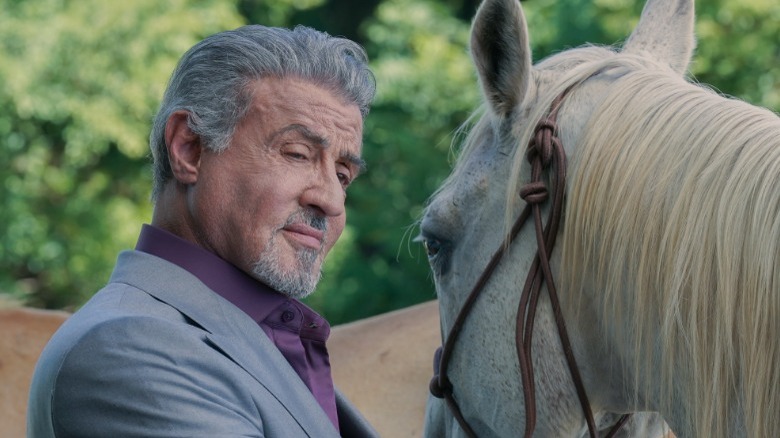 Brian Douglas/Paramount+
In an interview with Broadcasting + Cable, Sylvester Stallone explained how much harder working on a television show like "Tulsa King" is after so many years of working exclusively in film, saying that the process was "harder, faster, and longer." He went on to say, "Put it this way. In the amount of time that we did 10 episodes is the equivalent of doing five 'Rockys' in a row, five two-hour films in a row with no break in between." He continued that he respected the crew for being able to put up with such a rigorous schedule. 
In an interview with Variety, the "Rocky" star reiterated how difficult working on television was compared to film, calling it "beyond tough." He went on to say, "I can't believe some people have done this for four, five, or six seasons. It's brutal, compared to filmmaking ... [Film is] a vacation compared to this! It really is." 
At the time of the interview, the actor was unsure if he would be able to commit to further seasons of the show because of how hard the first season was. However, a few weeks after the Variety interview, Deadline reported that "Tulsa King" was renewed, meaning that Stallone will be returning for Season 2 as Dwight "The General" Manfredi. So, however challenging shooting the first season of "Tulsa King" was for Stallone, he seems to be down to do the whole thing over again for another season.