Filming Pants-Less On Ghosts Is Surprisingly Comforting For Asher Grodman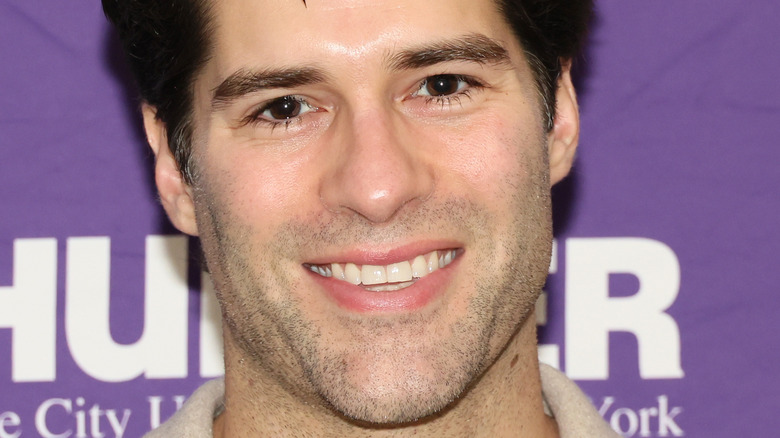 Dia Dipasupil/Getty Images
CBS continues to impress with each addition to its already-packed lineup. "Ghosts," which premiered in 2021, was an instant success for the network, earning it multiple season renewals. The series is a remake of a popular British show of the same name, following a couple that inherits a haunted house, causing their ghostly but comedic adventures to begin.
One of the shining aspects of "Ghosts" is its wide array of incredible characters. Stars Rose McIver – who laughed out loud reading the pilot – and Utkarsh Ambudkar reel audiences in, but once the ghosts start their "haunting," they take over the show. Isaac Higgintoot (Brandon Scott Jones), a former Captain in the American Revolution, spends his life after death feeling jealous of his more famous counterpart Alexander Hamilton. The flamboyant singer Alberta Haynes (Danielle Pinnock) also haunts the mansion's halls, grabbing every Alexa device's attention nearby. One of the most interesting ghosts has to be Trevor Lefkowitz (Asher Grodman), a Jewish Wall Street investor who met his end from an accidental overdose and is cursed with never being able to wear pants.
A joke that resurfaces every time Grodman's character appears on screen is that every spectral being appears as they looked when they died, so Trevor, who died without pants on, is constantly baring it all downstairs. While many of us would probably feel unbelievably awkward filming so many pants-less scenes, Grodman found comfort in the peculiar situation.
Asher Grodman's first comedic role left him with no pants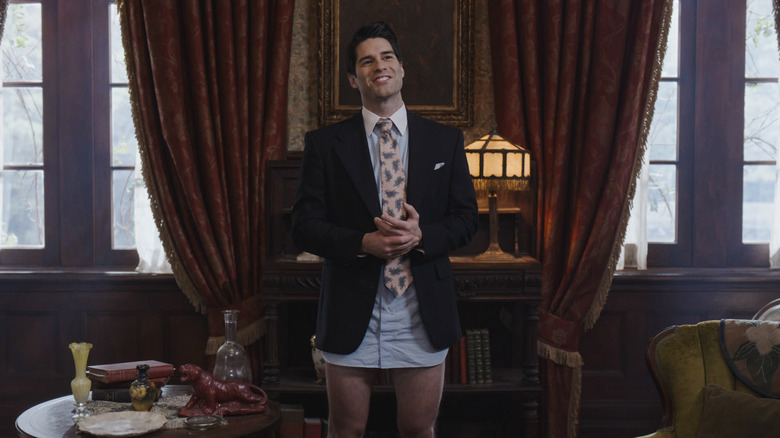 CBS
As part of a live Q&A with the SAG-AFTRA Foundation, the cast of "Ghosts" answered many questions regarding the hit CBS series. The network films the show in Montreal, which isn't necessarily known for its lovely weather. Once Rose McIver brought up the negative temperature, the conversation immediately shifted to Asher Grodman, who films every scene pants-less.
"To be completely honest with you, I had never done a comedy before this, so, for me, not having my pants on is kind of a comfort," Grodman revealed. "In the beginning, it was like, 'I don't know how to be funny. I don't know how to keep up with these people and everything,' and then I'm like, 'Oh, I'm not wearing pants, so I should be okay.'" The actor, who has played roles in shows like "House of Cards" and "Succession," continued, saying that shooting without pants was a wake-up call once the time came to start filming Ghosts. The first time he suited up – or should we say undressed – for the role, in front of the hundred people that make up the "Ghosts" cast and crew, he felt a bit embarrassed, but quickly found comfort in the situation.
"Ghosts" eventually reveals that Trevor lost his pants as part of an act to stand up to his coworkers, who were hazing a new hire the weekend he died. Grodman told TheWrap that he loves how his character's situation starts as a funny joke, but there's a meaningful message about society and bullying behind it. The actor was surprised by the reveal but finds that level of character depth "really exciting."